So, yet another embarassing confession to make regarding my university life: I have never made my way over to Dewey's, or the RATT (Room At The Top). Sad, I know, but hey, I'm still in my undergrad years, and taking it slow, haha.

In order to celebrate the last day of classes for our third year, Lisa, Patrick, Evan & I headed up to RATT (Pat is a veteran) for lunch. It was evident that we weren't the only bright students with the idea, because the elevator was packed with students to the point where I felt like a little sardine. Luckily, we were part of the first bunch of people up to the bar/lounge.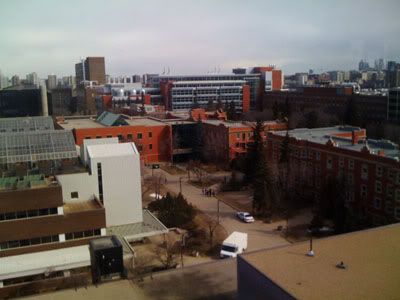 This place is a gem! Without visiting this place, I never would have known the U of A has such an amazing view of the city. RATT occupies the 7th floor of the Students' Union Building, and literally has a 360 degree, birds eye view of the city. Floor to ceiling tinted windows are the walls of this bar, providing a beautiful, but slightly obstructed view of our province's capital city. Luckily it was a bright sunny day, so we were able to see far off into the distance. Lisa and I were able to spot WEM, the Telus World of Science, and Daryl Katz's house (thanks to Patrick, haha). On a side note, the buildings on campus look so different from above! For me, it really made me realize that things can be completely different depending on the perspective taken.
They have a relatively large menu for a restaurant of their size, which includes many vegetarian options. I opted for the Thai chicken wrap, which was served with a side of fries for $7.50 (GST incl), and the price is great for your average university student. I wanted to try their sweet potato fries though, and the substitution costed me an extra $2.
Despite the awesome price, the wrap didn't quite live up to my expectations. The sauce for the wrap was far too sweet for my liking, and there was so much sauce that it went everywhere. My little basket was flooded with sauce, and my hands were so sticky, I could only bring myself to eat half of the wrap. Now the fries on the other hand were delicious. They were crisp, seasoned well, and the garlic mayo dressing was the best I have ever had. Guess I should stay away from saucy wraps the next time I'm up there!
The fun's over now. Time to buckle down and study for finals!
Room At The Top
8900 114 Street
Edmonton AB