Aviator jacket is here!
April 01, 2011
If any of you followed my tweets on twitter last week, you would have known I was stressed out to the max. With my parents gone to HK for the past month, it's been pretty tough for me to keep up with household duties, take care of my sister, go look after my aunt's place (she's in HK too).. all on top of going to school Monday - Friday & working. Last week was the toughest of them all though, because Monday through Thursday I was faced with three midterms, one paper, one lab report, and one lab quiz. Talk about academic mayhem.

The week before, however, I stumbled upon a new Youtube channel, and I was HOOKED. It was so bad for my studying because I couldn't help but watch the videos over & over again. This channel belongs to an amazing lady named Wendy. Check out her blog here and her Youtube channel here. You'll understand why it was such a distraction!

After watching her first couple videos, I already knew I had found my favourite Youtuber! She is so fun to watch, and has such a bubbly personality. Wendy has a great knack for fashion, and she's got impeccable taste. She's got such a big heart, and I'm so glad I found her, because I find her so inspirational. I can't wait to see what she comes up with next :)

Anyways, this post about the jacket is related to Wendy. So there I was, drooling over my keyboard as I watched her videos showcasing all her fabulous clothes, not to mention her vast collection of Louboutins (so jealous.), when I fell in love with an aviator jacket she purchased online. Feeling down about exams, I had to look into it to see if I could get one to "reward" myself for studying! I found the exact jacket online, only to see that it was sold out in my size! Sob, sob, sob. And that was the end of it. Or so I thought.



stock picture of the jacket
Over the next two days, all I could think about was the jacket. My friends said it was a good thing, because it would be saving me money - money that I earn and always somehow seem to spend on clothes and food *sigh* Before I went to bed one night, I messaged the seller, asking if the jacket would come back in stock anytime soon, crossing my fingers for good news. Next morning, I woke up to a surprise email saying that it was back in stock and available for purchase right away, HURRAH! I didn't even think about it, and bought it right away. Boom, $200 well spent?
YES INDEED it was well spent. A total of 7 days passed from the day I paid to the day it arrived at my doorstep, meaning it took only 5 business days to fly from Korea to Edmonton. That's nuts! I ripped open the package to find the most beautiful jacket. Although it's faux leather, it is so so soft, and the shearling on the inside is so warm! When I put it on I was so excited and warm, I started sweating a little, haha. The one thing I really like about this jacket is the shoulders. I've wanted to get a jacket with a strong shoulder for a while, but a lot of them make me look so awkward because I'm so tiny (4'11"). The shoulders here are not as bold, but still give the illusion of being a strong shoulder, yay!
Anywho, I really have to thank Wendy for featuring this item in one of her videos, because without her, I never would have found such an amazing jacket for my wardrobe! It's a little warm to be wearing it right now (wow, for once it's starting to feel like Winter is leaving..), but when the mornings are cold, I'll be sure to slip this baby on!! Below are a couple pics - of what I wore it with. I was so sad while taking these pictures because there's still so much snow left outside! Puddles abound.. it's still cold in the mornings, I always get so frustrated in the mornings trying to figure out what to wear!
Aviator jacket paired with purple tunic, black tights, Coach Brigett heels & Coach Audrey satchel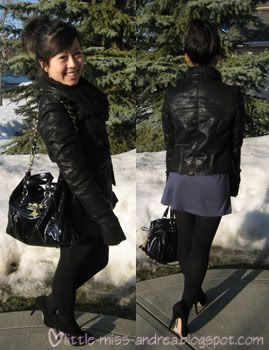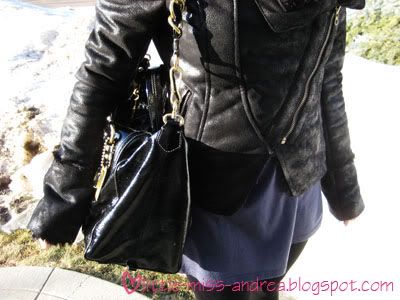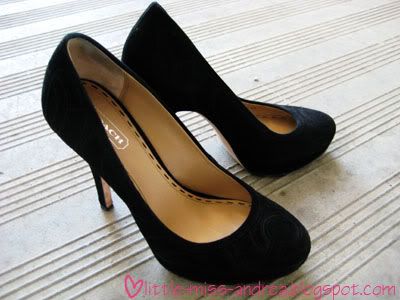 4.5" heels - they are so comfy, and give me lots of height that I definitely need!

This is my Audrey :) I love her to bits - I haven't used her for a while, but this bag has a special place in my heart because my boyfriend bought it for me as a gift for our first year anniversary :)
Check out Wendy & Mystery Man's latest video - it's freaking amazing!
Be sure to follow her - she's got so many more ideas up her sleeves, I just know it!