Mini Mango
April 16, 2011
First off, happy birthday to my boy! Today, my family and I took him out for some Vietnamese/Thai food to celebrate his birthday, and just to get us out of the house away from the books for a couple hours. A while back, we had purchased a deal from DealFind here in Edmonton, and we were really curious to try this place out.

Mini Mango is the little sister to Sweet Mango on Whyte Ave. I had gone there about 2 years back with Phil, but I didn't find anything too special about it. After hearing a friend rave about Mini Mango, I knew I had to see what the fuss is all about!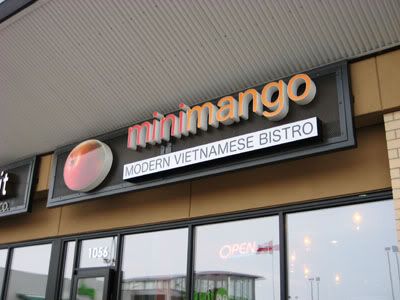 When we arrived, I hadn't imagined the restaurant to be so small! I knew that it was more of a take-out & self serve restaurant, but I expected it to be able to seat more people. There were approximately 6 small tables, allowing the restaurant to seat a maximum of about 20 people I would say.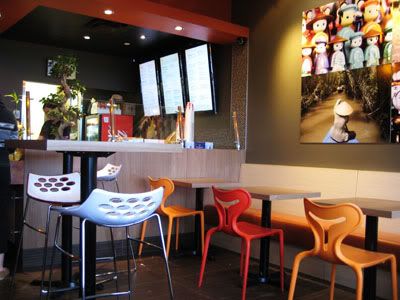 This restaurant here runs along the same principles as Famoso. Decide what you want to eat, and head up to the front to order & pay for your meal. If you're planning on dining in, you take a seat, and the hostess will bring the meal to your table. We had $60 to spend, so we decided to try out the pho, pad thai, mango salad, vermicelli bowl & tom yum soup.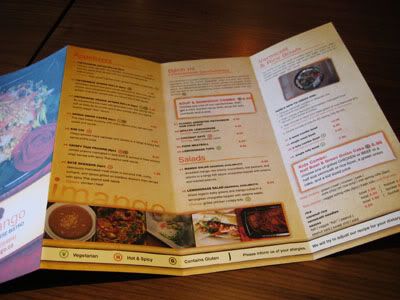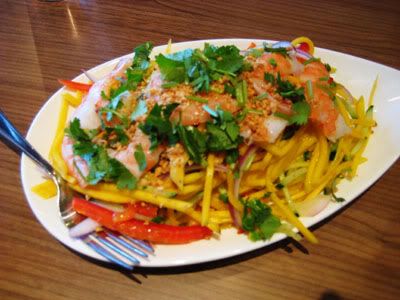 The mango salad ($8.95) was really interesting. It was a combination of sweet and savoury, but I would say that it was more on the sweet side, due to the naturally sweet mango. I was hoping it would mimick that of a papaya salad, so my hopes were a little crushed. Expectations aside, it wasn't a bad dish, but I won't be ordering it again in the future.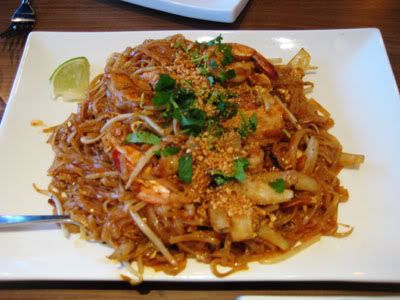 The pad thai ($10.95) had an awesome combination of flavours, but the chef put a little too much sodium into the wok when cooking this plate up. The noodles were al dente, and did not clump together, even upon cooling, which was fantastic because balls of noodles aren't always chopstick friendly. This dish was one of my favourites from the meal. A little less salt, and it would be my ideal pad thai :)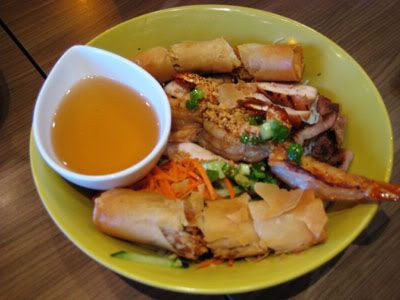 Next up was the 5 meat combo vermicelli bowl ($10.95). This bowl was massive, and greatly exceeded my expectations. A generous helping of vermicelli rested upon shredded lettuce, cucumbers and bean sprouts, and was topped with a bounty of perfectly cooked Asian style meats. Their spring rolls were fantastic, cooked in clean oil, resulting in a beautiful presentation.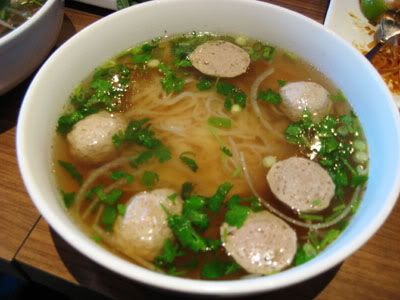 To decide whether a restaurant is deemed good or not, I almost always have to sample their pho. Pho is such an iconic Vietnamese dish. If you can't do it right, something is definitely wrong. I went with the beef ball pho, and forgot to request no cilantro! It was sad, but I acted fast and removed all the little pieces out before it was able to seep into my soup. The broth itself wasn't bad, but it was lacking depth and certain flavours that I find in the broth at my favourite restaurant Basil Leaf. For such a large bowl, the proportion of noodles was small. But factoring in the price, $6.95, it makes sense that there wasn't much in the bowl in comparison to the average pho price nowadays, at $8.00.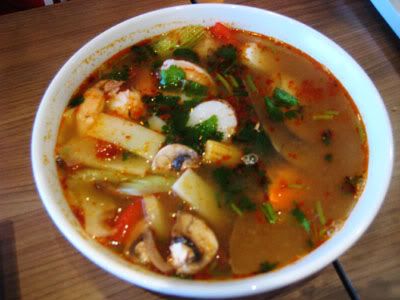 Last but not least, the tom yum see fuut ($11.95) arrived at our table. Looking at the broth, the colour wasn't the typical deep red colour I'm used to seeing at Thai restaurants. The colour was an easy indication of what was to come, and was confirmed upon the first taste of the soup. It was a bit disappointing, and unfortunately bland. It didn't have the punch of flavour I was looking for, and wasn't sour or spicy enough. But in their favour, there was lots of seafood inside the bowl, which kept my parents happy and distracted from the lack of flavour.
One thing I really admire about this restaurant is their dedication to keeping their vegetarian options purely vegetarian. No sneaky seasonings, and definitely no use of fish sauce (which many people think is actually vegetarian!) Countless times, I've gone to a Vietnamese restaurant, and they are so baffled when it comes to serving a vegetarian customer. So kudos to them for being so conscious of their customer population!
This little restaurant doesn't take reservations, so I would recommend heading there for a meal before/after the dinner rush, since there is limited seating. The restaurant is clean, and a respectable establishment, and I know they will grow and expand as the Ellerslie area develops. Was it a good meal overall? Yes. Will I come here again? Yes, and next time, I'm gonna try their take on Banh Mi!
Mini Mango Modern Vietnamese Bistro
1056 91 Street
Edmonton AB