With my parents out of town, and thoughts of studying looming above my head, I'll jump at any opportunity to get out of my house and eat delicious food! Yesterday was no exception - I went to join Vince & his family in celebrating his mom's birthday at Maki Maki. (previous visit here)

I ordered pho as per usual, but I got it with beef & beef balls since tripe was not an option. The bowl was massive - I was so worried I wouldn't be able to finish it at all!

One item ordered for the table was the caterpillar roll - it's so cute! Coated in avocado strips on the outside to mimick the colour of a caterpillar, with squid pieces as eyes, the roll was filled with barbequed eel and other veggies. Surprisingly, I didn't mind the eel and found the roll to be both cute & tasty.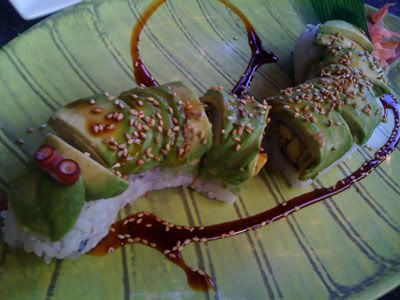 Now, drumroll for my new favourite... beef sashimi!! I didn't know something like this existed! It's basically the same thing as beef tataki, but the beef is not cooked at all. Beef tataki usually has the edges of the beef seared, so theres a little bit of cooking required. Vince's brother said he usually eats it like this, and I found it to be way more satisfying than beef tataki. Yup, I'll eat raw beef, but not raw fish! Raw seafood is too slimy.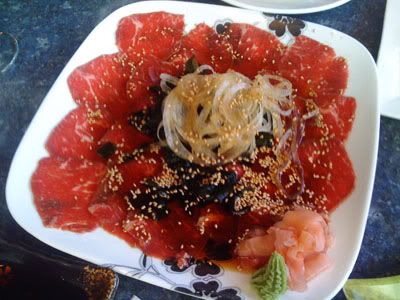 All in all, it was a solid meal. Who would've thought that pairing Japanese with Vietnamese cuisine would be so delicious? Ingenious.