Weekend in Calgary
February 27, 2011
hope you're ready for a super long post!

Woohoo, reading week! Well, reading week started Monday, and I've honestly done pretty much next to nothing this entire week. I caught up on TV shows, did a little shopping here and there, but that's about it. School is just way too stressful sometimes, so its nice to have a chance to sit back and relax :)

My sister had a volleyball tournament down in Calgary this past weekend, so I thought it would be a perfect reason to head out of town to watch her games, go shopping, and most importantly scope out some good eats. This whole week in Edmonton was nice and sunny, most days without a cloud in the sky. Woke up on Saturday morning to head out of town, and I was devastated. White winter wonderland outside, huge snowflakes falling from the sky. How the heck did that happen? Well, I guess I shouldn't be surprised, since this is probably the fourth time Winter has struck again in the past month..



My view of the neighborhood from the car
We packed up our bags and snacks for the road, and headed down the QE2 towards Calgary. Road conditions actually weren't bad, there was blowing snow on the road itself *I got headaches from watching the waves of snow*, but it wasn't icy or anything. It was just impossible to see anything ahead of us, so it was pretty dangerous!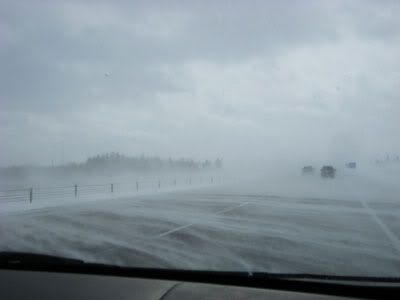 A little past Red Deer, things started to look up, and the sun peeked out from behind the clouds, leading the rest of the way into town. Once we got to Calgary, there was not a cloud in the sky, nor any signs of snow - amazing. It's so fascinating to see what a difference there is in the weather between our two cities. A 300 km distance separating two extremes of weather. Well, that's Alberta for you.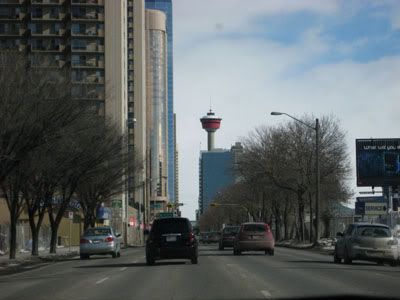 beautiful weather downtown!
We headed straight towards the downtown area, picked up our friend Alex, then zoomed back towards Chinatown cause I was on the search for one of the top rated Pho restaurants on Urbanspoon - Pho Pasteur Saigon.
Vince and I had been here previously two years back, and we thought the place was gross. The beef was poor quality, service non-existent, and the broth really lacking in flavour. But it really boggled my mind.. how on earth is it possible for me to absolutely hate a restaurant, while it has a rating of 98%? I had to retry the restaurant for myself, so I dragged Vince along while he kept telling me I was going to regret my decision.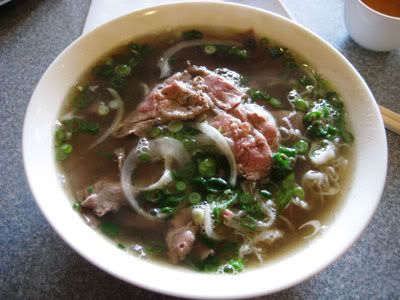 I ordered my usual pho with beef & tripe, and it looked like it would be tasty! The broth was flavourful, and the portion was a generous size, but it wasn't all that special for me. Definitely a big improvement from what we had experienced on our first visit, but this is probably going to be our last. Also, the restaurant is cash only, which was annoying because I never have cash on me :( Pho Hoai in Calgary is still going to be my go to place here - it's like my comfort food!
After lunch, we headed north of the city towards the Crossiron Mills outlet - nothing interested me :( Does anyone else find that Crossiron isn't really an outlet mall? I mean, they have a couple of outlets, but nothing is particularly cheap, and it's full of a lot of retail stores anyways. Sad, sad shopping day. Heading back out to the car, it seemed like the blizzard in Edmonton had finally caught up to us. There was a huge snow storm outside of the mall, and it was getting slushy everywhere! Everything was pretty much melting once it touched the ground though, so I still had hope for good weather!
Once we were back in Calgary, there was absolutely no snow whatsoever. Alberta weather is so weird. Snow one minute, and sunshine the next. It's absolutely impossible to predict what's going to happen next.. so frustrating. Anyway, for dinner we headed over to a cosy little Korean restaurant called bow Bul Go Gi House.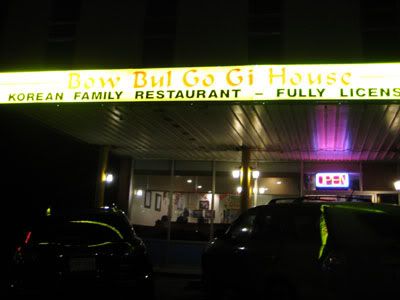 This is another top rated restaurant on Urbanspoon, so we had to check it out! Once we stepped inside, it smelled like Korean BBQ - they need some better ventilation in there! We were seated right away because I had made reservations *highly recommended* This place was super busy, and the front was managed by the owner and one waitress - kudos because they really kept the restaurant under control.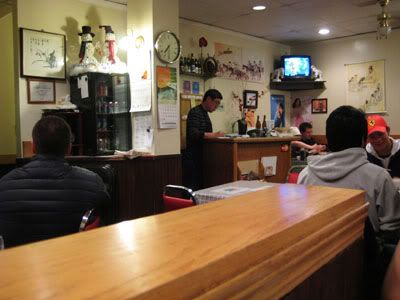 cosy little restaurant :)
They had a pretty small menu to choose from, but we went with the usual - jap chae, bulgalbi and kim bab. Mm, yum! The table was decorated with informative guides to two Korean dishes, explaining what they were and how they were made. This is great for newbies to Korean food, because a lot of the time, the menu is just the names of the dishes with no explanations!

informative :)
Our order came with four side dishes (banchan) consisting of kimchi, pickled radish, beansprouts, and fried tofu. The fried tofu was especially yummy, because it was very crisp on the outside, and soft on the inside, while balancing salty and spicy flavours in the sauce. I believe this dish can be ordered on its own, try it out if you have the chance!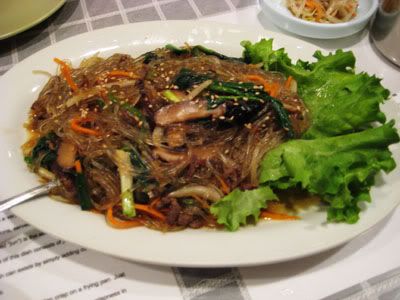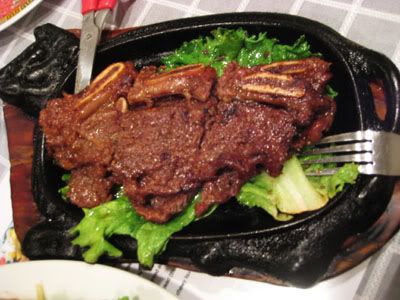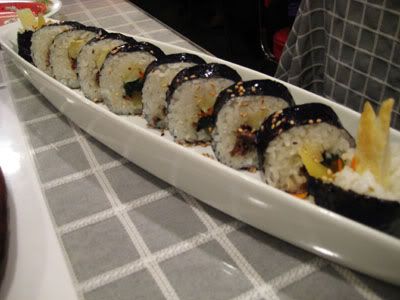 The food we had was fantastic! Everything arrived piping hot (in the case of the ribs, sizzling), and was cooked perfectly. The ribs were seasoned very well, very juicy and tender. The jap chae noodles didn't clump together when cooled, and had a great ratio of noodles to vegetables. The kim bab was presented beautifully, and tasted very yummy. All in all, I really recommend this place! But the prices were a bit on the expensive side. With tip, I think we paid $55 in total for the three dishes. It's definitely reasonable, but we've been to other Korean restaurants in the city, where $50 is going to bring you 5 dishes! Crazy, right? I love Calgary!!
The next morning, I couldn't get myself to enjoy the continental breakfast at the hotel - I was saving up my stomach for some all you can eat sushi! We headed to Sushi King (previous experience can be found
here
) to stuff ourselves up for the day. The food was delicious like last time! Everything was fresh, service was great :)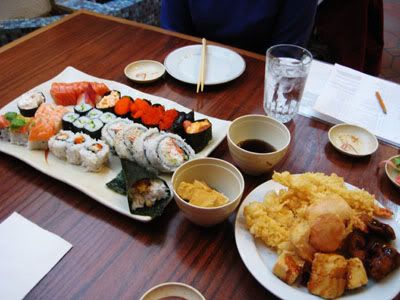 After watching my sister play for the day, her team ended up with silver in the tournament. Both teams played very well in the gold medal game, but there can only be one winner. Oh well, next time! I'm excited for her next tourny in Calgary, cause I know I'll be heading down for some more good food!
Just for laughs, we saw this car on the road. The back of it says it's a Selica, hahaha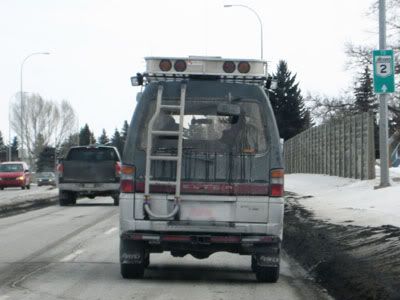 Pho Pasteur Saigon
207 1 Street SW
Calgary AB
Bow Bul Go Gi House
3515 17 Avenue SW
Calgary AB
Sushi King Restaurant
320 16 Avenue NW
Calgary AB