Instant Scalloped Potatoes
March 02, 2011
A while back, I was at Sobeys and saw something interesting sitting on the shelf. Instant scalloped potatoes! I never even knew things like this existed!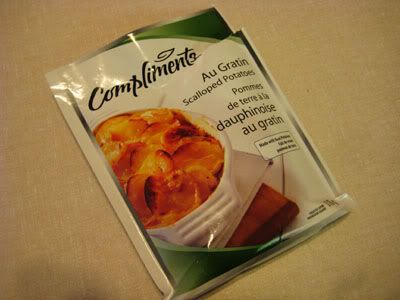 It comes in a package just like the Knorr Sidekicks, where everything is inside. All you do is add some milk and butter, and pop it into the oven for baking! Super easy and convenient, compared to actually making this dish from scratch. I was really curious as to how this would turn out, and if it would actually taste good. At $2.50per package, I really didn't have much to lose!

before heading into the oven

finished product!
The dish itself turned out great! The potatoes were tender and cheesy, but definitely not as good as a dish from scratch. But when you're low on time and need a dish quick, this isn't a bad option!