A couple weeks back, I had spotted that a new Japanese restaurant was bound to open by Dream Tea House, to replace the spot previously home to Ling Wok. Since Andrew was back in town, we decided to go check out the place for lunch.

We arrived right when it opened, and it seemed that there were other people interested in the restaurant as well, as we all arrived right at 11:30 in the morning. Everyone was seated promptly, and the waitress tended to each table right away.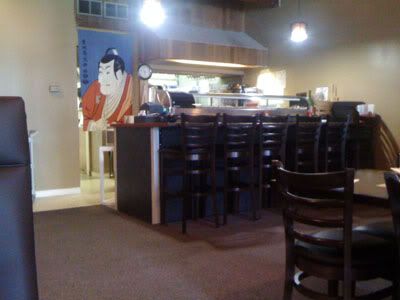 Looking through the menu, I felt that the prices were definitely a little more expensive around lunchtime than other Japanese restaurants in Edmonton. Their only lunch specials were Bento Boxes, and they were priced at $10.95. I'm a big udon fan, and they didn't have tempura udon as an item on their menu. I ended up going with a plain udon (~$8), and ordering tempura prawns (~$7), which is probably more than I should be eating at lunchtime, haha. Andrew ordered a bento box, and we had beef tataki to share.
The items arrived to our table in a peculiar order. We first received the tempura prawns, followed by my udon, then the beef tataki, and finally the bento box. It was a little strange, but we hadn't really specified if we wanted certain items to come out first.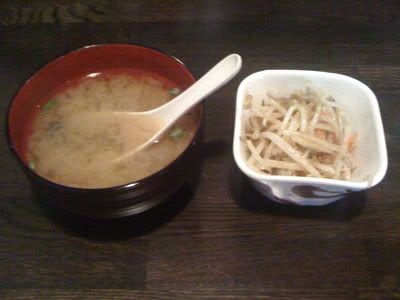 Andrew's bento box included miso soup & a little bean sprout salad. The bean sprout salad is tossed with a soy ginger vinaigrette, similar to the one served at kyoto. However, this dressing was a little cloudy in colour, leading us to believe there was a hint of miso in it.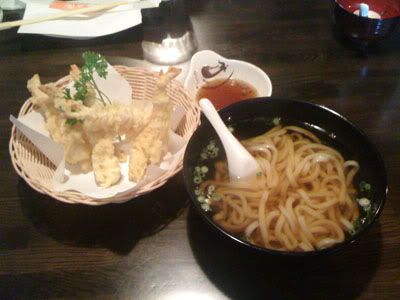 My makeshift tempura udon lunch. The prawns were massive, and cooked in very clean oil - they looked so appetizing! The udon soup was a little disappointing for me though, because it tasted kind of plain prior to adding the special five-spice udon blend I had to request for.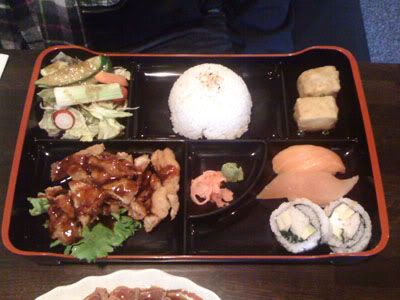 Andrew's teriyaki chicken & sushi bento box - we weren't too impressed with this one. The chicken was overcooked, and the sushi pieces had way too much mayo in them (california rolls). Also, has anyone ever had huge celery pieces in their salad when going out for Japanese? We found it to be so odd, cause the strong taste threw off the dressing and presence of the other vegetables.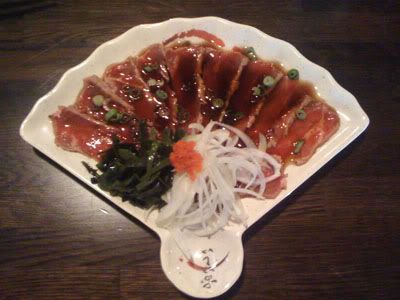 beautiful tataki :)
The beef tataki is what impressed us the most. Look at that plate! The presenation is beautiful. With ten pieces of meat, each portion on the plate averages about $1.05. The ponzu sauce was perfect - great flavour, and not overly salty like so many of the restaurants here in Edmonton!
All in all, this restaurant is pretty good.. no big complaints. They get big points for beautiful food presentation, but I just wish there wasn't a variability between taste and presentation. They are still starting out, and working on fixing their minor errors here and there. The service was good, but our visit can't guage what their service will be like during dinner hours, when restaurants tend to be pretty busy. Although their dishes are at a higher price point, I feel that you're getting higher quality food in comparison to other Japanese establishments.
Sakana
7908 104 Street
Edmonton AB