Ichiban no more..?
February 21, 2011
On Saturday, Vince had to drive me to work, so we decided to go to Ichiban, one of our familiar lunch spots. When we arrived, the restaurant was getting pretty full, but we did get a seat right away in a booth.

We ordered our usual beef tataki, tobiko sushi, tempura udon, and Vince got his bento box. However, things this time were a little different....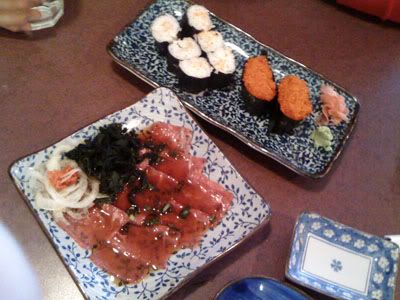 The beef tataki ponzu sauce was SOOOOOO salty. I can't stress enough how salty this was. I felt like I was licking salt granules. I don't know what happened when they were making the sauce.. maybe doubling the amount of soy sauce?
Onto the tempura udon, the soup was bland, and lacking the depth and flavour that should be there in dashi stock. On the bright side, the tempura was cooked very well, and the oil used was very clean! Lucky for me, my tobiko was fresh - dodged a bullet there.
Vince on the other hand didn't have as much luck. The rice was horrible. Super soggy, and felt like it was on it's way to becoming congee. We thought that maybe the rice for the bento had been overcooked, but we were wrong. The rice inside the sushi was the same. I don't even know how the cooks were able to prep anything with this rice, it wouldn't have been easy to spread it on the nori..
Is this place going downhill? I sure hope not. I like going here for lunch once in a while, so I'm hoping this was just a really off day for them. One of my best friends is closely affiliated with the management at this restaurant, and she said that their owners are currently overseas in Asia, and they usually supervise the cooking and preparation of the food. Now that they're gone, things have gone wary - but really, should it be this bad when cooks aren't being supervised? I don't understand. Hopefully the next time I'm there (far from now, I'm sure), things will be improved!
Ichiban Restaurant Japanese Cuisine
8750 142 Street
Edmonton AB