Sicilian Pasta Kitchen
February 24, 2011
Has anyone here in Edmonton checked out bookatable.ca?. I know it sounds ridiculous, but contrary to what you might be thinking right now, this is NOT a website where you make a reservation for a restaurant!

Book a Table is actually a group of 10 restaurants that have come together, trying to showcase some of Edmonton's best dining in one place. It's a really neat site, and when you sign up using your email, you can receive a $25 gift certificate that can be used towards any of the ten participating restaurants! Sweet deal, right? When certain occasions are coming up (for example, Valentines Day), the restaurants in the community send out emails about special offers, or the featured menu for the night.

I've been telling a lot of friends about this place, and it's legit! I can vouch for it because I used my gift certificate today.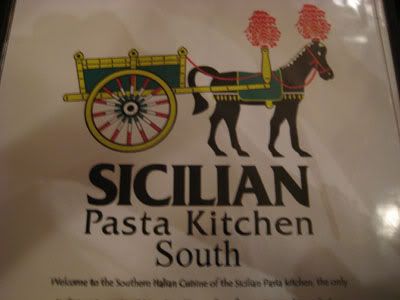 We decided to head to Sicilian Pasta Kitchen in the southside of Edmonton, cause it's one of the restaurants that I live closest to. Sicilian has never let me down, and they've always served great pasta and desserts! Knowing that I would opt for dessert at the end, we passed up appetizers and ordered our entrees.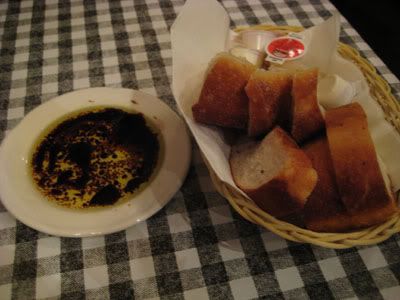 free bread!
Vince picked out the "Piatto Assortito" which was a feature of the night, showcasing two different pasta dishes. I went for the "Farfelle Con Gamberi E Cappesante", which was a bowtie pasta with jumbo cajun seasoned tiger shrimp and scallops, with peppers, mushrooms and onions in a garlic cream sauce. Once the dishes arrived and we tasted them both.. we ended up trading with each other!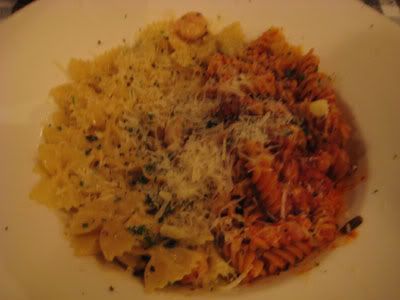 feature pasta
I ended up with the feature pasta of the night, which was a mix of two different half servings of pasta. One half was a farfelle pasta in a saffron garlic cream sauce, while the other half was fusilli in a garlic tomato sauce. The fusilli to me was rather boring, and something you could easily cook up at home. The farfelle, however, oh man, it was so good! The sauce was flavoured perfectly, with the garlic infused into the cream. Mix this with al dente pasta, and finish with freshly grated parmesan? To die for!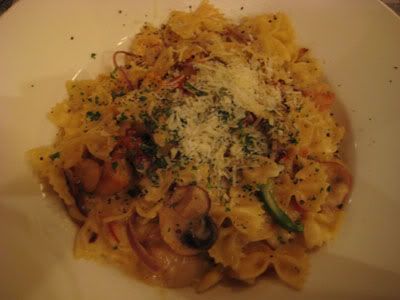 farfelle con gamberi
Vince's farfelle was good as well, but I just favoured the garlic flavour in my dish more. I'm not a huge fan of scallops - to be honest, I think I ordered the other dish originally because of the word "cajun", thinking it would taste like jambalaya! I am terrible. But at least Vince enjoyed it - he loves seafood!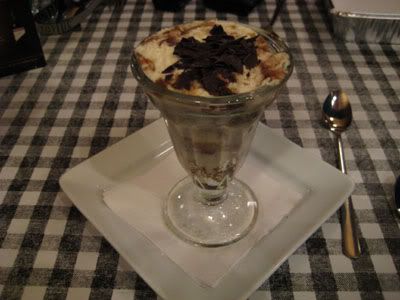 We finished off dinner with their tiramisu - when I saw it (to my horror) it looked like there were lady fingers in there!! Ack, I really hate those things, they shouldn't belong in tiramisu. But the tiramisu was so delicious that I couldn't tell they were in there - that's when I know I'm eating something really good!
Make sure you guys go get your free gift certificate!
Sicilian Pasta Kitchen South
805 Saddleback Road
Edmonton AB