Taste of Yogurt
April 18, 2013
Frozen Yogurt shops are popping up all over Edmonton - like rapidly reproducing rabbits, except froyo is way more welcome. As a frozen yogurt fiend, I had to check out a shop that's open right by my house!

Taste of Yogurt - 14946 45 Avenue NW - Edmonton AB


Taste of Yogurt is located in a small old strip mall - I have many memories visiting the 7-Eleven in the same mall for slurpees in the summer, so it was a little nostalgic visiting this new froyo cafe. I was expecting a small little shop, but was surprised to find a well-lit, cozy yogurt shop with lots of variety and comfortable seating.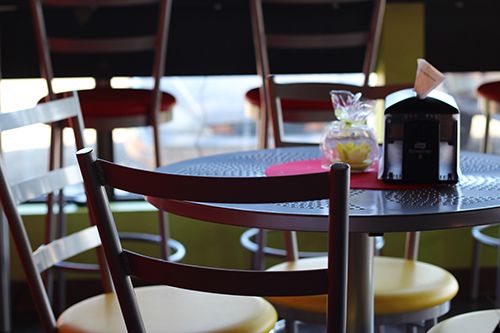 Tables and couches are decorated in their signature colours of red, orange, and green, and they offer free wifi on location, making me think this may be a great place to sit down to get some work done while enjoying frozen yogurt. The facility is clean, the staff are friendly, and with a big screen tv available for entertainment, children's birthday parties could be hosted here.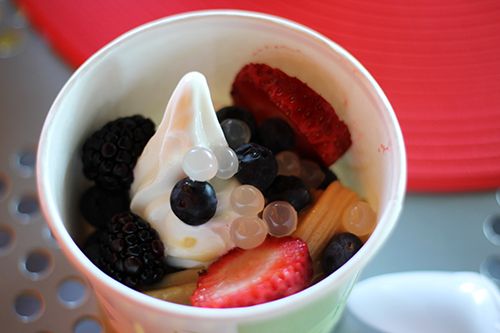 On any given day, 12 flavours of yogurt are available in a self-serve fashion, that can be topped with fresh fruit, candy, or syrup. They charge cups of yogurt by weight at $0.54 per ounce, which is comparable to all other frozen yogurt shops in Edmonton. On the day of my visit, I chose to try out their original tart and salted caramel flavour, topped off with lychee boba, strawberries, blueberries and blackberries. One thing I noticed right off the bat was the creaminess of their yogurt - its much thicker and creamier, and less icy than what I have had in the past, making it more similar to the mouth feel of regular yogurt. The tart was tangy, and not as sweet as I prefer, while the salted caramel had a great toffee-like flavour, but was a little sweet for my taste. However, the fruit was very fresh and were great counterparts to the flavours I chose.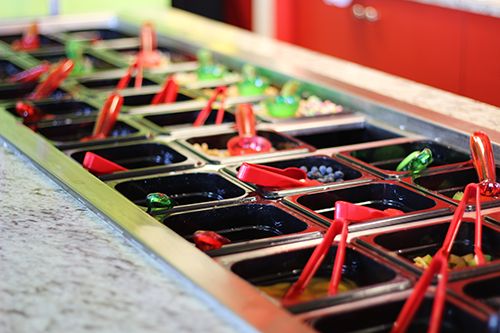 While I sat down to enjoy my frozen yogurt, I had the chance to chat with Aneta, the owner of Taste of Yogurt. Being of Polish descent, she uses a European yogurt blend to make the soft-serve yogurt, which she prepares fresh daily. She believes that simple and fresh is best, and that is what she plans to offer to customers. Having opened just before the Albertan winter began, she has lots in store for the summer months. From fresh smoothies to waffles and crepes, the new offerings will make this little yogurt shop in the south side of Edmonton quite unique.
During my visit, I had the opportunity to try out one of their new summer offerings: the Ukranian crepe. The dense crepe (made locally) is filled with dried blueberries, and topped off with your choice of frozen yogurt. In this case, Aneta paired the crepe with blueberry frozen yogurt and a Cabernet Sauvignon syrup - the crepe itself was a little tangy with the berries, while the yogurt and syrup gave it a complementing sweetness.
While I can't say its my favourite yogurt in the city, Taste of Yogurt is a nearby option for me. It's a nice, cool treat with a creamy texture that will be perfect for the upcoming summer months - and probably healthier than slurpees at 7-Eleven (though I will have my fair share in the hot summer months). I'm most looking forward to the fresh waffles and smoothies they will be offering - I had a sip of a fruit smoothie and it was fantastic! For those of you interested, Taste of Yogurt is now offering a Groupon -
click here
for the details and give this southside shop a visit!