Manicure Monday: OY-Another Polish Joke!
April 15, 2013
Happy Monday! Sorry I've been a little MIA lately - with the semester just finishing up, assignments are due and finals are around the corner. I've already written one exam this morning, and I'm one final away from having a nice two week break! Oh, and hopefully the snow will stop coming back, because I'm SO READY for Spring. Winter needs to leave, NOW.

This week I've got a beautiful glittery polish to share with you from the OPI Euro Centrale collection - OY-Another Polish Joke! I honestly don't understand the name of this one...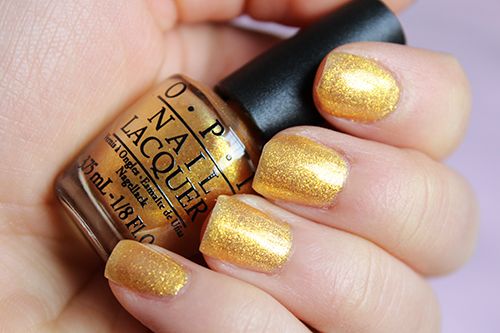 But that's okay, because it's a beautiful shade and I can't stop looking at it! This polish is a dense yellow gold glitter - it seriously looks like I've applied liquid gold to my finger tips! At three thick coats, the polish is quite opaque, and levels itself out beautifully. You can't feel grittiness from the glitter, and it really is something to note, because I can't count how many times I've had a glitter polish 'grab' onto fabrics. The formula is smooth and quick drying, lasting up to 5 days chip free. This polish is the perfect yellow gold - can't ask for more than gold fingertips!