De Dutch: Home of the Pannekoek
April 13, 2013
Not too long ago, the Vancouver based restaurant chain De Dutch stepped foot out of BC, opening its first franchise here in Alberta, and ever so conveniently they opened in Edmonton. Known for their special pannekoeken, or the Dutch pancakes, I knew I needed to make a visit for brunch to see the size of the pancakes with my own eyes.

De Dutch - 10030 Jasper Avenue - Edmonton AB


With all the construction going on in downtown Edmonton right now, De Dutch can be easy to miss. Once you find it hidden behind construction barriers, you step into a warm, cozy restaurant bustling with activity. Standing by the front entrance, the restaurant doesn't seem too big. But take a walk, and you'll see that the place extends quite far into the back of the building, with plenty of space to accomodate bigger groups.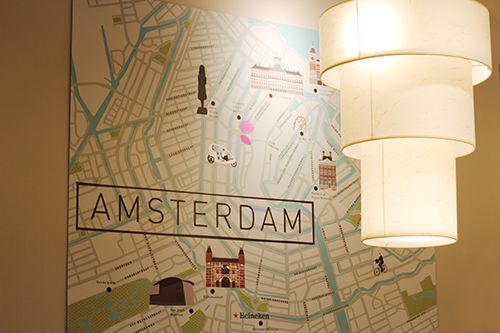 At 12:45 on a Saturday, the restaurant was quite busy - they do not take reservations, but were told that business typically slows down around 12:30 and it shouldn't be hard to find a table during that time. My friend Aubrey and I were seated right by the fireplace in the brightly lit space, and given lots of time to look over the menu. Trust me, there's so much to take in on the menu that it's almost overwhelming to have to choose just one thing! Of course I was most interested in the pannekoek selection, which had both savoury and sweet options, but for those of you looking for something different, De Dutch offers eggs benedict, omelettes with toast, burgers, sandwiches, and more. There's probably something for everyone on that menu!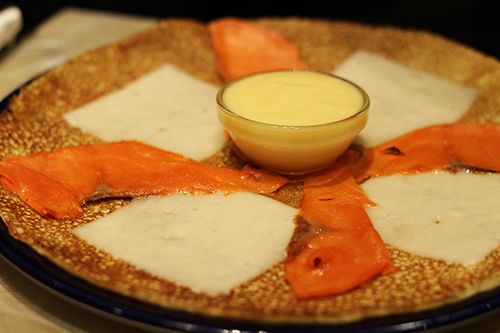 This restaurant claims that their 12" diameter plate sized pancakes that are paper thin can be cut into 113 square inch bites! Crazy, right? While many pannekoek choices on the menu called our names, both of us settled for savoury options. The Windmill:
shaved smoked wild BC salmon, Edam and hollandaise sauce
came to our table, looking plain and not too interesting. The pannekoek itself was plain with little flavour, with all the savoury notes coming from the toppings. The flavours did work well, and the hollandaise tied it all together, but it was missing that wow factor for me.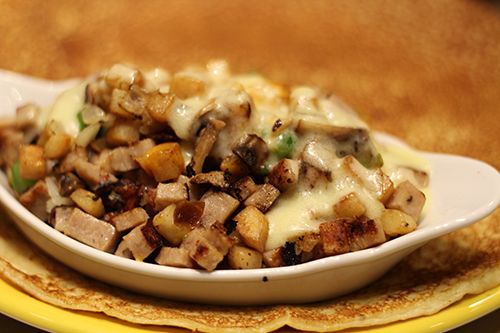 I chose to go with The Hash:
hash browns, mushroom, green pepper, onion and cheddar mixed with sausage & hollandaise sauce
. The meat option in this dish can be replaced with your choice of ham, DeBakon, turkey bacon, or be served without meat to make it vegetarian. I was really surprised with just how big of a portion the hash was, sitting in its bowl on top of my pannekoek. Like Aubrey's, the pancake itself was bland, relying on the hash to give the whole dish its flavour. The hash had a nice ratio of veg:meat, but for my tastes, the dish needed more moisture. Having to eat such a huge pancake and not have extra sauce to spare while eating it was a little difficult, and the waitress brought by some Franks Red Hot Chili Sauce for me. I probably should've asked for some hollandaise on the side - and would recommend this if you ever order The Hash!
Having finally tried the Dutch pancake, it's definitely something different if you're looking to change up your brunch routine. What bothers me a little bit is the presentation of dishes on top of the pancake - I don't know what surfaces the dishes have touched, and they could potentially transfer some types of germs onto the pannekoek. It's a little off putting, and if it's a concern for you, make sure to let your server know in advance to serve the dishes separately. Price wise, you're looking to pay about $10-$17 for your pannekoek, which can be a bit on the expensive side, but it is a unique concept and something to try out. When I go back, I'm going to take a stab at the sweet pannekoeken with syrup - and portions are big, so you're definitely not going to be left hungry!