Taiwanese Flavour: Oops Tea
April 06, 2013
I'm going to tell you about a secret of mine.. there's a cute Taiwanese cafe in the south side that I love, and I think makes the best bubble tea in the city. I'm there at least once every 1-2 weeks cause I've been obsessed ever since I've found this place!

Oops Tea - 5926 104 Street - Edmonton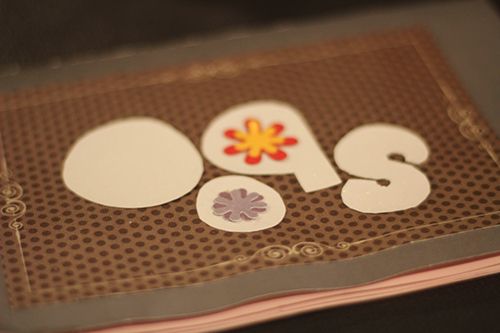 Oops Tea is located in a strip mall along Calgary Trail, often missed as its in the middle of the mall located on a very busy street. When I first discovered this cafe last summer, it actually happened to replace Green's, which was another bubble tea place I quite enjoyed.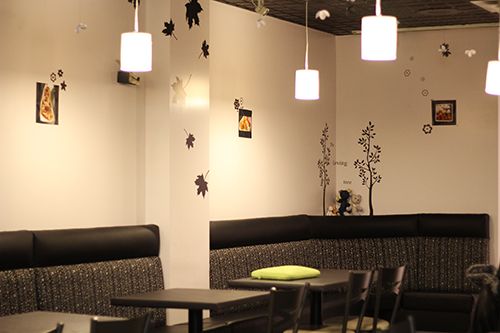 When you walk in, you're greeted by the friendly staff at the desk, and you have the option to stay or order to go. The interior features dimmer lighting and cozy seating, while the walls are decorated with leaves and trees, and crocheted bears sit along the walls. It's a really nice environment to sit in, as it's calming and I would say I can see myself sitting there to get some work done.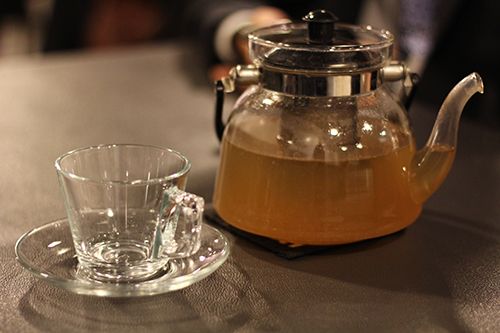 Hot Ginger Tea ($4.99)
I love that the owners are Taiwanese and Oops Tea offers some traditional dishes with authentic flavours. The menu offers a wide variety of drinks, and food options ranging from snacks, to meals and dessert. On this particular visit, I was with great company and we were able to order a ton of dishes to try and share.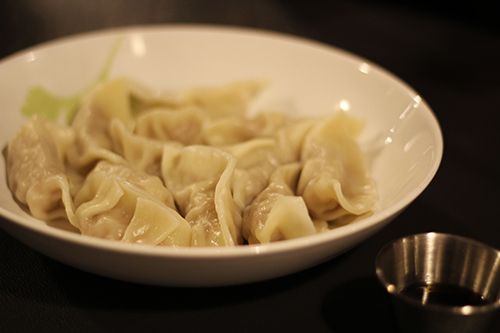 To start off, we had an order of their dumplings to share. The meat:veggie ratio was spot on, and the skin was nice and thin so it wouldn't stick to your teeth. It was served with a sesame oil & soy sauce to dip into, and these were pretty tasty. They were reminiscent of dumplings my grandma would make then I was young.
For meal options, a Zha Cai Pork on Rice ($5.75) was ordered at our table. Zha Cai is a preserved vegetable which is salty and spicy, which really hits the spot when you're craving something savoury. We discovered that you could actually upgrade your order and make it a combo for $4 more, which gives you a couple sides to go with your dish. You get all five sides, which include tofu cakes, seaweed ties, a braised egg, vegetables and more rice and meat to your dish. Totally worth the $4 value and this dish tasted great!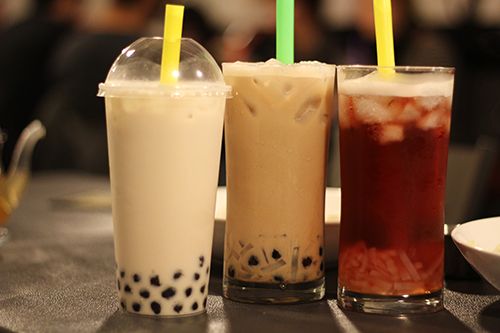 Original Milk Tea - Chocolate Milk Tea - Rose Bubble Tea
One of the reasons why I keep coming back to Oops Tea is for one drink: the original bubble milk tea. I believe that their blend of tea leaves and use of honey make this one the best in the city. It has the perfect sweetness, and not to mention they cook their tapioca pearls to perfection! I love chewy tapioca, and it goes great with all their drinks. Another drink I particularly love is the Lychee Green Tea - everyone I've bought it for has always loved it!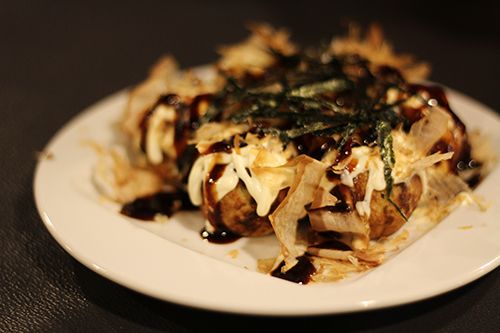 Another fun dish to order and share is their take on Takoyaki ($9.99 for 7 pieces), topped with mayo, seaweed and bonito flakes. This dish was served hot to the table, and the portion size was pretty big. I like my takoyaki to have more filling on the interior, and these ones unfortunately had more dough to them. Otherwise, there was quite a bit of dressing but the flavour was great.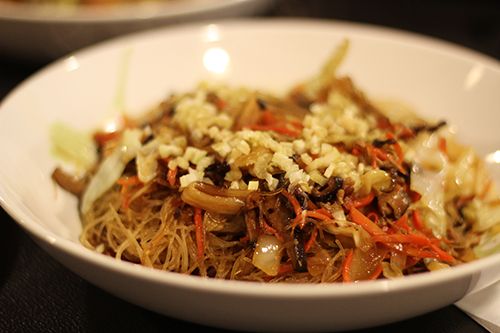 For myself, I tried out their Fried Rice Noodles ($7.99), which turned out to be fried thin glass noodles/vermicelli with cabbage, carrots, sliced shiitake mushrooms, and preserved vegetables. They definitely use the Chinese "
Master Sauce
" in frying this dish, and I love the degree to which you can taste the star anise. It's a meal in itself, and I definitely recommend this dish if you love fried vermicelli!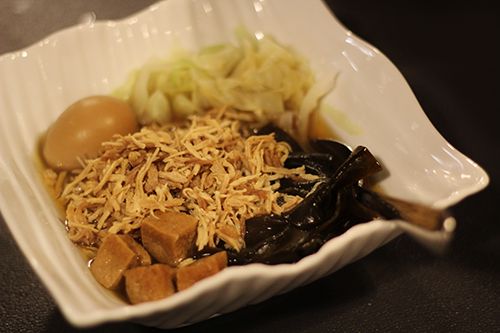 Taiwan Braised Pork Noodle ($8.99)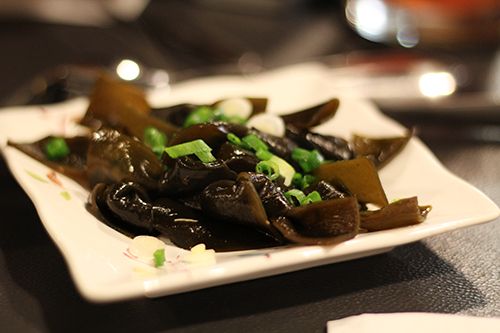 Last but not least, I had to have a side order of their seaweed ties ($2.99/15 pieces). I love seaweed anything, and these ones didn't have too much of a briny taste, but were cooked a bit soft for my liking. They were marinated in a soy sauce and were a great snack - I just wish they had more of a bite to them!
Oops Tea is a great place for a late night snack and bubble tea with friends. Like I said, I've been back many times just for their milk tea as they're on my way home to the south side. The location is convenient with lots of parking, and they are open from the early afternoon into the evening everyday except Tuesdays. The staff are friendly and the space is cozy - just make sure to bring cash or debit along with you as they don't accept credit!