Menchie's Hits Edmonton
April 27, 2013
Remember how I said frozen yogurt shops are popping up all over the place like rabbits? Yep, froyo is all the craze and I'm embracing it with open arms. Menchie's just opened up their first location in Edmonton this week, but get ready guys - there are four more coming our way!

Menchie's - 8705 109 Street - Edmonton AB


Menchie's is a self serve yogurt chain based out of California, operating on principles similar to the other frozen yogurt shops in the city. All you do is fill your cup with yogurt and toppings, and pay according to weight, which this shop has set at 55 cents/oz.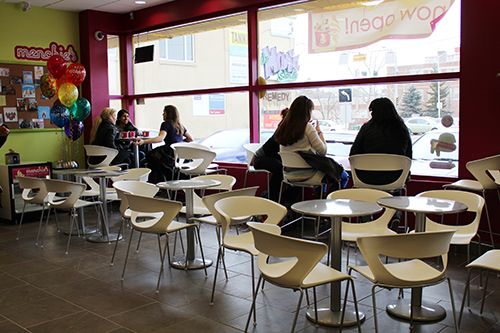 A lot of what determines the success of a business is their location - Menchie's has a prime location within walking distance to the university, a school across the street, and Whyte Ave, which is sure to increase their traffic and profit. I love the pink, lime green, and white that they use to decorate the shop, and there is lots of seating and natural light coming in. I'm sure once classes start up again in the fall, university students will be found working away on assignments while eating froyo.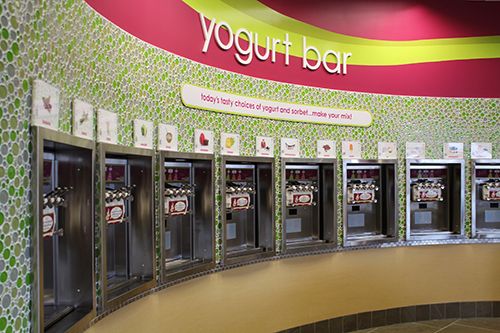 I was lucky to have some time to stop by on their opening day to check everything out. The flavor lineup in Menchie's is impressive, with this shop offering 16 different flavors at any given time. Tart, dairy, and sorbets are available, with about equal numbers of fruit flavours available compared to yogurts inspired by desserts.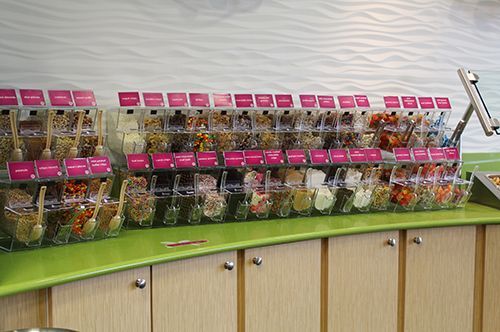 The topping selection is also pretty impressive if you ask me - 40 dry toppings, 12 'wet' toppings and sauces are available in store, making the possible yogurt combinations endless.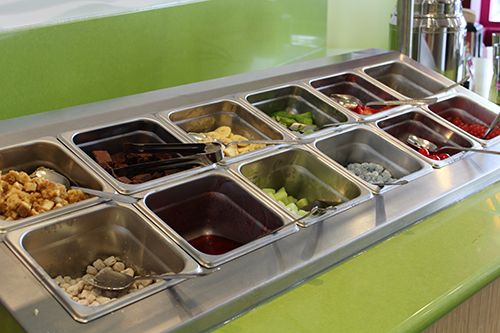 As shown above, the 'wet' toppings bar has offerings ranging from cookie dough balls to mochi and popping boba. As I try to be health conscious and like fruit toppings, I was a little disappointed in the fruit selection available and wish there was a greater variety. Perhaps in the summer as fruit is more in season, there will be more available.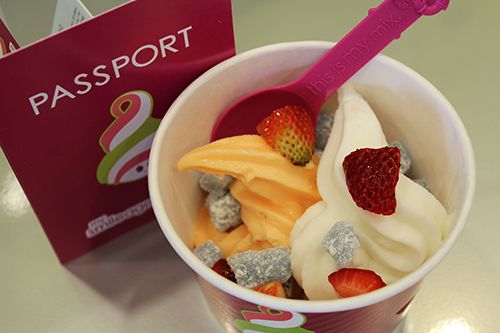 After taste testing a few flavours, my froyo mix on that particular day was the original tart & mango sorbet topped with strawberries and blueberry mochi. I loved the tart flavour, as it was quite tangy, moreso than any other frozen yogurt shop I have tried in the past. The mango sorbet was a nice sweet counterpart to the tart, relatively sweet and smooth, but I found it to have a lingering sweet aftertaste, similar to aspartame. The dairy flavours are on the sweeter side, while tart a little more tangy. Another thing to note - the yogurt is smoother and less creamy, less icy and a little more melty, which could be attributed to the use of skim milk. I did an experiment where I froze half my yogurt and sorbet for 5 hours, and upon eating it straight from the freezer, both the yogurt and sorbet were firm, but not hard, making me wonder if there is an agent in the mix to prevent the product from freezing fully. I'm a little bit of a food nerd, but hey, you gotta question what you eat!
All in all, the Menchie's experience was pleasant - the place is clean, and there's lots of variety available. They also offer waffle bowls for $1 on top of your yogurt price, so you can change things up from time to time. Customer satisfaction is a high priority, as their motto is to make you smile! And they do make me smile, especially with their Smileage Passport program. When you sign up for the program, you receive 1 Smile for every $1 spent. 50 smiles equates to $5, which is just about equivalent to a free yogurt, so it pays to collect smiles at Menchie's. With so many frozen yogurt options available here in Edmonton now, you might already have a favourite place. But give Menchie's a try before you make up your mind!