Quick & Fresh: Pure Kitchen
April 24, 2013
A couple months back, Pure Kitchen came into my radar, and they had prospects of opening around November of 2012. Dates got pushed back further and further, but finally they have opened and are ready to serve up fresh eats in Edmonton!

Pure Kitchen - 12325 102 Avenue - Edmonton AB


Located just off 124 Street across from Mountain Equipment Co-Op, Pure Kitchen is pretty hard to miss. It's not too big to accomodate a large crowd, but there's lots of natural light to brighten up the space decorated with wood and bright orange accents.
Pure Kitchen has a bistro/cafe feel, where you go up to the counter to place your order before taking a seat to wait for your meal. There is the option to have orders to go, but I've always loved being able to sit and enjoy my food in small cafes while getting some work done. Pure Kitchen is no exception, as they provide free wifi and a bright workspace!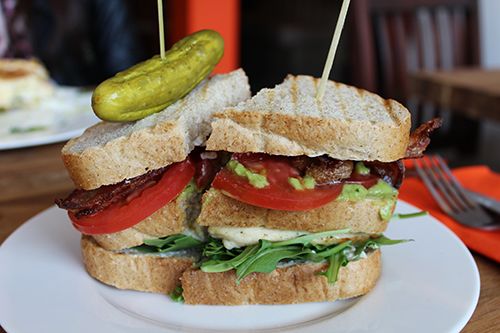 The Chicken Avocado Club ($8.75) was actually my second choice, but more on that later. This particular sandwich had pan seared chicken breast, bacon, arugula, tomato, guacamole and herb cream cheese stuffed between three layers of rye bread. The chicken was tender, falling apart nicely with each bite, and light savory flavors worked well in this sandwich. The only problem I found was that perhaps I have a small mouth or something, cause this sandwich was so tall and difficult to eat! I found myself flipping it from top to bottom with every bite in order to keep it from being lopsided. Flatten this baby down before eating.
The Cheddar Apple Smoked Turkey sandwich ($8.75) was recommended to us by the server, and it was the best sandwich I've had of late. Seriously. Smoked turkey breast, sliced granny smith apple, avocado, mixed greens, cheddar, mayo and honey drizzle pressed between a crisp bun - I could eat this again and again. The light turkey breast and cheddar gave this sandwich a lot of flavor, and I loved the inclusion of the apple to give the mixture crunch and refreshing flavor. I think the crunch of the bread just made it that much better, making this sandwich a winner.
So that comment about the sandwich being my second choice? That's because I originally ordered Red Velvet Crepes ($9.75) off the breakfast menu as my meal. Totally unhealthy for a main meal, but that's ok with me. I had been expecting pillow soft, thin sheet of crepes filled with cream cheese mousse, fresh raspberries, and drizzled with raspberry coulis, but what sat in front of me on the dish was completely different. The crepe rolls were thick and dense, reminiscent of a roll cake, but not overly chewy, filled with lots of mousse and topped with whipped cream. It was definitely overly sweet to have for breakfast, but I wouldn't mind this at all for dessert. The dish was also served cold - warm it up and tone down the sugar a bit and I would be in dessert heaven.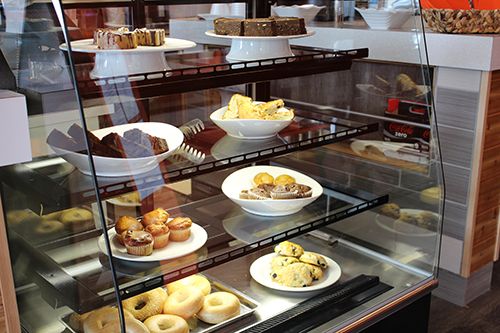 Having opened for just a few days, I'm pretty impressed with what Pure Kitchen has to order. Everything is made fresh and they're committed to sourcing ingredients locally, hence the higher prices. There's baked goodies made fresh in their kitchen to accommodate those that are gluten free, and many menu items can be made vegan or vegetarian. With Cherry Hill Coffee and a variety of teas on hand, stop by for a visit as early as 7AM on weekdays (9AM on weekends), or stay as late as 6PM!