Ramen is Home: Prairie Noodle Shop
January 05, 2016
With four successful sold out pop up events and a fully funded Alberta BoostR campaign, Edmontonians have been patiently awaiting the opening of Prairie Nooodle Shop. As of opening day on December 15, 2015, Prairie Noodle Shop has been selling out nightly.

Prairie Noodle Shop - 10350 124 Street - Edmonton AB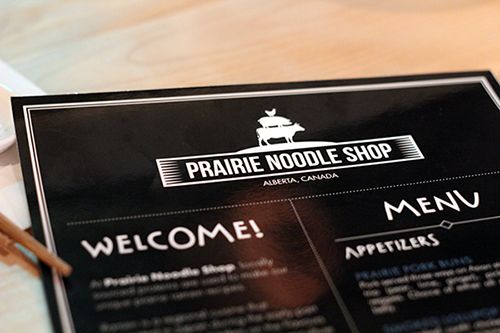 Edmonton's ramen culture has certainly grown over the last year. With the opening of
Kazoku Ramen
and other Japanese restaurants offering the bowls of noodle soup on their menus, Edmonton is certainly ready for a ramen boom. Ever since I had my first bite of Prairie Noodle Shop's Prairie Pork Ramen at their
first pop up
in November of 2014, I was hooked. I'm forever grateful that the group of friends behind this ramen shop decided that Edmonton needed a dedicated ramen shop unique to our city!
I had the chance to stop by for a bowl of ramen before heading in to work one evening, and I knew I had to show up early to secure myself a bowl. Despite being open until 9PM, the restaurant has been selling out early around 7PM each day. My boyfriend and I arrived at 5PM to a lineup of about 10 people, but the quick turnover meant a wait time of about 15-20 minutes.
Grabbing a seat for two at the communal table allowed us to take in all the action going on in the restaurant. I love the use of the chalkboard highlighting where ingredients for the ramen bowls have been sourced, and the placement of farm animals in woodwork to liven up the space and emphasize the prairie provinces as inspiration for the noodle soups.
I've always been asked which of the four bowls was my favourite from the pop up dinners, and it has always been hard to say as I haven't been able to make a side-by-side comparison of the bowls! Fear no more - the time is here. I've always thought I loved the Prairie Pork Ramen ($15) the most, so that was my choice for the evening. Accompanied by roasted pork belly, smoked pork shoulder, a crispy chicharron, and the famous umeboshi egg, the handmade noodles maintained their texture and elastic bite from start to finish of the bowl. The corn, green onions, and blackened garlic sesame oil added some flavour, but I found that the broth was missing the depth of flavour and umami I so clearly remembered from the first pop up I had attended. It was a great bowl, but it was missing something! The umeboshi egg made up for it though - that pickled plum flavour is addicting and I packed one up to go!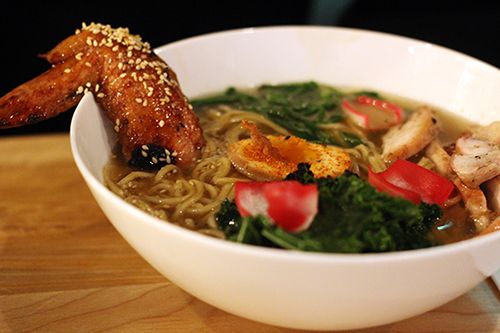 Our second bowl was the Roasted Barley Chicken Ramen ($15) featuring a yakitori-style chicken wing, marinated chicken thigh, and a roasted barley tare. The chicken broth is clear and light, and the bowl is rounded off with sauteed kale, pickled pearl onions and the umeboshi egg. The chicken and roasted barley flavours came through in this bowl, but like the prairie pork, we found the broth itself to be underseasoned and a little underwhelming. With a couple tweaks, I'm sure this bowl could be as great as the one I have in my memory from the previous pop ups.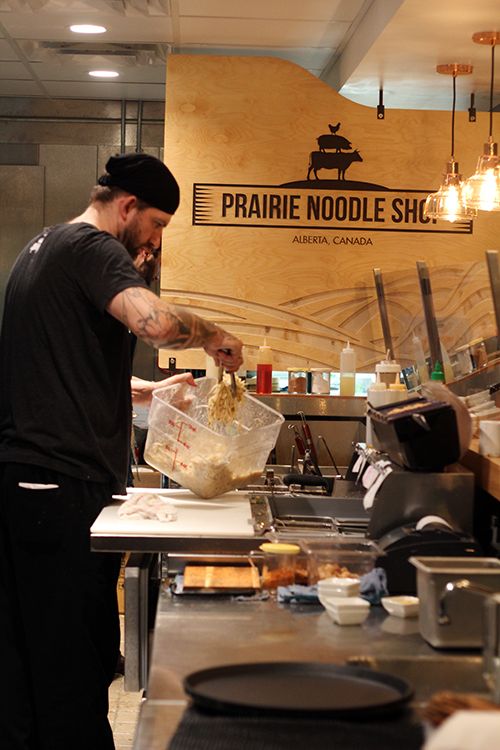 It's been incredible following the team behind Prairie Noodle Shop go from pop-up dinners to a brick-and-mortar restaurant. As with many new restaurants there are bumps and hurdles to overcome in the first few weeks of opening, and Prairie Noodle Shop definitely has some tweaking to do in order to fulfill the demand for their bowls. The small ramen shop was built to make up to 200 bowls per day, but with the constant line ups and increasing demand, the kitchen has been working hard to pump out 250-300 bowls. This has me wondering if demand could be compromising quality, which could explain the little discrepancies between these bowls and those I have in my memory. Regardless, Prairie Noodle Shop has been highly receptive to feedback, and now close for a portion of the afternoon for a break to focus and improve the quality of their product.
As an avid supporter since day one, I'm very excited that Prairie Noodle Shop is here to stay and no longer has to turn away ramen enthusiasts! With some improvements and a change in logistics, I'm sure the ramen bowls will be able to match those in my memory. Thank you to Terry, Arden, Ryan, Jeff, and Craig for taking the risk and bringing your dream to life, and no longer making me wait months to get my hands on umeboshi eggs. Congratulations on opening!