Bacon Wrapped Turducken: Holiday Entertaining Made Easy
January 11, 2016
For the past two years my family has entrusted me with the task of preparing Christmas dinner. It's exciting to plan a menu and surprise your guests with beautiful dishes, but I've also found out it can be incredibly stressful! You need to remember to defrost your turkey, buy and prep all your ingredients, and somehow manage to serve your guests at a reasonable time all on your own. Man, it's not easy.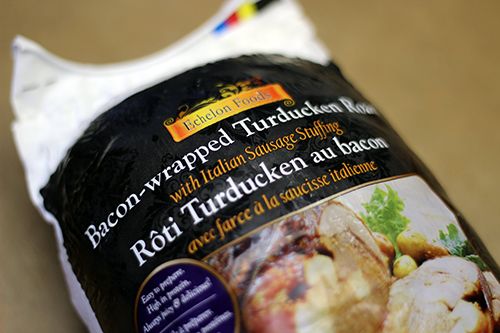 This past Christmas I was contacted by
Echelon Foods
about serving a turducken roast for Christmas dinner. I've always wanted to try a turducken, and seeing that it meant that I could have one less dish to worry about for my family gathering I happily agreed to try it out. So what exactly is a turducken? It's a completely de-boned
tur
key with
duck
and chic
ken
wrapped up inside of it! Echelon completes their version with a chicken apple or Italian sausage stuffing inside too.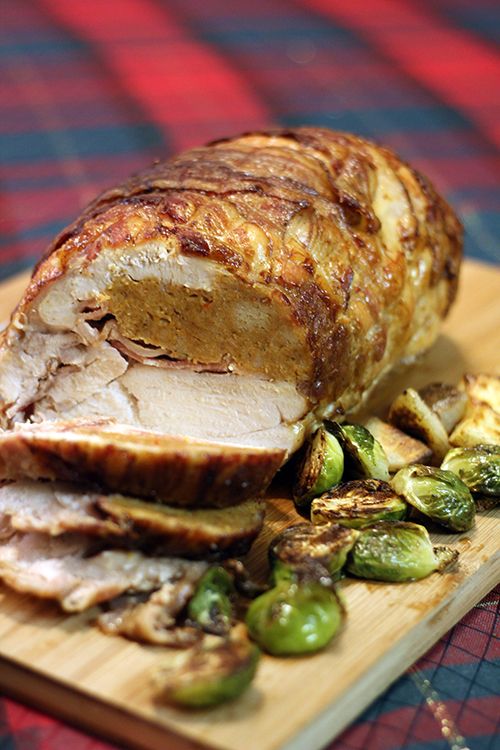 I chose to serve up the
Bacon Wrapped Turducken Premium Roast
this year, and it was so easy to prepare. The football-sized roast was a solid mass of a deboned turkey, skinless chicken breast, skinless duck breast, and Italian sausage stuffing, all wrapped up with strips of bacon. After 3 days of defrosting in the fridge all I had to do was unwrap the roast and place it on a roasting pan. Four hours later it was ready to serve along with all the sides I had prepared for the meal.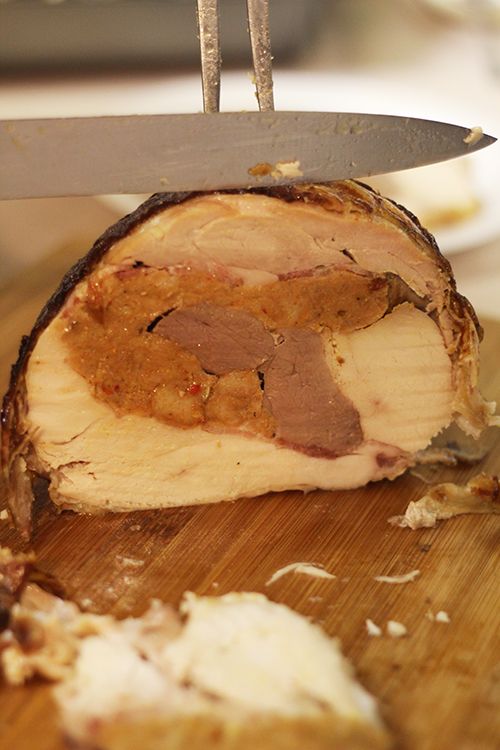 The turducken was cooked according to Echelon's instructions and turned out great. The roast was easy to serve and I didn't have to think about how to carve a huge turkey! The crispy bacon gave the turkey a nice smoky flavour and the meats were fully cooked. The turkey was a tad on the dry side, so I would cook it for a little less time if I were to do a turducken again. The only issue I had with the roast was that the stuffing was quite salty - at either end the roast it seemed like there was a higher ratio of stuffing to meat, so the roast was quite salty eaten alone. When paired with a starch on the side it wasn't a problem.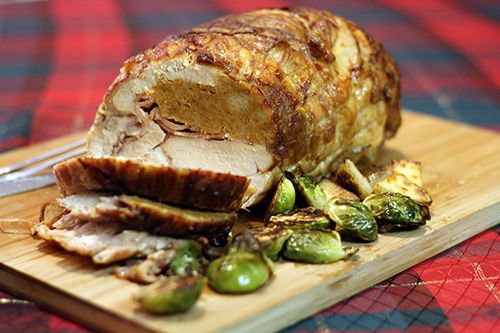 If a turducken is something you've never had before, it's definitely one of those things you should have on your foodie bucket list. There's plenty of tutorials and recipes out there you can follow to make your own, but having one pre-made that you can just throw into the oven to roast is less time consuming and way more convenient. So whether it's Christmas, Easter, Thanksgiving, or just a fun dinner party with loved ones, give the Echelon Turducken a try and let me know what you think!
*Disclosure: Echelon Foods sent me a turducken roast for consideration of a review. Views expressed in this post are solely mine. This post is 100% my opinion, and as always, my priority is to you, the reader, to present an unbiased, thorough review.