Boba, Snacks & More: Purple Bubble Tea Store
January 21, 2016
Edmonton is experiencing a ramen craze, but there's something else that is popping up all over the city - bubble tea spots! I find that Taiwanese bubble tea and noodle soups tend to go hand in hand, so I'm not surprised that more bubble tea and snack shops are opening around the city.

Purple Bubble Tea Store - 10551 109 Street NW - Edmonton AB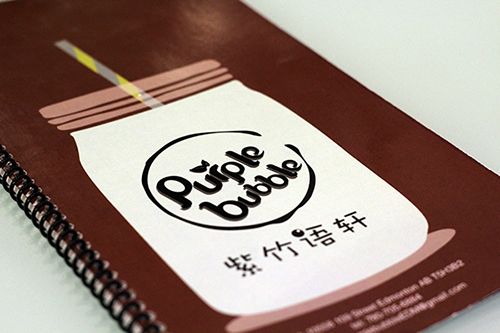 Located just north of Grant MacEwan on busy 109 Street is Purple Bubble, and you'll see their signature purple hue coming from the windows as you drive by. I stopped by after dinner one evening to check out the space and see what they had to offer.
While bubble tea isn't a go-to for me like it was in my younger days, I definitely appreciate a good milk tea every once in a while! At Purple Bubble there are a variety of drinks and a handful of snacks and desserts you can order as well.
When it comes to bubble tea I'm a green tea or traditional milk tea kind of girl. The Original Milk Tea ($5.49) at Purple Bubble is smooth and isn't overly sweet. making it a winner in my books. The menu has an extensive list of milk teas, including some specialties like Hokkaido Caramel milk tea and Pudding milk tea. If tea isn't quite your thing, Purple Bubble also offers fresh fruit smoothies and fruit slush.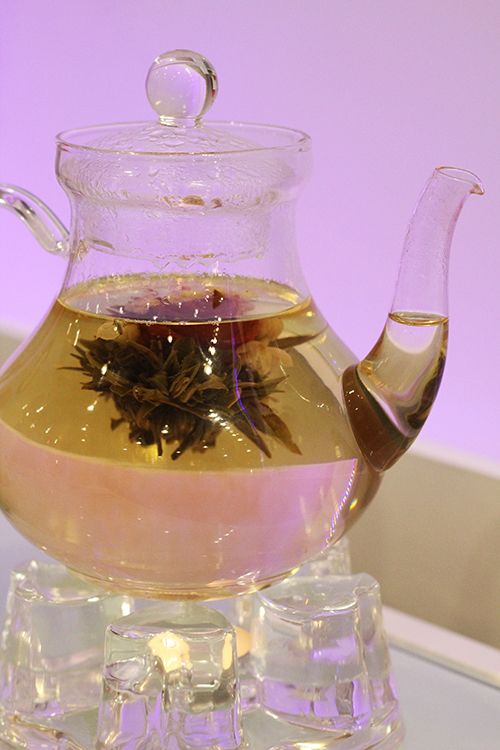 One thing that separates Purple Bubble from all the other bubble tea spots in the city is their Blooming Art Tea ($6.99). A clear teapot suspended over a tealight holds a single flower bulb that "blooms" as it steeps. It really is quite lovely to see the flower open, and it makes me think I need to get myself a clear teapot!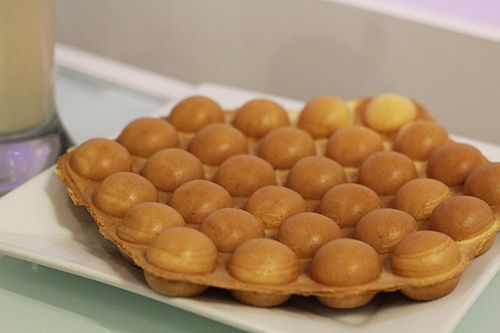 When it comes to the snacks, Purple Bubble has both sweet and savoury offerings. There's the usual fries and Chinese snacks like dimsum and dumplings, but on the more interesting side there's Taiwanese fried chicken, seafood ramen, Taiwanese style rice bowls and even Korean style spicy rice cakes. As this visit was after dinner we decided on an order of Egg Waffles ($4.99) - one of my favourite street foods in Hong Kong. Very few places in the city offer egg waffles, and those that I've tried have been quite disappointing. Luckily the puffy egg waffles at Purple Bubble are the best I've had in the city. Served fresh out of the waffle maker, the waffles are light, puffy, eggy, and lightly sweetened.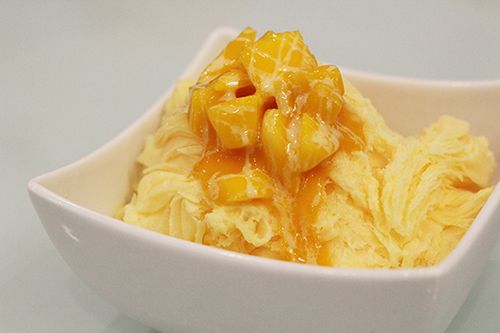 For a dessert option Purple Bubble has Snow Ice ($6.99), which is their variation on a bowl of shaved ice. This dessert is available in four different flavours: Matcha, Vanilla, Strawberry, and Mango. We opted to go with the mango, and the shaved snow came topped with fresh mango chunks and a light drizzle of condensed milk. The snow was fluffy and creamy, and the mango topping sweet and fragrant. However this shaved snow did have a bit of an artificial flavouring to it, so it didn't quite hit the spot for me.
Purple Bubble is in a great location along busy 109 Street and just a quick walk away from the Grant Macewan campus. It would be a great spot for students to study or catch up with friends, and it's in a place where it is convenient to stop on the commute out of downtown. I would happily stop by for some tea and egg waffles if I were in the area and craving something sweet! Check them out and let me know what you think!