Recap: The Salt Room Underground Dinner #2
April 06, 2015
At the end of the first underground dinner hosted by The Salt Room, I was already checking my schedule and booking my spot for the second dinner. It was that good. This time around Chef Tony Krause decided to host two dinners with the same menu to accommodate his booking requests and allow for more people to experience his prix fixe menu.

The Salt Room - 10251 109 Street (Mothers Market) - Edmonton AB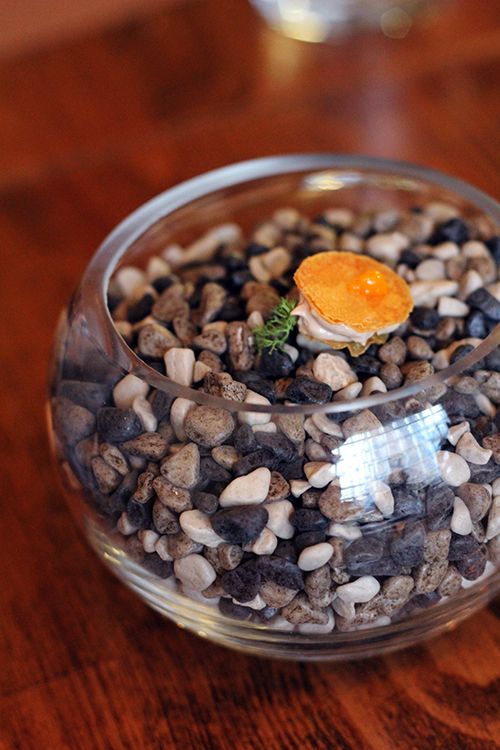 This time around the menu was set at $70 per person, with optional wine pairings (3 glasses) for an additional $30. Although advertised as a 5 course dinner, Chef Tony likes to throw in a couple of extras, one of which was an amuse bouche. To start off the evening an amuse with components from chicken, seabuckthorn and lichen sat delicately upon a bed of rocks. A flavourful chicken heart mousse was served between two potato crisps, dotted with seabuckthorn berry jelly and served with a small sprig of fresh reindeer lichen. The different combination of textures and flavours was fantastic. What a great start to the meal.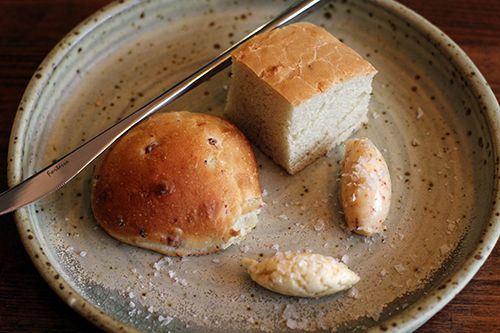 Next up was the bread course, but I didn't think anything would be able to top the combination of bread and butter we had been served at the previous dinner. Wrong. Our plates presented a bacon and onion bun and green cardamom and juniper branch focaccia. The bread was accompanied by a quenelle of onion butter and brown butter, each topped with a sprinkling of maldon salt. Both breads were pillowy soft, but the bacon and onion bun was my favourite…who wouldn't love bread laced with chunks of bacon? Both butters on the plate were unique, adding an extra dimension of complexity to each bite of bread.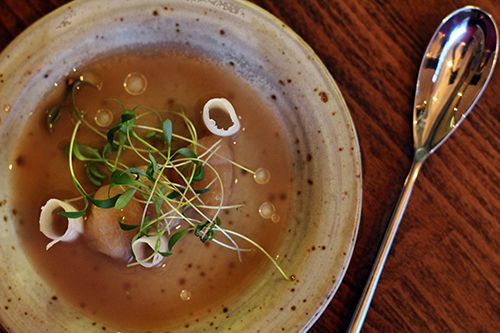 Given that it was April Fool's Day, Chef Tony made sure to include a couple unexpected twists in this dinner. Our second course featured scallop jerky in a one week old fermented turnip juice broth, served with shaved poached turnip and topped with cilantro microgreens. If there's one thing you can expect from Chef Tony, it's strong umami flavours in his cooking. The turnip broth was just that - stinky fermented juice with strong bitter, sour, and savoury notes. With a couple dots of canola oil to cut the acidity, I enjoyed the broth. The scallop jerky was dried to a gummy, sticky texture, similar to that of a jujube. Although I can appreciate the techniques utilized to create the jerky, jujubes just aren't my thing (I hate them getting stuck to my teeth!) and I personally prefer fresh or seared scallops.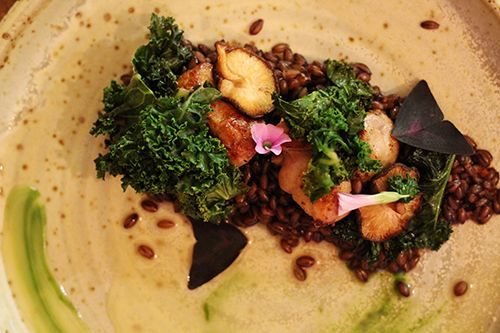 Course number three was plated beautifully, making me think of the warm Spring weather to come. Veal sweetbreads (thyroid) were presented alongside wilted kale, charred shiitake mushrooms, and fresh oxalis flowers. All of this sat on a bed of black barley cooked with bacon, and the dish sat in a bay leaf & whey beurre blanc finished with fresh kale juice. The sweetbreads were cooked beautifully tender, and I loved the chew the barley had to it. Savoury, sweet, rich and acidic, there was so much going on, but all the components worked together harmoniously.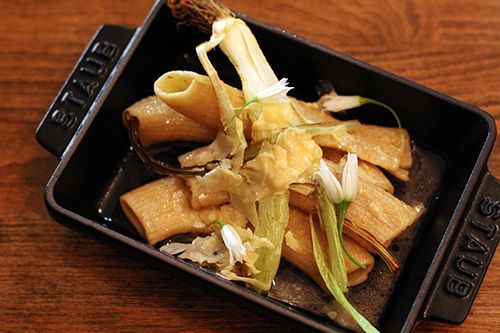 Our fourth course was titled "Flavours of Onion," so I didn't expect to see a pasta course. Housemade tubular pasta had been infused with French onion soup. and served with charred wild onions and their blossoms sourced from
MoNa Food
. Each component had a different intensity of onion flavour, with the blossoms being the strongest of the three components. Topped with some shaved
Sylvan Star
Old Grizzly Gouda, this was a strong finish to the main courses.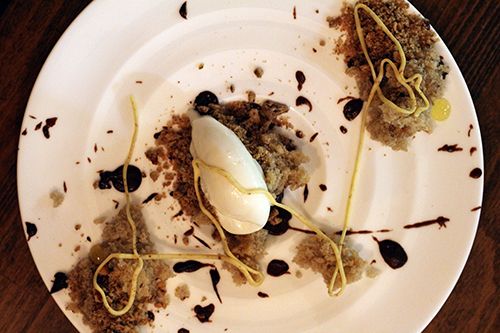 The dessert that evening was a work of art, featuring flavours of chocolate, banana, pecan and calamondin. Chocolate cream had been splattered on the plate Jackson Pollock style, and three small portions of light banana cake were topped with pecan shortbread crumble, brown butter strings, and calamansi fluid gel. The cake in the middle featured a quenelle of an amazing housemade banana gelato. To make the calamansi fluid gel, Chef Tony used previously self grown and harvested calamansi oranges preserved in salt for one year, which gave this dessert a fantastic salty-sweet combination. Once again, the components with their different textures and flavours worked together perfectly.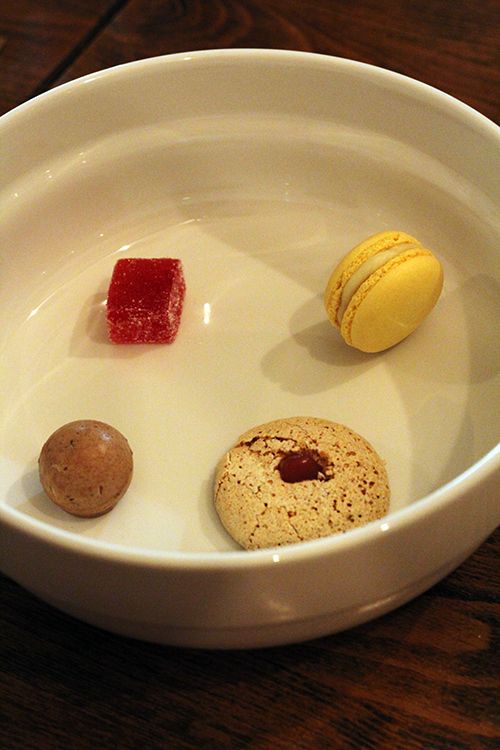 Rounding off the evening, Chef Tony presented us with a plate of petit fours. A mint mojito macaron, frozen chocolate parfait, smoked paprika wildberry pavlova, and wild sour cherry gummmy sat daintily in the dishes, waiting to be eaten. Each either had strong (macaron, gummy) or subtle (pavlova, parfait) flavour, and I made sure to savour each one.
Chef Tony's underground dinners really showcase his skills and passion for locally sourced ingredients and nose-to-tail dining. For the upcoming dinners in April Chef Tony is currently sitting at a waitlist of 50+ people, so if you're interested definitely shoot him an email (antonykrause[at]gmail[dot]com) and wait patiently. If you don't want to wait, swing by Mother's Market Friday thru Sunday to try out his menu. The items change weekly, so there's always something new to try. I'm still waiting for the day I can try his charcuterie - set to be ready in a couple weeks!