Bubble Away: Seoul Tofu House
April 13, 2015
Back in my elementary school days my dad would often take me to Swiss Chalet after Saturday morning Chinese School. Our go-to spot was the location on 51st Ave and 97 Street and I enjoyed every single visit. Years have passed since those days, and on a recent drive by my old lunch spot I noticed it now housed a Korean restaurant. Of course I had to check it out!

Tofu House - 5020 97 Street - Edmonton AB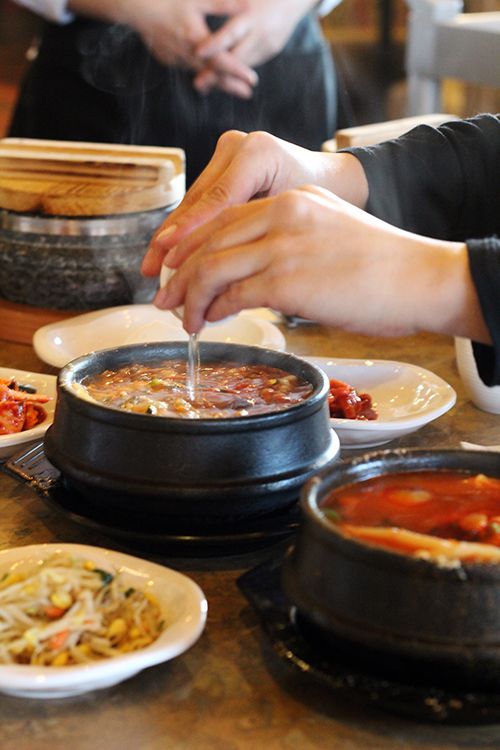 If you've dined at the Swiss Chalet in the past, walking into Tofu House might give you a bit of nostalgia and a flashback to old memories. The owners have taken out only the essentials (anything that explicitly says Swiss Chalet) and haven't changed anything else. The interior still looks and feels like a classic Swiss Chalet restaurant with the wood paneling and booth seating. The take-out room remains, as does the beverage station in the middle of the restaurant. It's a little bit strange, but hey, I'm here for the food.
Some friends and I met for dinner last week and to start we had to try out the signature dish - tofu stew. On the menu there are 8 different types of tofu stews, each of which contains a different protein or a vegetarian option. We chose to go with the Seafood Tofu Stew ($13.75) and Kimchi Beef Tofu Stew ($13.75), both of which were brought to the table bubbling away.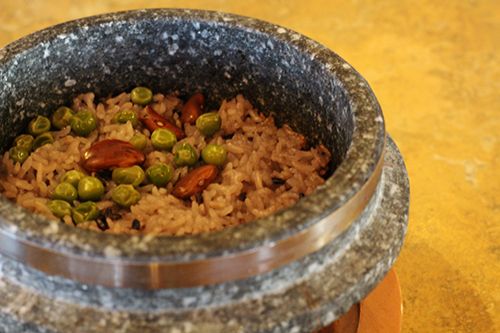 Each stew comes with a raw egg to be cracked into the boiling liquid and slowly cooked, and a large hot stone pot of brown rice with peas and almonds. The Hot stone bowl continues to cook the rice while it is at your table, making the grains smoky and crunchy. To slow things down we were instructed by our waitress to add tea into the bowl so that our rice wouldn't get burnt to a crisp. I love when there are interactive components to dinner, so you bet I enjoyed the tofu stews.
In addition to the shrimp, clams and oysters in the seafood version, we were surprised to find some crab legs in there too. Both stews were mildly spicy but flavourful and loaded with ingredients. It's a generous portion size for one person, so you can definitely considering sharing your stew!
Being big fans of KFC, we also had to order the Fried Chicken ($21). 9 big pieces of chicken (wings, thighs, breasts) were served with a generous portion of slaw. The chicken can come plain or coated in a sweet and spicy sauce, but I always recommend ordering the sauce on the side to avoid soggy chicken. The fried chicken here was fantastic. The batter wasn't overly thick or too thin, which resulted in a crispy piece of chicken that didn't feel oily. The meat was moist and flavourful, and the sauce was sweet with a tiny kick of heat. I didn't care for the slaw as I felt it was pretty bland in comparison to the chicken, but it would be a refreshing bite between each piece of fried chicken.
At Tofu House there is a section dedicated to specialty dishes that many Korean restaurants in the city don't have on their menus. One of those dishes is Bossam ($29). In Korean, bossam literally means "wrapped," so this dish usually features thinly sliced pork belly that can be wrapped inside a lettuce leaf with kimchi, ssamjang (spicy soybean paste), raw garlic, jalapenos, and pickled fermented shrimp. I love wraps of all sorts, and bossam is one of my favourite Korean dishes because you can customize your wrap to your liking, and it is so easy to put together. The ingredients in the dish were fresh, the pork belly was tender and the kimchi was flavourful.
It's great to see another Korean restaurant opening in the south end of Edmonton. The menu is small, but it makes sense since Tofu House is more focused on one type of Korean dish. The food was tasty and the prices were affordable, but I think I would visit this restaurant with bigger groups. Given the larger portion sizes, it feels like a lot of the dishes are meant for sharing. With a bigger group of people you can order more and taste a wider variety of dishes. Great company + lots of food = win-win! If you're in the area, stop by and let me know what you think!