Street Eats & Soju: Nongbu Korean Eatery
April 29, 2015
It seems like there are a lot of Korean restaurants opening up in Edmonton lately! I'm not complaining though, as I love having a wider variety of restaurants to choose from when dining out. The latest to open is Nongbu, located right in the heart of Old Strathcona.

Nongbu Korean Eatery - 8115 104 St NW - Edmonton AB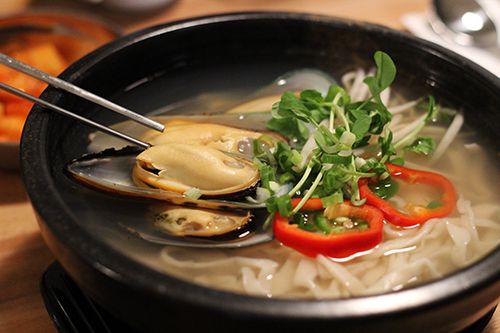 Mussel Kalguksu
Located off Whyte Avenue next door to Choklat, Nongbu is a two storey Korean restaurant serving up small plates and a few bigger sharing dishes. A small menu of Korean snacks and street eats, fresh hand-cut noodles, and lettuce wraps are accompanied by popular Korean liquors, which is perfect for those looking for quick, late night eats. In talking with the restaurant owner, the menu will be changing frequently to reflect the seasons and current culinary trends in Korea.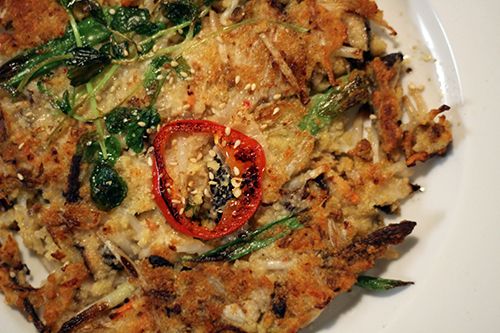 Although the menu will change, the size will remain the same. I met up with some friends last week and we happily ate our way through practically the entire menu! The night started with the Mussel Kalguksu, which features fresh hand-cut noodles ($13). Our thickly sliced noodles were soft with a slight bite and sat in a seafood broth with mussels, spicy peppers, and a handful of herbs. The clear broth had a pleasant briny depth and a slight kick of heat which I enjoyed.
Next up was the BinDaeDduk ($8), a mung bean pancake with a medley of vegetables and kimchi cooked into it. I've never had this dish before, and the texture of it actually took me by surprise. I had expected the mungbeans to be ground into a fine flour to make the pancake, but it turns out the beans seemed to be lightly macerated, giving the pancake a crumbly texture. The flavours were there, but I didn't quite love the texture.
One of my favourite Korean street eats is Ddukbokki, a chewy rice cake in stick form. Nongbu gets their rice cakes daily from a local source to ensure that they are fresh and have the proper texture. If they aren't fresh, they won't be on the menu. Those of you who love them as much as me are in luck, because Nongbu serves them up three different ways! We first ordered the Fried version ($7.50) where the ddukbokki is cut in half, then fried and coated in a sweet and spicy sauce similar to gochujang. This was my favourite ddukbokki of the meal as it was flavourful and the outer skin was fried to a crisp, but the interior remained soft and chewy. Delicious!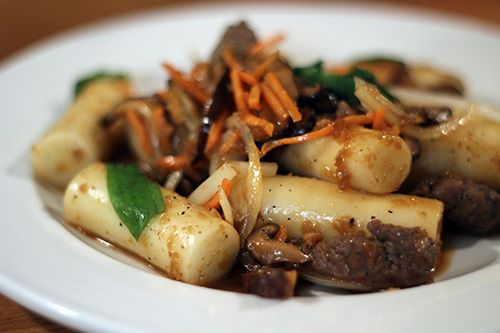 The Royal Ddukbokki ($11) features long rice cakes cooked in a sweet and savoury sauce with slices of beef and vegetables such as carrots, onion, and shiitake mushroom. The sweet and salty sauce reminded me of the soy based sauce used to cook bulgogi beef. The rice cakes were tender and this was another great dish!
The next dish to the table was DwenJang Kalguksu ($11.50), another hand-cut noodle soup. This version utilized a Korean bean paste to make the broth, and the noodles were topped with ground pork, enoki mushrooms, and some chili peppers. The broth had the same nutty flavour and cloudy appearance you would find in a miso soup. I personally preferred the Mussel version, but both were tasty soups that will easily fill you up.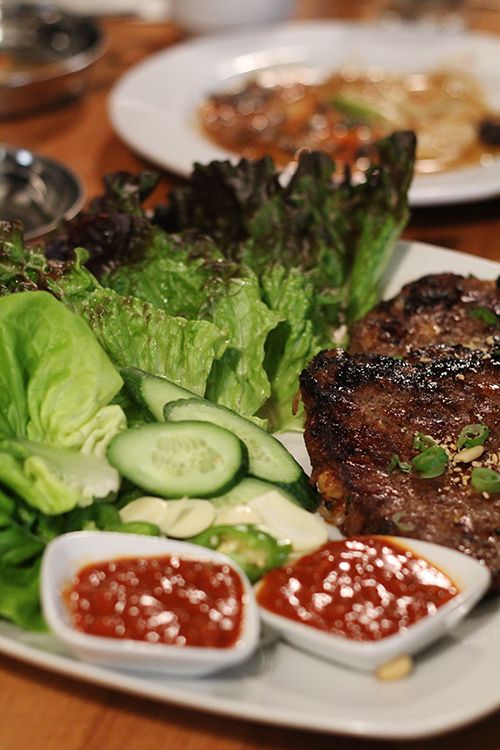 Nongbu offers a few different ssam (lettuce wrap) dishes, so of course we had to order one for the table. Three ssam options (Bo ssam, ddukgalbi ssam, tofu ssam) are available on the menu, all which come in individual or sharing portions. The dish is accompanied by a bowl of rice, a bowl of soup, and 5 banchan dishes on the side. It's definitely great value for what you get! We ordered the Ddukgalbi Ssam ($16 individual/$30 sharing) which featured two ribeye patties with rice cakes inside. The dish came with cucumber slices, jalapeno, garlic, spicy bean paste and both buttercrunch and red leaf lettuce for wrapping. The meat patties were so moist and flavourful, and the small ricecake pieces inside gave the wraps a chewy texture from time to time. I really enjoyed this one and would easily order it again.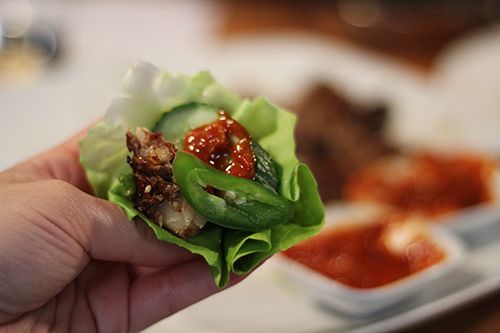 Delicious Ssam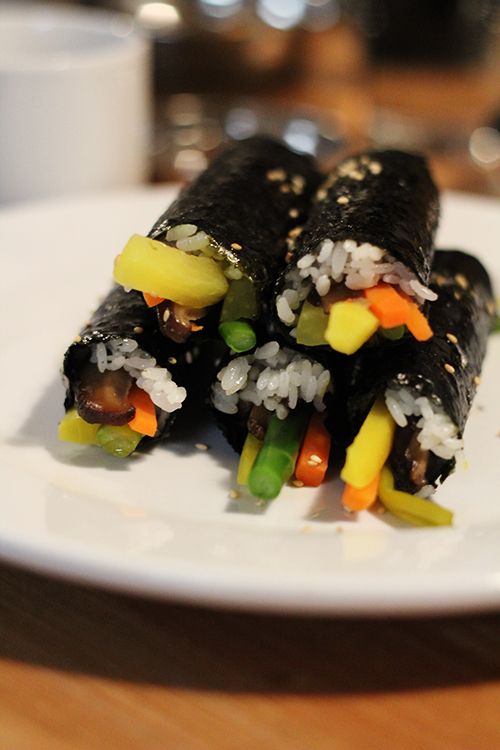 Kimbap (Korean sushi rolls) is another one of my favourite Korean street eats, and Nongbu offers them as a plate of 5 on their menu ($6.25). Alternatively, you can add one kimbap to any snack order for an additional $1.25 if you don't want to tackle a plate of them. The kimbap on the menu can change daily depending on available ingredients, but it will always be a mix of vegetables and rice wrapped up in seaweed. Ours featured asparagus spears, pickled radish, carrots, and shiitake mushrooms served with a side of hot mustard sauce. The ingredients were fresh and the kimbap was a great snack to munch on.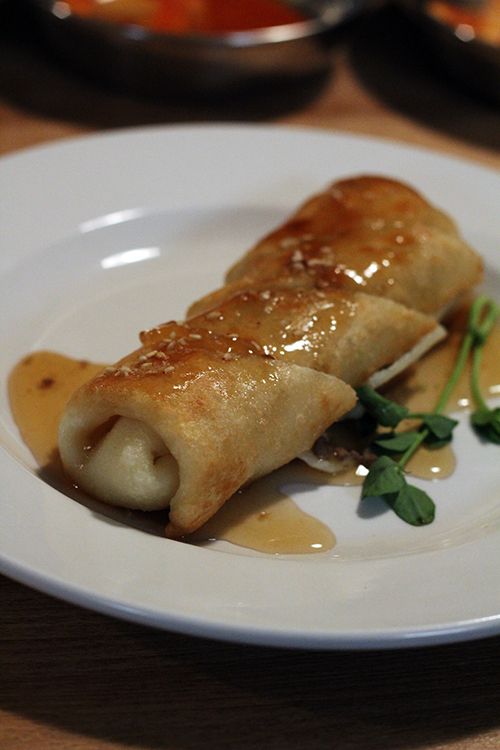 The Gemma Roll ($7.50) reminded me of a gigantic springroll, as it is an eggroll with beef and vegetables wrapped up inside. It's bursting with ingredients and topped with a sweet and savoury sauce - you want to eat this one quick before it gets soggy!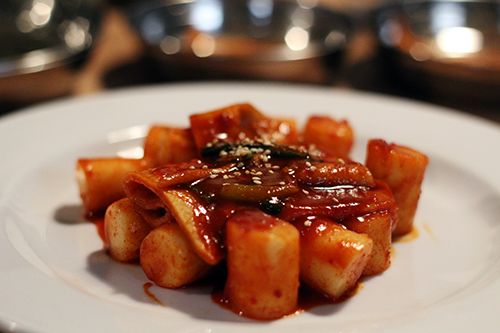 The last dish of the evening was the third of the ddukbokki offerings: the spicy ddukbokki! Short, chewy pieces of rice cake were coated in a dark, spicy sauce and topped with pieces of fish cake. This version is what I think of when it comes to ddukbokki purchased on the streets of Korea, so this is the most authentic of the three varieties. This plate was also delicious, but if I had to rank the three duukobokki dishes we tried that evening, it would be: fried, spicy, then royal ddukbokki!
After a very filling meal I couldn't pass up on dessert. Nongbu offers the well known Melona ice cream bars as well as a Pig Bar, which I had never tried before. The Pig Bar is made by Lotte and named based on the little pig on the packaging, which looks like Piglet from Winnie the Pooh. This vanilla ice cream bar has a strawberry centre and is coated in a thin layer of chocolate and crunchy chocolate bits. The flavour is very close to that of Neapolitan ice cream, and really reminded some of us at the table of the Meiji chocolate gummies. It was a nice cold treat to enjoy at the end of the meal that wasn't too sweet.
I'm really excited to have Nongbu join the Edmonton food scene, as it offers plates different from those you would typically find at Edmonton's Korean restaurants. It's a great casual spot to grab Korean snacks and drinks, and I can see it becoming very popular for the Friday and Saturday night crowds on Whyte Avenue. Prices are affordable and will run $15-$20 per person for a filling meal. I know that I'll definitely be back in the near future, and I can't wait to see what different plates they'll offer on their menu!