Makeup Monday: Draw the Line - Make Up For Ever Graphic Liner
January 19, 2015
Happy Monday! Hope everyone had a great weekend to just relax and recharge. Life has been crazy busy lately and it's been pretty difficult to find the time to just sit and unwind, but I'm hoping to be back into the swing of regular postings soon. :)


For the first Makeup Monday of 2015 I've got a brand new product from Make Up For Ever to share. If there's one thing in my daily makeup routine I can't live without, it's a good eyeliner. As a follow up to the release of the
Artist Liner
last year, Make Up For Ever has released two new jet black liners for you to add to your collection. Ink Liner is a matte black liquid liner designed for precision, while Graphic Liner delivers ultra-fine lines with ease using a felt pen tip.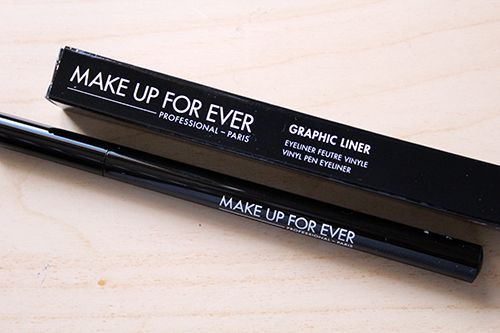 In my makeup routine I typically alternate between gel and fine-tipped pen liners depending on the type of look I want to create. I love pen liners primarily due to their ease of use and precision, so I was immediately drawn to the Graphic Liner. Just look at that sharp tip!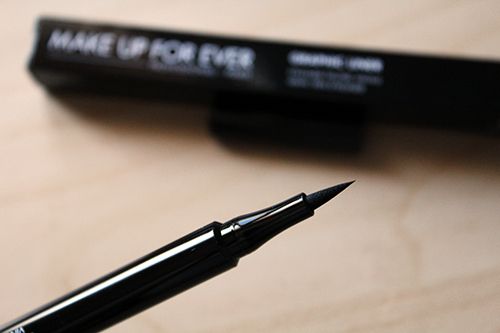 Like other pen liners, the Graphic Liner is light and easy to grip. What's different about it though, is that you do not need to shake the pen in order to distribute the formula onto the felt tip. This makes it feel much lighter in your hand compared to other pen liners. The felt tip is also very stiff, unlike many other felt liners that feature a flexible tip.
After testing the formula for a couple weeks I have to say I have a love-hate relationship with the Graphic Liner. For an eyeliner, I love how pigmented and precise the lines can be. The liner doesn't run during or after application and can last a full day of wear without smudging. It's got a nice semi-gloss finish and the pen itself is lightweight and easy to use. What's there not to like? I'm not the biggest fan of the stiff felt tip which can be a bit irritating during application at specific angles. I personally like my pen liners to have a flexible tip so as to give a smooth application without feeling the pen drag across the eyelid. When the dragging occurs I find the lines are less precise and have the tendency to allow the ink to spread a bit outside of the drawn lines.
Aside from the stiff applicator, the Graphic Liner is a solid eyeliner I would definitely recommend. It's available through Make Up For Ever boutiques and Sephora across Canada for $29 CAD, which can seem pricey, but the wear time and pigment intensity is worth the investment in my books. I'm considering giving the Ink Liner a try, just because it does feature a flexible tip and a matte black finish. Has anyone tried the Ink Liner? Let me know if you have and your thoughts in the comments below!
*Disclosure: This product was sent for consideration of a review.