First of 2015: Brunch at Cafe Blackbird
January 07, 2015
The new year started with a bang for me in terms of food! After a late night of ringing in the new year with friends, my boyfriend and I did not want to have to make our own food the morning after. There aren't too many brunch spots in Edmonton, and most of the ones in Edmonton weren't open on New Years Day. Luckily one of the newest cafes came to our rescue.

Cafe Blackbird - 9640 142 Street - Edmonton AB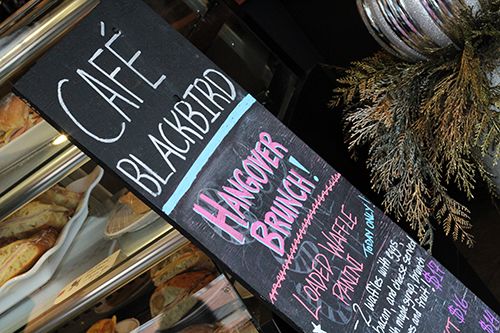 Cafe Blackbird opened its doors at the beginning of October and is located conveniently along 142 Street in the heart of Crestwood right by Delux Burger Bar, Cobs Bread and Careit Urban Deli. I stopped by once before for drink to go, and knew I had to return to try out their brunch and lunch options. Their New Years 'All Day Hangover Brunch' fit the bill, so off we were on Thursday morning to meet a friend for brunch.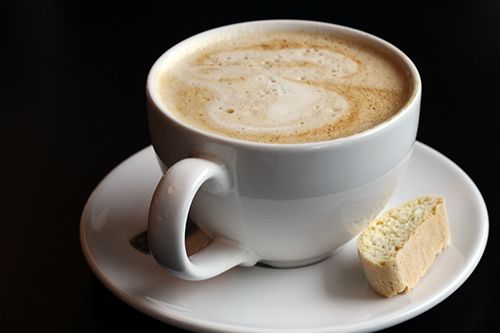 My morning started off with a Vanilla Latte ($4.50) made with beans roasted by Edmonton's own
Iconoclast Coffee
. The latte had great flavour and definitely woke me up. It was nice to know that high quality, locally roasted coffee is the choice at Cafe Blackbird, since it's so important to support local producers! (On a side note -
YEG Coffee Week
is coming March 7th-15th, and Cafe Blackbird is participating! Details to come.)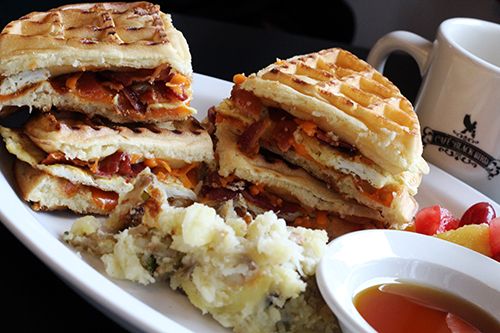 The main feature on the Hangover Brunch menu was a Loaded Waffle Panini ($17) which featured two waffles with eggs, bacon and cheese, served with maple syrup, brunch potatoes and fruit. My boyfriend and I are known to visit
District Coffee Co.
on the weekends for their breakfast waffle sandwiches, so this waffle panini was calling our names. When the dish arrived at the table we couldn't wait to dig in. The waffle panini tasted just like we would have imagined, savoury from the gooey cheese and bacon, and slightly sweet with the addition of maple syrup. The portion size was very generous (read: TWO whole giant waffles!) and I feel two people could have shared this one.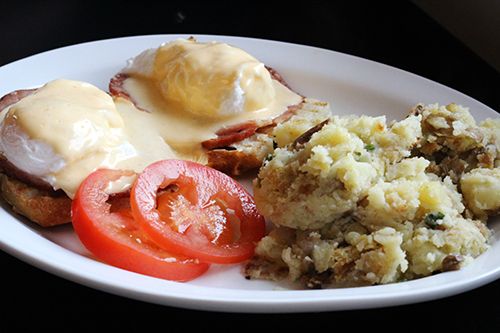 For myself I wanted to try the Eggs Benedict ($16) which is my typical go-to on brunch menus. The version at Blackbird is two poached eggs on ham, with hollandaise and served on top of Cobs Bread sourdough with a side of brunch potatoes. The eggs were poached beautifully with soft whites and an oozing yolk, and I liked the kick of heat to the hollandaise. The use of sourdough as the base for the dish was novel choice, but I found it was very difficult to cut through. With a bit of effort I was able to cut through and the payoff was some fresh, chewy sourdough, but I would prefer the traditional English muffin. The brunch potatoes served with our dishes were fluffy and flavourful, making them a filling side for both plates.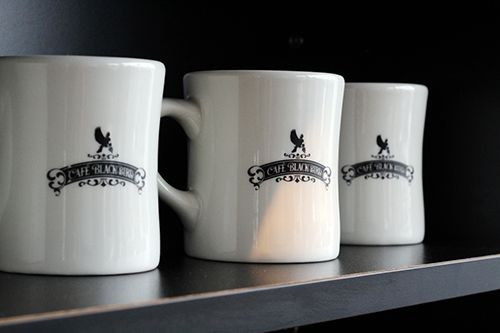 Cafe Blackbird is a great spot in the Crestwood community and I'm sure the local residents are loving it! They offer comforting cafe fare, and support local producers at the same time. Brunch is available on weekends, and tapas are available in the evenings from 5pm til close. They even have some wines for you to indulge in! I'd love to have a locally owned cafe like this near my home - those of you in the west end are lucky.