Sorrentinos: Back to Basics
January 18, 2015
After numerous meals over the holiday season my body needs to take a break from the heavy eating. Eating lighter meals without sacrificing flavour is what I aim for, and for me it usually involves getting pretty creative with salads. A couple of weeks ago I spent an afternoon with Sorrentino's to see what their solution was for post-holiday meals.


For the month of January the different restaurants under the Sorrentino's Restaurant Group offer what they call the 'Back to Basics' menu. Simple, traditional Italian recipes handed down from the Rago & Saccomano families are highlighted in this menu.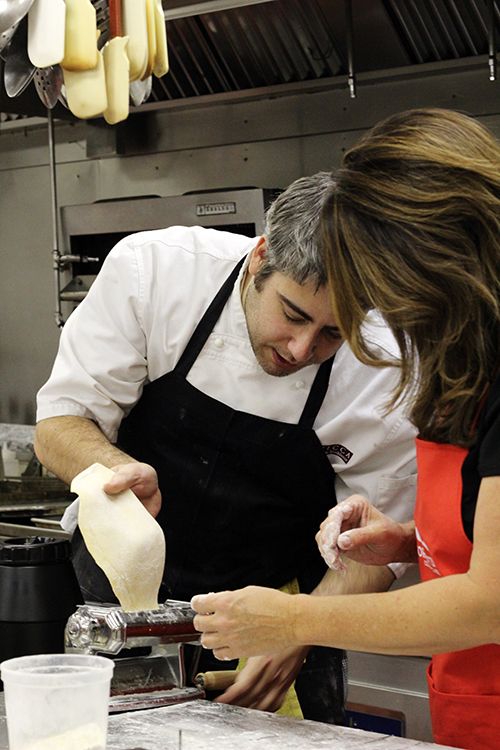 Chef Claudio Tentenni & Twyla Campbell working on pasta
Alongside a handful of food writers and bloggers I was given a preview of the Back to Basics menu inside of the Sorrentino's cooking class kitchen, but not without first putting in some effort. Under the watchful eyes of Chef Chris Hrynyk and Chef Claudio Tentenni, the group of us spent the afternoon practicing our kitchen skills to make fresh pasta, veal meatballs in cream sauce, and chicken piccata.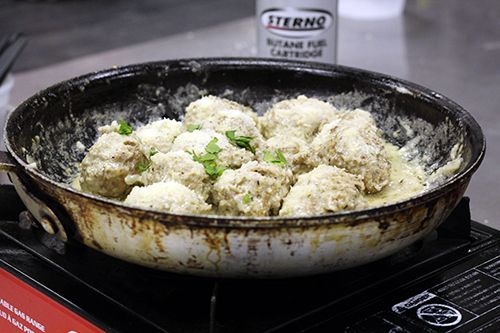 Veal meatballs
If there's one thing I learned during the cooking class, it's that quality of ingredients is paramount. In the Sorrentino's restaurants, almost everything is made from scratch and it is so important to use the freshest, highest-quality ingredients.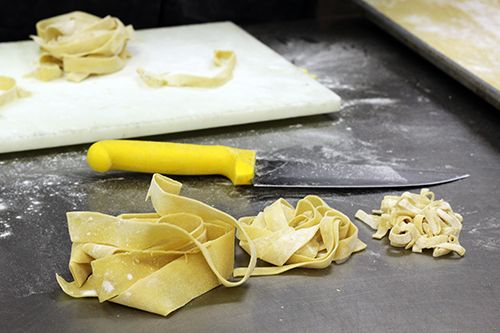 Pastas: Pappardelle, Tagliatelle, Tagliolini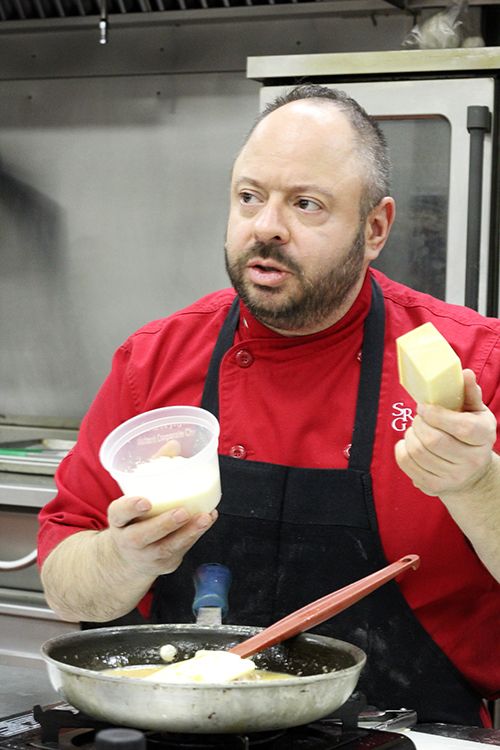 Chef Chris Hrynyk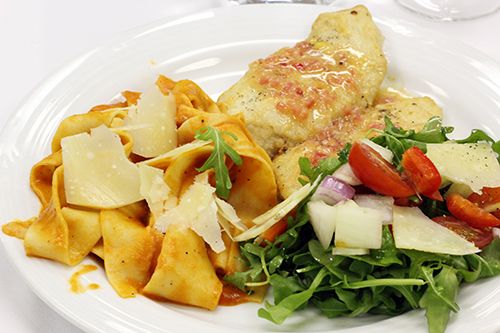 The hours flew by while everyone had an enjoyable afternoon in the kitchen. With a little sip of wine here, and a taste of cream sauce there, I gained some valuable skills in the kitchen and a greater appreciation for the amount of effort chefs put into their finished plates. While simple, the food we cooked was flavourful. It was refreshing to have a fresh meal compared to the rich, heavy meals of the holidays.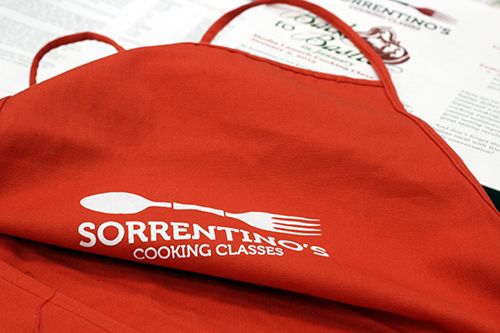 I never knew that Sorrentino's offered public cooking classes, so the afternoon spent cooking simple, traditional dishes was a pleasant surprise. The chefs were so patient and willing to share their knowledge, and of course eating the food we cooked ourselves was very rewarding. I had a wonderful time in the cooking class and would definitely return again in the future. If Italian food isn't up your alley, Sorrentino's offers many other themes to their cooking classes as well. February is focusing on Spanish cuisine, while March will feature Greek food. At $85 per person per class (or cheaper if you buy a multi package!), the cooking classes are very affordable compared to some of the options in the city. I've got my eye on their Friday date nights, where couples can register for a class at $170. Corporate team building classes are available as well, so they're able to accommodate a variety of groups. Classes sell out quick, so
book soon
!
If you're interested in tasting some dishes off the Back to Basics menu it will be available until January 31, 2015, in addition to the regular menu.
*Disclosure: as this was a media event, views expressed in this post are solely mine. I was not expected to feature this cooking class on my blog, nor obligated to do so. This post is 100% my opinion, and as always, my priority is to you, the reader, to present an unbiased, thorough review.