Coffee Break: District Coffee Co.
June 17, 2014
For many, coffee is essential to get them through the day. I'll admit that I'm not a major coffee drinker, but I definitely appreciate the aromas that come from those roasted coffee beans!

District Coffee Co. Cafe & Bakery - #101 10011 109 Street - Edmonton AB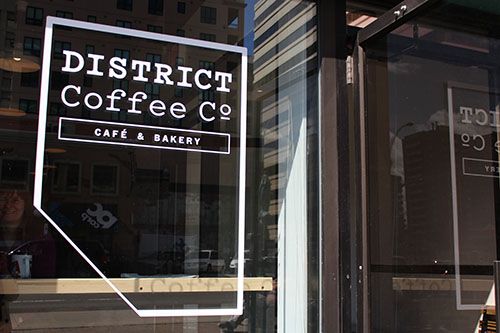 District Coffee Co. is one of the newer cafes in downtown Edmonton and I finally had the chance to stop by for the first time a few weeks ago. Those of you that follow me through my other social media outlets will know that my boyfriend and I have already grown attached to this place as we've stopped by once a week since our first visit.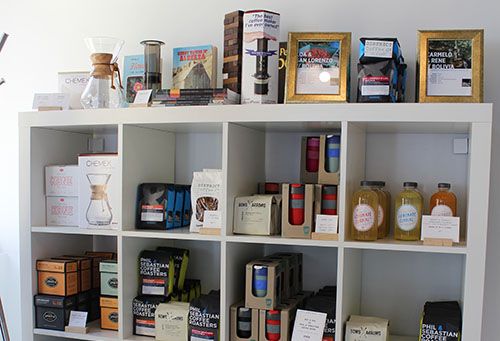 Nate Box of Elm Cafe (and the fantastic sandwiches!) is the owner of District and with this space the focus is on quality coffee and baked goods. It's a small space with limited seating, but given the downtown location I would imagine most customers will take their orders to go. And if not, there's great patio outside where I've found myself seated and soaking up the sunshine more than a few times.
District Coffee Co. is the first cafe to bring Calgary's Phil & Sebastian Coffee to Edmonton, and it doesn't disappoint. At $3 a cup it tastes great and gets the seal of approval from my boyfriend & I. Especially when I get to dip the delicious Salted Caramel Biscotti ($1) into it.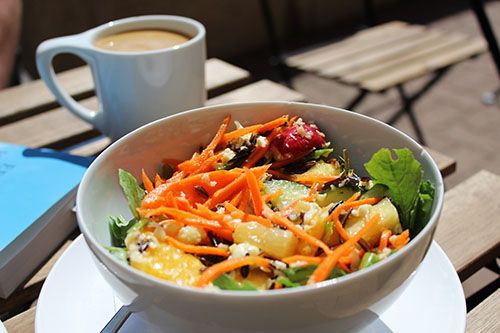 Aside from the coffee and pastries, District also offers a small food menu with oatmeal, granola, rice pudding, soup, salads and sandwiches. On my first visit I tried out the Orange Salad ($8) and it hit the spot. The combination of cucumbers, cauliflower, wild rice, carrots, radishes, snap peas and green onion in a lemon canola vinaigrette was refreshing and perfect for a sunny afternoon on the patio. The sweet and tangy vinaigrette over the crunchy vegetables and chewy bits of rice made it so easy to eat and held me over 'til dinner time.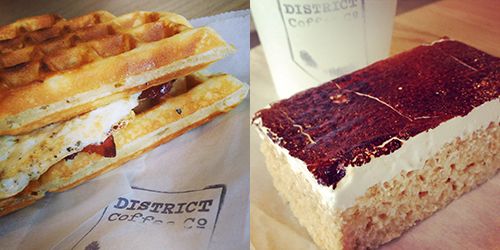 Bacon & Egg Waffle Sandwich // Toasted Marshmallow Rice Krispie Square
District Coffee Co. is a great addition to the downtown core. Even though I live in the far south end of the city, my boyfriend and I have added a stop at District into our Saturday morning routine. The location makes it convenient for us to drop by before hitting up the City Market down on 104th street on Saturday mornings and we get delicious waffle sandwiches ($7) to munch on while walking from one vendor to the next. The bacon & egg with a tiny bit of syrup give the perfect sweet and savoury balance sandwiched between the fluffy waffles. The Toasted Marshmallow Rice Krispie ($2.50) is soft, chewy and not too sweet, making it the perfect guilt-free indulgent treat! So make a quick stop at the cafe whenever you have the chance and make sure to pick up a rice krispie square if they aren't sold out. I promise you won't regret it!