The 3 F's: Swimwear Trends 2014
June 10, 2014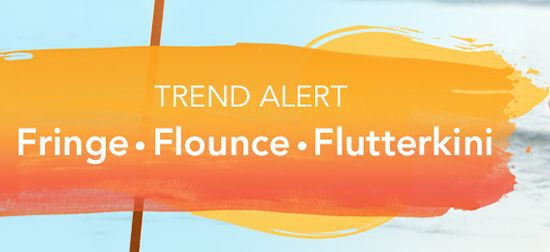 Fringe, flounce, flutterkini. These are some of the hottest trends in swimwear for this summer and I absolutely love these styles. Back when I was
shopping at Swimco
for my trip to Mexico, I had the opportunity to check out all that Swimco had to offer. The fit experts in store were able to help with pulling these styles for me to try on and narrow down the pieces that were perfect for my body type.


1 / 2 / 3


4 / 5 / 6
Of these three styles the flounce is my favourite, with fringe being a very close second. Flounce bikini tops have a layer of fabric that flows with every step you take. They're especially flattering on those of us with smaller chests as they are bust enhancing. Huge bonus! Fringe has been a trend for a few seasons now and it gives a similar enhancing effect as the flounce tops, but with a boho vibe. Depending on the length of the overlay, they can offer a bit more coverage than a bikini.
Up above are some of my favourite fringe and flounce bikinis currently carried by Swimco. I love that there are a variety of colours and almost every brand has something to offer. I purchased the
Eidon Vice Frill Bandeau
before I booked my trip as I loved the colours in the print, so Swimco sent me off with something else for Mexico...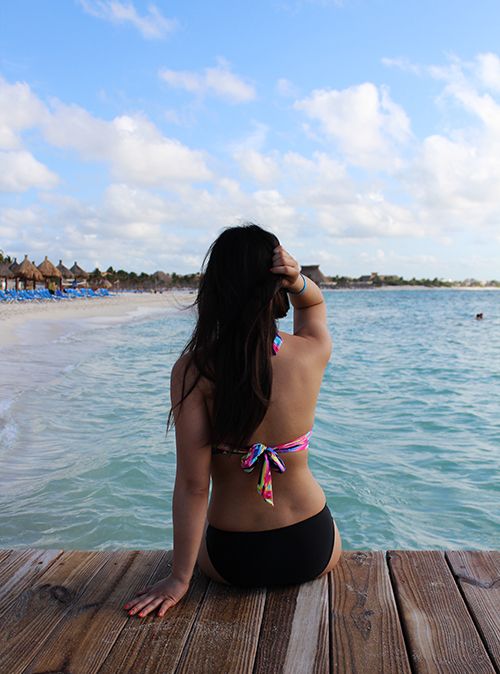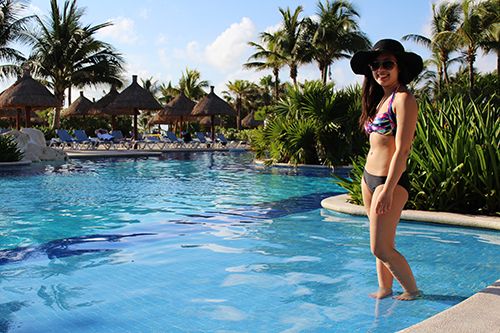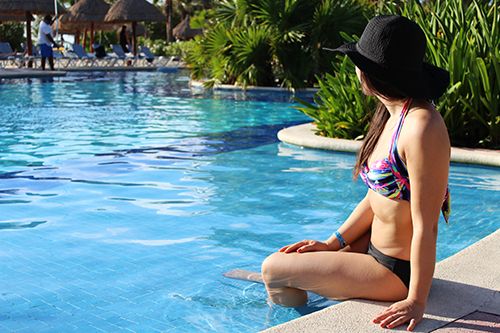 Seafolly Tribe Tie Front Halter | Seafolly Ruched Bottoms | Sun'N'Sand Hat
When I first saw the Seafolly Tribe Tie Front Halter I was drawn in by the print. I loved the bright colours mixed in with the darker shades, and the fabric was so soft and the halter fit so well! I was so comfortable in it and knew I had to take it with me on my trip.
I've got to send a huge thank you to Swimco for all their help in prepping me for the beach. I love that they are able to bring in a ton of unique swimwear for shoppers and provide the help needed to find that perfect swimsuit. If anyone is looking to go off to a sunny destination or even just head to the beach for a weekend, check out Swimco! They've got stores across Western Canada and have now opened their online shop. Happy shopping!
Disclosure: Swimco provided me with a $100 gift card to shop for swimwear. Views expressed in this post are solely mine. I was not expected to feature my shopping experience, nor obligated to do so. This post is 100% my opinion, and as always, my priority is to you, the reader, to present an unbiased, thorough review.
Special thanks to Christina Shaw for the photos