Makeup Monday: Make Up For Ever Artist Liner
October 13, 2014
Happy Monday! It's Canadian Thanksgiving Monday and I've been spending as much time as I can with family. I just wanted to take a moment to say how thankful I am to have the support from everyone who reads my blog! Your encouragement means the world, and I am so happy that I am able to continue to blog and do what I love! Thank you, thank you, thank you!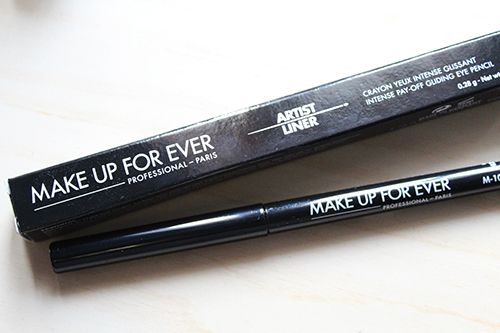 Moving onto today's post, I have to gush about this new eyeliner that I'm loving. Last month Make Up For Ever launched Artist Liner, an eyeliner that promised to be highly pigmented and smooth gliding. To be honest I've never been a fan of pencil liners. I find that they always smudge and give me panda eyes, which is why I only ever use liquid or gel liners.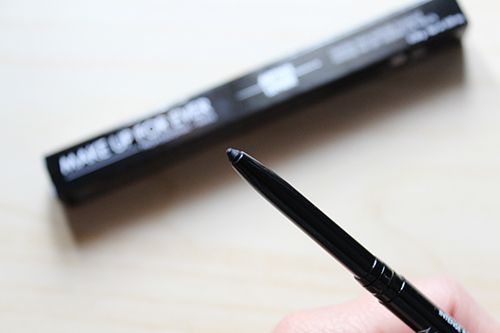 The Artist Liner looks just like your usual liner, but with a twist-up design it means there is never a need for sharpening. However, the trade off for a twist-up design is that you get less product than that of a pencil liner. The eyeliner is very sturdy as it is housed inside the shiny black plastic that Make Up For Ever is known for. The diameter is smaller than that of a pencil, making it easy to hold onto.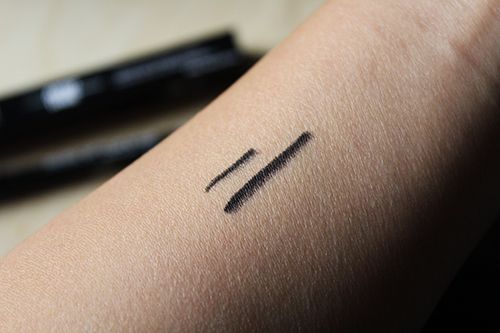 Reading the description of the Artist Liner, I was pretty skeptical of its promises to be smudge proof and long wearing. But let me tell you, this product definitely lives up to it's claims! I tested out matte black (shade M10) and one light swipe gave a highly pigmented swatch, as seen above. The formula is creamy, and blendable as long as you work quickly.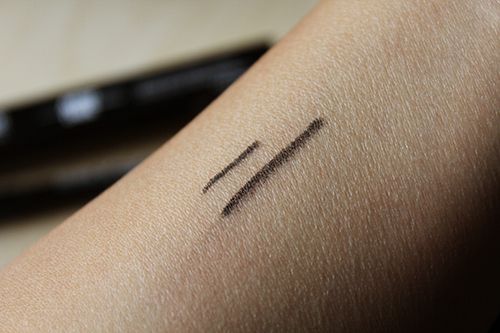 I found that immediately after application the formula was blendable for a very short (we're talking seconds here) period of time. The formula almost seems to set right into your skin...that eyeliner isn't going anywhere! After my swatch I vigorously rubbed over the area where I applied the product. As you can see, the formula lightened up a tiny bit but it did not budge. The eyeliner survived an 8 hour workday without any problems other than lightening up a tiny bit. This formula is a dream come true for me!
If you're after a highly pigmented, long wearing eyeliner in pencil form, look no further. The Artist Liner is available in 15 different shades with matte, metallic, iridescent, diamond, and satin finishes - there is something for everyone!
Available via Make Up For Ever Boutiques and Sephora across Canada for $24.
*Disclosure: This product was sent for consideration of a review.