Quick Bite: Farrow Sandwiches
October 21, 2014
There's a sandwich shop that has been causing quite the buzz in the Edmonton food scene for the past few months. I've never been a huge sandwich person. I mean, I would happily take a hot bowl of noodle soup over a sandwich any day. But sometimes there are those days where I just crave a really good sandwich.

Farrow Sandwiches - 8422 109 Street - Edmonton AB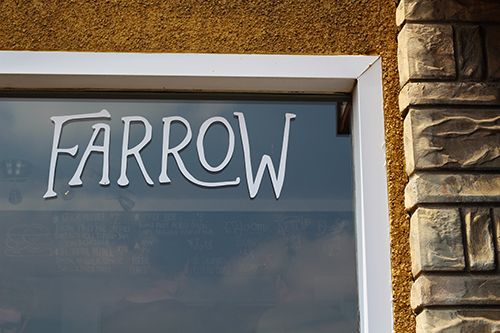 The minds behind Three Boars Eatery are those behind Farrow, and this sandwich shop is located conveniently next door. Like Three Boars, the space is tiny and seating is limited, but in the summer the picnic tables out front are a perfect spot to enjoy your lunch and soak up some Vitamin D.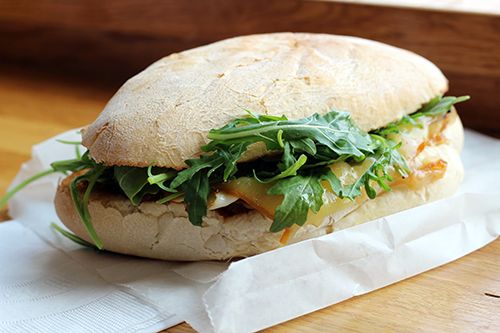 When Farrow is open for business they're serving up sandwiches and coffee to the hungry crowds from 7AM - 2PM. Being in the university area it's great place to stop for breakfast whether you're on your way to class or work. But for me, I popped in on a random afternoon for a quick bite as I was in the area. The menu changes often, and out of the choices available that day I went with the Grick Middle ($7):
bacon, fried egg, greens, tarragon aioli, tomato jam, smoked cheddar
. I am a sucker for fried eggs in sandwiches and burgers, especially when the yolk is golden and runny. There wasn't a big burst of flavour like I was hoping for, but the flavours in the sandwich complemented one another. The oozing egg yolk tied everything together and overall it was a good sandwich.
My boyfriend went with the Chief Beef ($8):
roast beef, pickled onion, chips, arugula, horsey mayo
. The sandwich was substantial and full of fixins, but what I enjoyed most was the added crunch from the chips! It really changed up the texture of the sandwich, and I'm thinking I may need to sneak a few chips into the next sandwich I make for myself.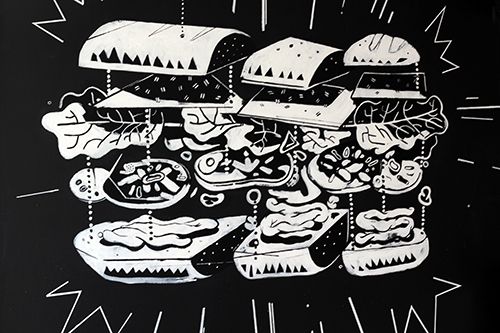 When you're in the university area and in a bit of a rush, Farrow might be the perfect spot for you to grab lunch on the go. Most sandwiches are $7-$8 and they have options to cater to the vegan crowd too. With a wide range of sandwich combinations and their willingness to support local producers - what isn't to love?