Fall Flavours: Earls Tin Palace
October 23, 2014
Growing up in Alberta, Earls restaurants have been around for practically my entire life. I've often associated the restaurant group with burgers and beer, because that's usually what everyone orders whenever I've dined there. Two weeks ago I had the chance to stop by the flagship Earls Tin Palace here in the city to get a peek at the new fall menu.

Earls Tin Palace - 11830 Jasper Avenue - Edmonton AB


L-R: Chef Dawn Doucette, Sous Chef Andrew Hounslow, Chef Tina Fineza, Chef Jeffrey McInnis, Chef Hamid Salimian, Chef David Wong
This past summer Earls Kitchen + Bar opened a brand new test kitchen in the 2nd floor space above the Hornby Street location in downtown Vancouver. The test kitchen is not only open to the public for viewing, but the chefs working in the kitchen seek feedback as they test new dishes day in and day out. With the talented chefs working together under the roof of the test kitchen, they've become known as the "Chef Collective." Together they have been working hard on the fall menu and it is finally here.
North Pacific Sablefish - with unagi glaze over soba noodles
Sitting down at the dinner table I was surprised by the assortment of dishes on the menu. Given that I've always been to Earls for burgers and drinks, I was surprised to find that a lot of dishes were trendy and quite sophisticated. There is a clear Asian influence for many of the items on the fall menu, but I'm not complaining! Throughout the evening we were able to sample numerous dishes on the menu, but for me a few were more noteworthy than the others.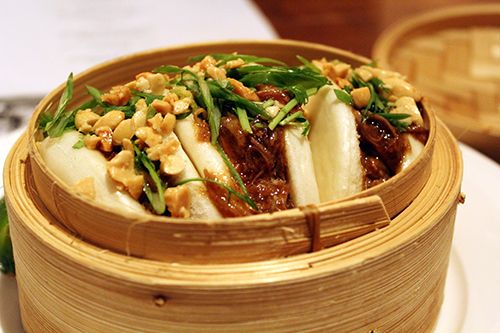 The first dish that surprised me was the BBQ Pork Buns ($11) served up in a bamboo steamer as a set of three. Tender BBQ pork is served with hoisin hot sauce, cilantro and roasted peanuts all nestled within a soft "bao," an Asian-style steamed bun. I never would have expected to see this Momofuku inspired dish, and Earls executed this dish wonderfully. The bun is soft and light and the mix of sweet and spicy flavours in this dish work really well together. An optional addition of a fresh squeeze of lime brings out the flavours even further. This dish is great shared with others as a starter and I would highly recommend you try it out!
The next dish that I really enjoyed was the Crispy Thai Prawns ($13). This dish features crispy deep fried prawns in a sweet and sour glaze on top of a bed of napa cabbage, Thai basil, jalapenos, cilantro paint, and roasted peanuts. One bite of this Asian-style salad and I was hooked. It was a personal shocker for me as I hate all things cilantro, but the flavours in this dish are fantastic. You have savoury umami and tangy notes from a fish sauce and lime juice based dressing, great crunch from the cabbage, slight heat from the jalapenos, and fragrant notes from the herbs. The prawns are golden and I think this dish would be amazing served with some rice.
The last savoury dish of the evening that I really enjoyed was the Thai Vegetable Bowl ($15) which actually happens to be vegan friendly. The bowl consists of quinoa, crispy onions, peanuts, edamame, seasonal vegetables, and coconut in a delicious lemongrass broth. It is tangy, spicy, and creamy, and you also have the option of adding tofu, chicken, or prawns for protein.
To round off the meal we got the try the new Chocolate Hazelnut Bar ($8) and it currently ranks pretty high on my list of all-time favourite desserts. This isn't a solid bar of chocolate, but rather a smooth, dark chocolate shaped into a bar with a crispy feuilletine base. The chocolate is rich without being overly sweet, and having a wafer-like crunch from the feuilletine bits in each bite makes this dessert stand out for me. Served with blackberries, a smear of salted caramel and a scoop of vanilla bean gelato - you've got a perfect dessert right here!
I've never paid much attention to the seasonal menu changes at Earls, but if this preview dinner taught me anything it's that I should be keeping Earls on my radar. The Chef Collective has brought forth some pretty solid dishes and I feel like there will be lots more to look forward to with future menu changes. Go out, try the dishes, and let me know what you think!
Disclaimer: as this was a media event, views expressed in this post are solely mine. I was not expected to feature this restaurant on my blog, nor obligated to do so. This post is 100% my opinion, and as always, my priority is to you, the reader, to present an unbiased, thorough review.