Round & Round: Tieless Tuesdays at La Ronde
May 04, 2014
Have you ever dined in a rotating restaurant? I for one have not, mainly because I can get terrible motion sickness even from the slightest movements. Edmonton has its own revolving restaurant inside the Chateau Lacombe called La Ronde, and it takes you on a 360 degree tour of the city in 88 minutes.

La Ronde - 10111 Bellamy Hill - Edmonton AB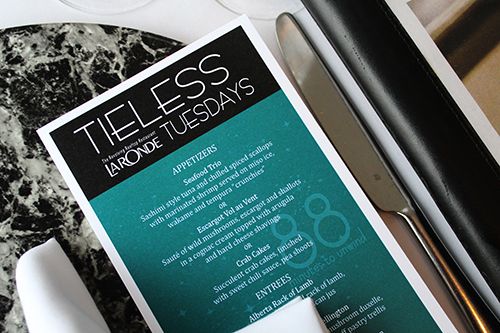 Last month Linda organized a food blogger tweetup at La Ronde for a handful of us to experience their new Tieless Tuesdays feature menu. As we stepped out of the elevator, the live jazz band greeted us before we met the host who showed us to our table. Tieless Tuesdays started on April 8th of this year and runs every Tuesday featuring signature drinks, half price wine, and live jazz.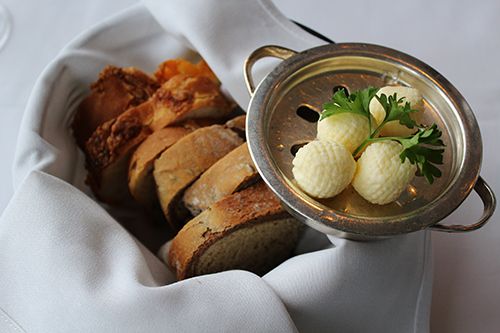 At each seat was a set menu with a variety of appetizers and entrees to choose from, many of which sounded delicious. Prices weren't reflected on the menu, but our server informed us that most appetizers run from $16-19 while the mains range $37-45. After making our dining decisions we were introduced to Sherry Parker, Director of Sales & Marketing for the hotel and the restaurant, Executive Chef Stephen Chung, and Pastry Chef Scott Parker. Chef Parker has been with La Ronde for over 10 years, while Chef Chung is new to the team. It'll be interesting to see how the menu evolves, as the current one was not put together by Chung.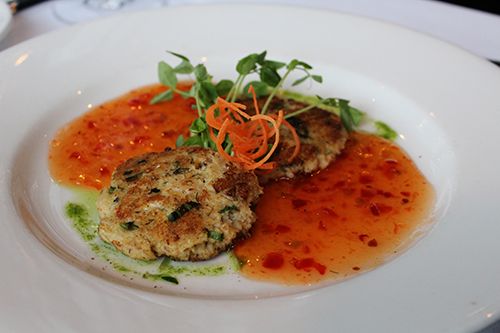 My boyfriend and I were dining with our usual partners in crime,
Diane
and
Teresa
, which worked to our advantage as we sampled almost the entire menu. One of three appetizers on the menu was the Crab Cakes:
succulent crab cakes, finished with sweet chili sauce and pea shoots
. Crab cakes aren't the most appetizing food to look at, but I appreciated the colour added by the sauce and pea tendrils. The cakes were crisp, meaty, and allowed the fresh flavour of crab to shine through. The two cakes were light and a great portion size for one person.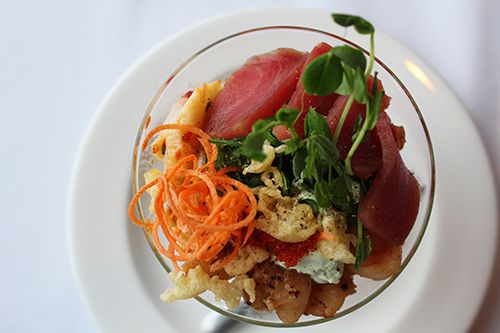 For myself, I ordered the Seafood Trio:
sashimi style tuna and chilled spiced scallops with marinated shrimp served on miso ice, wakame and tempura "crunchies."
The dish was plated so beautifully, to the point that I didn't want to eat it! The fresh seafood selection came as a larger portion than I anticipated and I really enjoyed the scallops and shrimp. I found the tuna to be on the fishy side and would have liked to have some soy sauce to dip into in order to combat the taste. Unbeknownst to me, there was a large dollop of wasabi cream amidst the seafood. I personally don't enjoy wasabi so having that surprise flavour was a bit of a shock. Luckily it wasn't touching too much of my seafood and I was able to eat around it.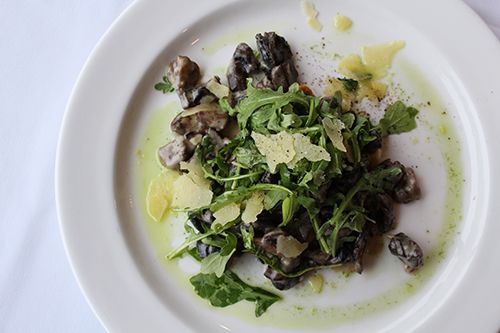 The last appetizer available on the menu was the Escargot Vol au Vent:
saute of wild mushrooms, escargot and shallots in a cognac cream topped with arugula and hard cheese shavings
. This was the richest appetizer of the three and I would suggest splitting this one between two people to save your appetite for mains and dessert. The escargot was cooked well in the cream sauce and the mushrooms (which also resembled escargot) switched up the texture of the dish. Beneath the surface sat a square of puff pastry which turned out to be much denser than expected. Rather than being light and flaky, it was difficult to cut through as it quickly soaked up the moisture from the cream sauce.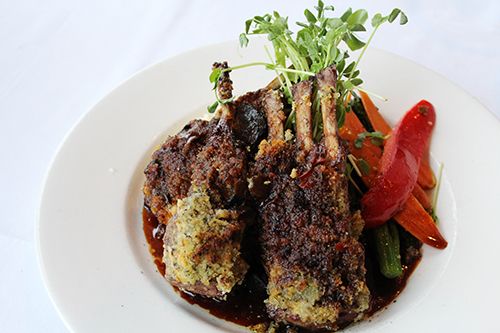 When the main dishes came out from the kitchen we were all surprised by the portion sizes. I ordered the Alberta Rack of Lamb:
mustard and herb crusted rack of lamb, triturate of potato and Tuscan jus
. A giant portion of lamb (7 pieces!) sat in front of me, and I instantly knew this was enough to feed me for two meals. The lamb was cooked to a beautiful medium rare as requested, resulting in moist and tender meat. I found that the crust was very thick, making the dish overly salty for my palate, but scraping it off made it an easy fix and allowed the natural flavour of the lamb to shine through. The potato was light and fluffy and a good portion of seasonal vegetables were on the plate, making this a fantastic entree.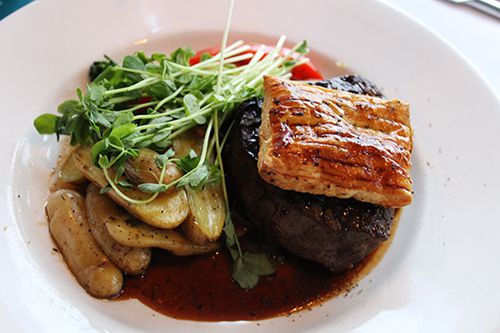 Teresa ordered the Deconstructed Beef Wellington which featured Sterling Silver beef tenderloin, mushroom duxelle and sauce perigueux topped with a puff pastry trellis. The beef was cooked to be juicy and tender the way steak should be. It was quite a big portion, and when accompanied by the sides and rich puff pastry this was another two-meal plate.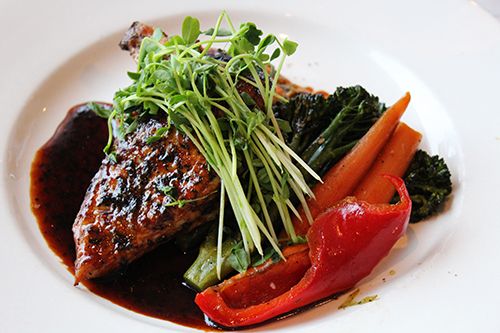 My boyfriend chose the Free Run Supreme Breast of Chicken for dinner, which was a herb frenched chicken breast with a wild rice herb and yam cake and Baumanier lemon sauce. Although it was chicken breast, the meat was tender and very moist. The thickened sauce had a certain bitterness to it but it added great flavour to the dish.
Last but not least, Diane chose to go with the Cyclopene of Alaskan Scallop and Prawn:
Texture of sweet potato, asparagus spears and orange amaretto cream sauce
. The prawns were large and meaty, albeit a little salty. On the other hand the scallops were also well cooked but we found the pairing with the sweet potato puree to be a little strange. This was the lightest of all the entrees, and if paired with a different starch, I would definitely order it!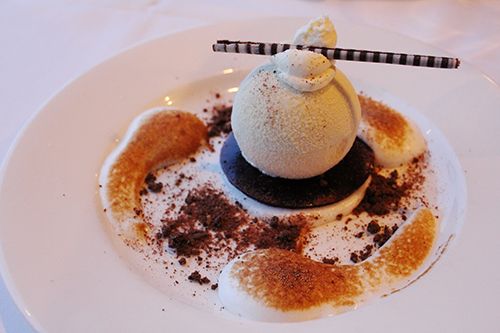 For dessert we were given 8 different choices, which made decision making incredibly difficult. Despite being incredibly full, I had to have a bite of everything at the table. After all, every one was made in house and had a suggested wine pairing. The Banana and Mango Ice Cream Bomb rested on a base of sour cherry jelly and crushed toasted cashew biscotti. Each half of the bomb featured a light ice cream and the sweetness was cut by the tart sour cherry jelly. The biscotti offered a different texture, as did the bruleed marshmallow fluff. Overall the dessert wasn't too sweet and was a nice way to finish a meal.
Diane chose the Cinnamon Creme Brulee served with mulled wine, Saskatoon berry sauce and a pear granita. The custard was smooth with a hint of cinnamon, and mixed well with the berry sauce underneath. It was a nice dessert, but nothing about it really stood out to me. Presentation was beautiful but I would recommend looking into the other desserts which were a little more interesting.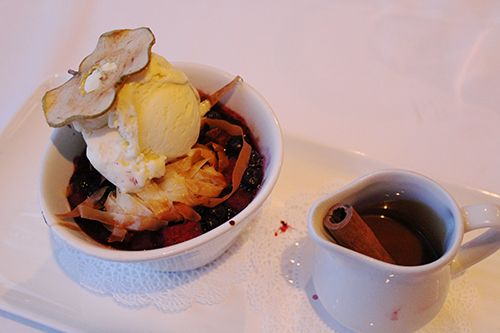 Teresa ordered the Warm Apple and Blueberry Cobbler served atop a vanilla custard base and topped with almond ice cream and a side of Bailey's caramel sauce. It wasn't a dessert I had considered, so I was quite surprised that I enjoyed it. There were so many contrasting elements to the dish which really made it stand out. The soft custard against the crisp phyllo pastry was lovely and I also enjoyed the difference between the hot cobbler and the cold, creamy ice cream. I would definitely order this dish on a return visit.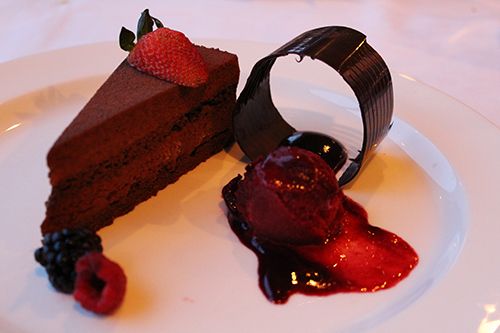 The Milk Chocolate Torte was my dessert of choice. The torte featured alternating layers of creamy milk chocolate filling, rich fudge cake and a crunchy praline, and was served with a blackberry sorbet. This was hands down my favourite dessert of the night as it resembled my favourite chocolate bar, Crunch. The torte wasn't overly sweet, especially when paired with the sorbet, and I didn't feel guilty indulging in it as it felt very light. I would order this again without hesitation.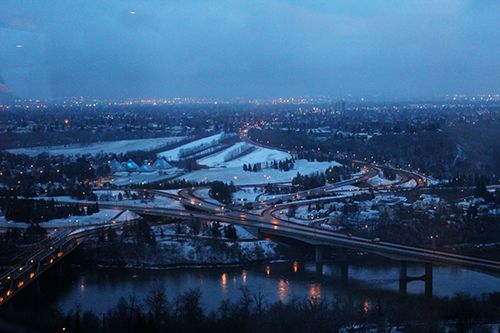 Throughout the meal I noticed we were rotating around the restaurant, but I hardly felt it as my attention was captured by the great food and live entertainment. Service was extremely attentive and the servers carried extensive knowledge about the menu. If you're looking for something fun and different to do on a weeknight, check out Tieless Tuesdays! Great views of the city, delicious food, and good company are all that you need to add together for an unforgettable night on the town. Given the nature of the price points, Tieless Tuesdays is not something you'll check out weekly. You pay a lot for the view and experience of dining in a revolving restaurant, but if you're celebrating a big occasion or willing to spend a little more money for a date, Tuesday night is a great option as it is less busy and you will get outstanding service.
Disclaimer: La Ronde hosted this tweetup and provided food free of charge on this evening. Views expressed in this post are solely mine. I was not expected to feature this restaurant on my blog, nor obligated to do so. This post is 100% my opinion, and as always, my priority is to you, the reader, to present an unbiased, thorough review.