Late Night Snacking: Cafe de Tropika
May 22, 2014
It's 9:30PM on a weeknight in Edmonton and you're hungry. Where are you supposed to go? Most restaurants close around 9:00-10:00 and you don't want to be that person showing up half an hour before closing, prohibiting the kitchen from cleaning after dinner service. You want to be as healthy as possible, so McDonalds is out of the question. Where do you go?

Cafe de Tropika - 3040 Calgary Trail NW - Edmonton AB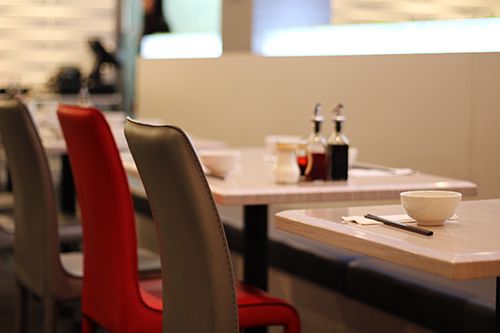 I found myself looking for the answer to this question a while back and it was difficult to answer. Sure, there are restaurants and pubs that stay open a little later, but it's usually going to be something deep fried or be small plates that won't necessarily fill you without racking up a huge bill. This is where Hong Kong style cafes step in, and Cafe de Tropika came to my rescue one day.
Open until 11:00PM Monday through Thursday, 1:00AM Friday to Saturday, and until 10:00PM on Sundays, Cafe de Tropika could be an option in the south side of Edmonton when you're hungry and it's getting late. Diane, Teresa and I found ourselves there one night for a second dinner (I know,
we are ridiculous
) to check things out. We all ordered some of our favourite late night cravings off their comprehensive menu.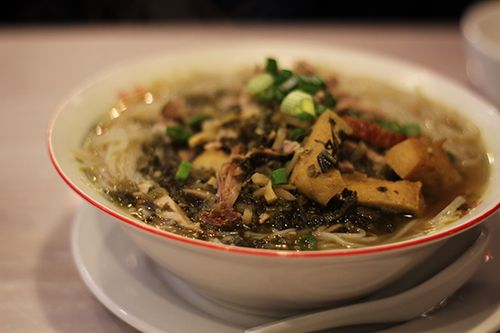 I ordered the Snow Cabbage and Shredded Duck Meat with Rice Vermicelli in Soup ($9). This is a HK style comfort food favourite of mine and Cafe de Tropika does a pretty good job with theirs. It's by no means as good as the one my mom makes but there's a good portion of duck meat amongst within the al dente vermicelli and snow cabbage. The saltiness of the preserved cabbage is balanced with some sweetness in the broth and the portion will definitely fill you up.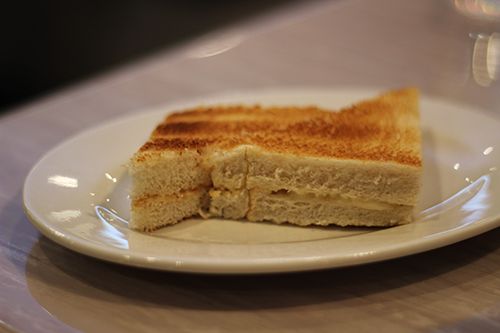 As a side I also ordered the Toast with Condensed Milk and Butter ($3). I have an obsession with condensed milk and when I'm in Hong Kong I order this dish all the time. At Cafe de Tropika, some of the condensed milk oozes out from between the pieces of toast, but the toast itself remains pretty dry. There's not enough condensed milk in this toast for an addict like me.
Diane ordered the Fried Tofu with Spicy Salt and Pepper ($6). The deep fried tofu pieces came out crispy, golden, and were seasoned quite well. A kick of heat was provided by the chili flakes, and some additional flavour from the sprinkling of chopped green onion. Although it is a little greasy, I love having deep fried tofu as a late night snack!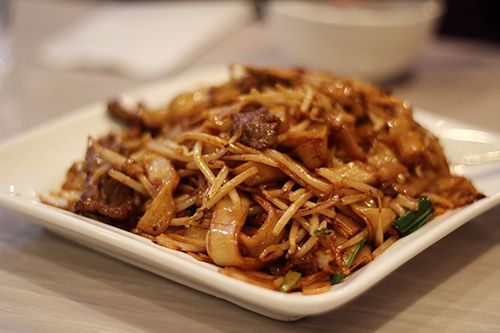 Last but not least, Teresa ordered the Beef Fried Ho Fan with Bean Sprouts ($11). This stir fried noodle dish is a favourite of mine when dining in HK style cafes. When cooked in a wok over high heat an almost burnt flavour gives this dish it's signature taste (
see more in this post
). Cafe de Tropika did a great job on this one as it wasn't overly greasy and the "wok air" flavour was present. Not to mention, it was a huge portion that could easily feed two people.
As a late night option, I like having Cafe de Tropika in the south side of Edmonton. I've been back a few times and will have to mention that the dishes can be hit or miss depending on who is in the kitchen. The prices are affordable given the amount of food that you are served, and most importantly, the restaurant is clean. By Edmonton standards the HK style food is pretty good, and I'd probably equate it to the same as the
Golden Bee BBQ HK Cafe
in the North end of the city. If you choose to stop by make sure you have debit or cash to pay, as they do not accept credit cards.
Have you been to Cafe de Tropika? Let me know about your experience!