Eat Your Hart Out: Hart's Table & Bar
May 10, 2014
Whenever the Century Hospitality Group opens up a new restaurant, there's lots of buzz. With Hart's Table being the 8th restaurant to open under their direction, there are high expectations associated with the food and service. The use of social media prior to the restaurant's opening created a lot of excitement. Tweets including pictures of dishes and a daily countdown to the opening had me really curious, especially since they were only a five minute drive away from my house.

Hart's Table & Bar - 14229 23 Avenue - Edmonton AB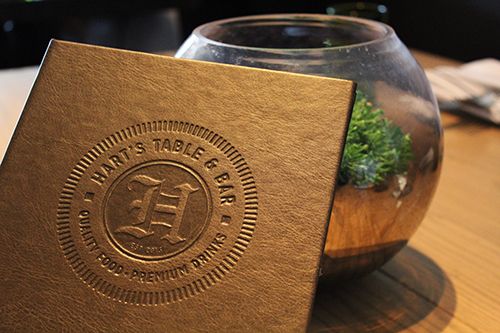 Opening in the residential area of South Terwillegar, Hart's Table and Bar joined nearby
XIX Nineteen
as a full service sit down restaurant. I popped by on a Monday evening to celebrate a friend's birthday and was surprised to find that they do not take reservations. The first come first serve basis wasn't too big of an issue for us at 7pm, but the restaurant was busier than I had expected it to be.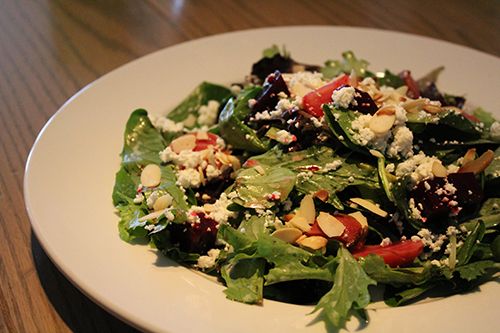 We decided to order a couple dishes to share so that we could sample and get a bit of a grasp of the offerings on the menu. There's a ton of variety, but there isn't a cohesive theme. The menu spans from Asian to Italian to Mediterranean and more, so it's hard to decide what you want to eat. We chose to start with the Beet Salad ($13):
red & candy stripe beets, fresh baby greens, slivered almonds, goat cheese, honey balsamic vinaigrette
. The salad was quite atypical of what I have come to expect and love about beet salads. For me, I prefer my salad to be predominantly sweet beets with savoury goat cheese to balance. Hart's version is comprised mainly of baby greens with a beet here and there, and the dressing is quite sour. While the beets were cooked well and had a natural sweetness, the sour flavours of the vinaigrette dominated the dish.
I have an obsession with shishito peppers and was very excited when I found out that Hart's Table was going to be offering them on their menu. These peppers are slightly spicier than your regular green bell pepper, but it's said that one in ten peppers is very spicy. And I can attest to that! I've had my fair share of spicy shishitos, so the Hart's Table Shishito Pepper Roulette ($9) is aptly named. However, the peppers that were served up with a sweet soy glaze was more than disappointing for me. The peppers were incredibly oily and overly sweet. The glaze sunk to the very bottom of the dish and hardened into a sticky mess which made them nearly inedible. Thankfully, from what I can gather, the dish has since been removed from the menu.
Next up was the Tuna Tataki ($16):
fresh Albacore tuna, candy stripe beets, orange segments, sweet sambal
. I had hoped to have this as a main since the price indicated to me that it should be a bit of a bigger portion, but I was shocked by how small the dish was when it arrived at the table. Price point aside, the tuna was very fresh and unnecessarily seasoned heavily with pepper. I enjoyed the fresh orange segments as they were very sweet and juicy, but the use of the sambal made the dish a little too sweet for my liking.
The birthday girl ordered the Fish Tacos ($16) for her main which came with fresh Albacore tuna. Definitely a different take on the traditional fish taco as the tuna served with this dish was lightly seared as a tataki would be. The taco was quite spicy, but the use of lettuce and cucumber for garnish in the taco really helped tone down the flavours. I'm not the biggest fan of hard shell tacos as I find them difficult to eat, and the menu didn't state that the dish would be presented with one so it was a little bit of an unwelcome surprise. The fries served on the side were crisp, but nothing to write home about. Again, from what I gather, this dish has since been removed from the menu.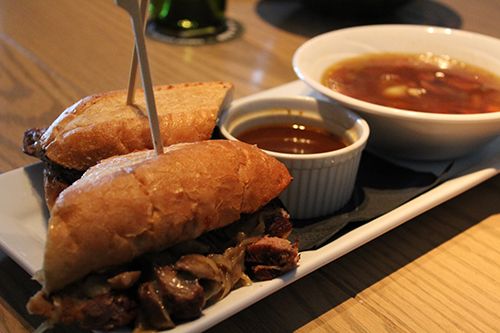 Another dish ordered to the table was the Chancey's Famous Beef Dip ($18):
grilled New York steak, sliced thin, caramelized onions, roasted mushrooms, swiss cheese, toasted garlic loaf, rich beef jus
. All the sandwiches at Hart's Table are served with a side of 'scratch' soup, hand cut fries, house salad or the Parlour Caesar, and we chose to go with the soup. The beef dip was flavourful mixed with the sweet onions and jus for dipping, but we found the meat to be a tad tough. But the bread was soft with a crisp exterior, making it a pretty well rounded sandwich. The soup on the side, however, left something to be desired as we found it to be quite bland.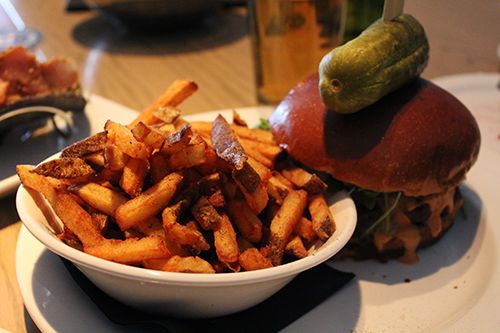 Last but not least, we ordered the Hart's Burger ($18):
house ground 8oz Heritage Angus Beef, honey glazed brioche bun, Hart's secret sauce, caramelized onions, classic cheddar, bacon jam, vine ripened tomatoes, fresh arugula, colossal dill pickle, duck fat fries
. The burger patty had great flavour and most importantly, it wasn't dry. The bun was warm and soft, and the use of arugula gave this burger unexpected flavour that worked well. We were really looking forward to the side of duck fat fries but couldn't find that distinctive flavour. It was disappointing for us as we compared them with the regular fries that came with the fish tacos. Aside from a different seasoning, there wasn't a difference, but our server assured us that we were given the correct fries.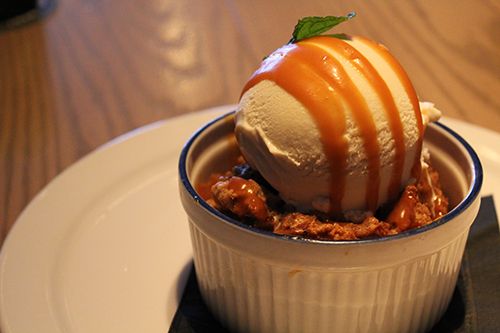 To end the evening we ordered the Salted Caramel Bread Pudding ($9) which came topped with a scoop of Pinocchio's vanilla bean ice cream. The dessert was very strong in cloves and nutmeg and full of raisins. It wasn't overly sweet which was nice, but I wouldn't have been able to eat the dessert without the scoop of ice cream on top. I found the bread pudding to be a bit on the dry side, so the ice cream gave it that much needed moisture and a little extra sugar.
The evening at Hart's Table had a lot of hits and misses. As I said previously, being part of a well known management group brings a lot of high expectations to the table. The evening was pleasant, but of the dishes we enjoyed, nothing particularly stood out for me. I think price point is definitely something that needs to be pointed out, as dining at Hart's Table is going to run on the expensive side. Appetizers and sandwiches average at about $15, while heavier main courses will set you back about $25. With dessert at $9 each, I'll let you add up the price for a three course meal for one person. You could argue that the restaurant is located in the wealthy suburbs of Edmonton, but I firmly believe that prices should always reflect the quality of dishes that are placed in front of you. It will take some convincing for me to return despite being located conveniently in my neighbourhood, but that isn't to say I won't. Hopefully the restaurant can continue to improve (as seen with the removal of some items on the menu) and grow in this part of the city.