Rolls, Rolls, Rolls: Kenko Japanese Cuisine
January 05, 2014
For about a week now I've had a crazy craving for sushi. But if you know Edmonton, good sushi can be hard to find. In the summer my boyfriend and I visited B-Bim-Baab and noticed that their lounge was being converted into something new. Our server informed us that the restaurant was planning to open up a Japanese restaurant in the space. So last Saturday I met with a friend to try out Kenko, the name of the space that opened up inside the lounge. Unfortunately, the restaurant wasn't open for lunch so I was not able to fulfill that craving.

Kenko Japanese Cuisine - 9543 42 Avenue - Edmonton AB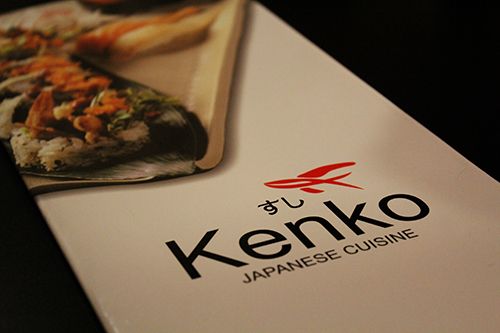 Fast forward about a week, and the craving became so bad that it was time to brave the cold temperatures and falling snow for some sushi. Kenko can be a little hard to find as they have no signage up outside of the building, but when you see B Bim Baab you'll know you're in the right place. A friend and I arrived at about 7:30 on a Friday night and the parking lot was full. Seemed like everyone else was craving sushi just like we were. When we stepped inside, the Korean side of the restaurant was practically empty while all the patrons seemed to be seated inside Kenko.
Browsing the menu was no easy task. It's a little overwhelming as there are lots of options. About half the menu is dedicated to maki (like
Japonais Bistro
), so that was what we decided to stick with when ordering. There are many interesting combinations, but many of the rolls have the same base ingredients: avocado, cucumber and imitation crab stick. It's not necessarily a bad thing, but those ingredients were prevalent enough for me to take notice.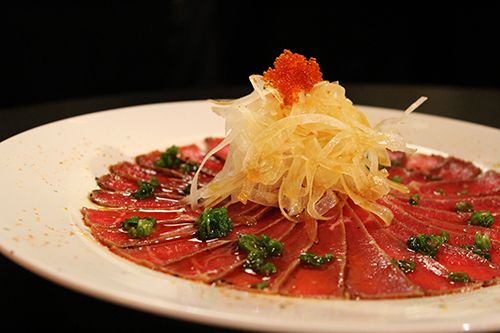 To start off our meal we ordered the Beef Tataki ($15.95):
seared beef, green onion & sliced onion served with goma shabu and ponzu sauce
. When the plate arrived at the table I was shocked at how large of a portion we were given. The beef was sliced extremely thin, onions were topped with tobiko (my fave!) and the ponzu sauce was drizzled onto the dish tableside. The ponzu sauce was quite unique, in that it was sweet and tangy. The sweetness was unlike any ponzu sauce I've ever had in the past and I quite enjoyed it. The accompanying sesame sauce was also a nice touch, complementing the tender beef very well.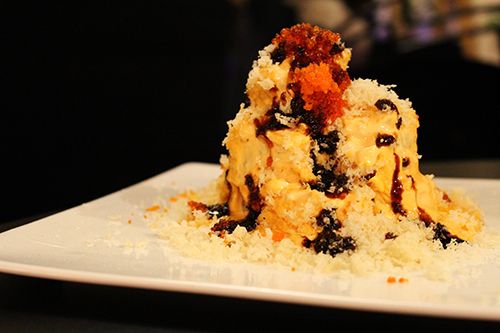 The first roll brought to the table was the Volcano Roll ($17.50, 8 pcs):
avocado, tempura eel roll topped with chopped squid, tobiko spicy mayo sauce, special sauce and tempura crumbs
. It sure looked like a volcano. This roll actually reminded me of the Love Crunch roll at Japonais Bistro due to the presence of panko. Each piece was a mix of sweet and spicy, and each bite had a certain creaminess to it. I loved the extra crunch from the crumbs and definitely recommend this one.
Next to our table was the Master Roll ($15.95, 8 pcs):
chopped scallop, cucumber, mayo, tobiko roll, topped with baked spicy mayo scallop, masago, furikake and special sauce
. Surprisingly, it was very similar in sweet and spicy flavour to the volcano roll, but the crunch was replaced with chewy bits of scallop on top of each piece. Each bite was creamy with crunchiness from the cucumber and delightful pops of tobiko.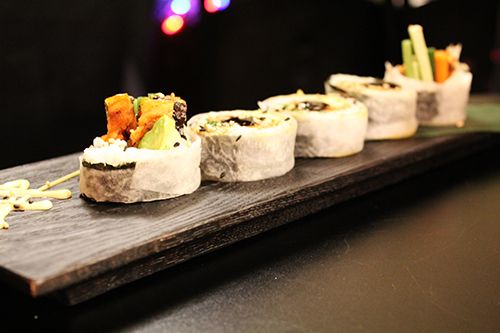 Last up was the Kawasaki ($13.95, 5 pcs):
grilled salmon skin, yamagobo, avocado, cucumber, green onion, bonito flakes, sesame seeds and special sauce, wrapped with pickled radish crepe.
I was actually quite excited for this roll since it would be different with the radish wrapping all the ingredients together. Unfortunately there was a hint of burnt tasting fish skin and otherwise it was pretty bland. In retrospect I probably should have gone for the White House Roll, which has many different types of seafood wrapped in a radish crepe. Next time!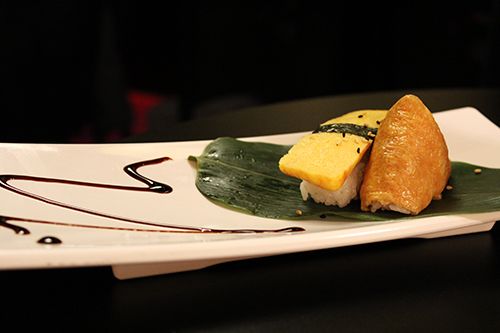 Overall, the meal at Kenko was wonderful. It was a busy night in the space, and despite having only two sushi chefs and one server the food was delicious and we didn't have to wait too long. Our server was very pleasant and efficient, allowing us to be in and out of the restaurant in under 1.5 hours. One thing I really enjoyed about the meal was the plating done with every dish. The chefs here put in a lot of effort, and it is clearly reflected in the food quality. Prices are on par or a little more expensive compared with most Japanese sushi restaurants in Edmonton, but I'm willing to pay the higher prices for better food. It's definitely a hidden gem on the south side of Edmonton - check them out if you're ever in the area!