Winter Comfort: 97 Hot Pot
January 20, 2014
I don't know about you, but in the winter all I want to eat is food in broth. It warms me up and is my go-to comfort food. One of the things I love eating within that category is hot pot - the ultimate food in broth experience. This past year so many different hot pot restaurants have opened up in Edmonton that it's hard to decide where to dine.

97 Hot Pot - 10602 97 Street - Edmonton AB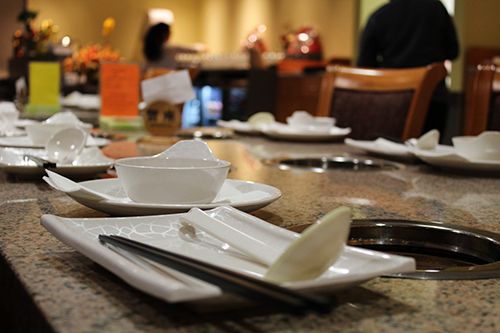 Last month, 97 Hot Pot was added to the lineup of hot pot restaurants with an all you can eat (AYCE) concept. For $25.95 per adult and $12.95 per child (3-9 years old) the prices are comparable to other hot pot restaurants in the city. I went out for dinner with my family on a cold Sunday night and the place was packed. Maybe their neon signage outfront really works to attract customers? For those unfamiliar with the area, the building for the restaurant used to be an Asian grocery store. Needless to say, extensive renovations have been made and each table is armed with induction cook tops to allow every customer to have their own individual pot.
At 97 Hot Pot, there is the option to have a flavoured soup base for $2 (chicken broth is free of charge). They've got a wide range of soup options and the individual cooking style is perfect when you and your dining companions like different flavours to your broth. I personally enjoy the regular chicken broth and choose to season my food with a combination of sauces for just the right flavour. Their sauce station is equally as impressive, with about 20 different options you can mix together to find your perfect flavour. I honestly think their selection is the best in the city, given that they have just about everything I could think of to offer!
At the table each person had adequate space and their own induction cook top for their pot. Each person was provided with a bowl, two plates, chopsticks and a mini ladle to eat with. The dishware that evening was very clean and featured a geometric pattern - but this might not last for long given that design will likely wear off. We were supplied one ordering sheet to write on for the table with about 100 items separated into different categories. Cold side dishes (pickled veg like cucumbers and kimchi) and appetizers (green onion cakes, spring rolls and edamame to name a few) are included and great to munch on while you wait for the raw food. I appreciated that there was a wide variety of food to order and everything was included in the price. Other hot pot establishments like King's Hot Pot and
Urban Shabu
charge extra money for certain items, so I was glad to see that we didn't have to pay extra for some of our favourite items (take enoki mushrooms and surf clams for example). And there's no limit to how many of each item you can order! My parents were pretty happy that they could have more than 2 oysters each.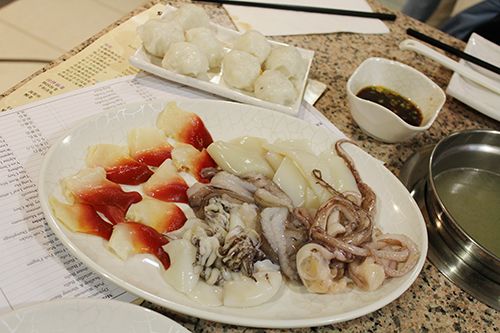 Of all the items we ordered that evening, we really enjoyed the housemade meat/seafood "mashes" (shown below). They're basically different varieties of meat ground and seasoned so that you can form your own meatballs at the table. All the food that we ordered was fresh (especially the seafood!) and we were more than satisfied at the end of the meal. My aunt & uncle both ordered a flavoured broth, and felt that the flavours were watered down - so perhaps stay away from the additional soup bases. Saves you $2 too! At the end of the meal you also get complimentary dessert, and 97 Hot Pot offers up four kinds: osmanthus cake, daily tong shui (sweet soup), dessert tofu and ice cream. Of course I went with the ice cream, as I can't say no to anything mango!
One thing I should mention is their ordering system - when you order items that can be counted individually (like fishballs, meatballs, mushrooms, etc.) you write down the exact number that you want. With items that are harder to count individually (slices of meat, leafy vegetables, tripe, etc.) they have a set portion size, and the number you write down indicates the number of portions. A little confusing, but not hard to figure out.
I think it's pretty evident that I had a great night and have nothing but nice things to say about 97 Hot Pot. At least when it comes to the food anyway. Good service in these establishments is pretty hard to come by, and it is the same here at 97 Hot Pot. There aren't many servers so it can be hard to get someone's attention. The nice thing about it though is that there is a call bell at each table - if you need something, hit the button and the staff are notified that you're waiting for something. It's a temporary solution but nothing can replace the presence of another server working. Aside from this, I definitely recommend stopping by 97 Hot Pot for a delicious hot pot experience. I like that the workers and management do treat customers with respect and give you the best service they can. There's many hot pot restaurants in the city that don't necessarily adhere to giving the customer what they want. Restaurants like Urban Shabu and King's are well known (in the Asian community) for limiting your food - like "forgetting" your order of seafood, or "accidentally" giving you too much of a filler item that is inexpensive (like rice cakes or other starchy foods to fill you up quicker). Shady business, I tell ya.
I'm going to go out on a limb and say that 97 Hot Pot is my top hot pot restaurant in the city. Great variety of food, nice selection of sauces and a price tag of $25.95 which is average for hot pot in Edmonton. Go check them out on a cold night - but don't forget to make a reservation first! Consider yourself warned.
Click here to check out Linda's review as well!