Manicure Monday: Fearless
January 27, 2014
Happy Monday! The weekend was much too short and I am so not ready for this week to begin. Can we just rewind so that we can all have a three day weekend? Someone out there must have a time machine that they're just dying to lend to me :)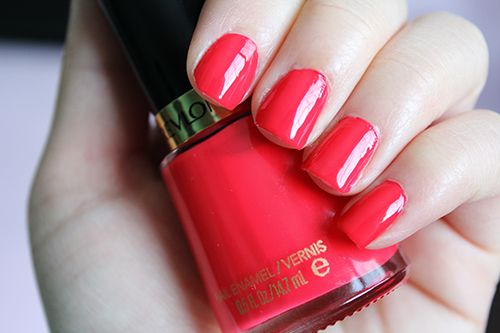 I know it's been a while since I've done a mani monday post, so this post will kick things off for 2014. Today I've got Revlon's Fearless to share, which is a beautiful coral red shade. One day Mr. G and I were out and about running errands and he bought this particular polish for me. You know life is good when your boyfriend supports your nail polish addiction... right? Hah! Well, that, and that fact that it was on sale...
Fearless is one of those softer red shades that can look great on any skin tone. The formula is smooth and such a breeze to apply. Two thin coats is all you need to achieve opacity and a high shine finish for four days of chip free wear. It really is a great polish and I know I will wear it over and over again.
Anyone have this particular shade in their nail polish stash?