Gastropub: The Glass Monkey
January 09, 2014
There has been an influx of new restaurants in Edmonton over the past few months and there are still a few on my radar that I'm anticipating at the beginning of this year. One of the restaurants I've been looking forward to is The Glass Monkey, but I feel like it has been flying under the radar. Not much has been said, and not much has been heard - so I was really curious to see what the restaurant was all about.

Glass Monkey Gastropub - 5842 111 Street - Edmonton AB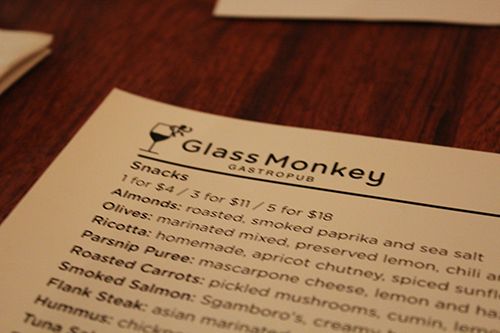 This past weekend I surprised my boyfriend with dinner at The Glass Monkey. We arrived at 6:30 on a Saturday night at the restaurant was packed. This was actually quite shocking for me to see, as it is a relatively new restaurant and there hasn't been much hype for it. Being located in a residential area must be the key - our server told us that a lot of their patrons live in the immediate vicinity. The space formerly occupied by Jack's Grill has gone through lots of renovations and the atmosphere is quite different. Clientele for the restaurant ranges from young adults to older couples, and The Glass Monkey's extensive wine and beer list (+ Q Water) makes any occasion appropriate for a meal here. Calling themselves a gastropub, The Glass Monkey promises high quality pub food in the form of tapas, small plates and full sized meals.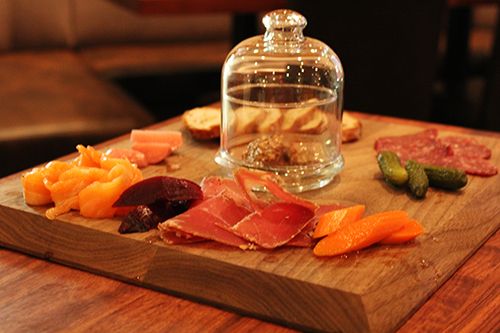 A menu is provided at every seat in the restaurant and all the items are categorized differently. Snacks, boards, small plates, pizzas, large plates, salad, pasta and desserts - they cover a wide range of dishes and there definitely is something for everyone on the menu. Many items on the menu are made in house, including the pastas, pizza doughs and charcuterie. Upon hearing this, it definitely swayed my decision on what to order for the night.
Our meal started off with the Charcuterie Board ($18):
daily selection, crostini, house pickles
. The selection for the day included the housemade smoked salmon, prosciutto and venison salami alongside pickled beets, radish, carrots, gherkins and crostini. What's in the middle you ask? Grainy mustard in its own serving vessel. The salmon had a light smokiness and smooth texture while the prosciutto was drier than what you typically expect. However, the prosciutto wasn't overly salty, and I didn't mind the thicker cut. The salami on the other hand was my favourite of the three as it was flavoured with a great combination of spices to combat the gaminess of the meat.
Thanks to
Charcut
, I now love beet salads and always order them when I see them on a menu. The Glass Monkey's version ($11) is comprised of:
roasted beets, goat cheese, balsamic glaze, pine nuts & arugula
, which is quite similar to the offerings at other restaurants. The beets were sweet and worked as a great palate cleanser,while the creamy goat cheese and baby arugula provided some contrasting textures and flavours. The ratio of cheese to greens worked well - I only wish there were more beets for me to eat!
For mains, my boyfriend ordered the burger ($15):
sirloin beef patty, Sylvan Star gouda & homemade fries
. Upon ordering, our server actually inquired as to how he wanted the patty cooked and we went with medium rare to see what it would be like. It's very rare for a restaurant to be willing to cook a patty other than well done, so this was exciting. The burger came with all the usual fixins (romaine lettuce, tomatoes, pickles) and the burger was pillowy soft. Eaten altogether, the burger was seasoned well and had a little kick of heat to it. Seeing as it was cooked medium rare, the patty didn't hold itself together well and was a little difficult to eat. Aside from that, it was a great burger with a side of crispy fries.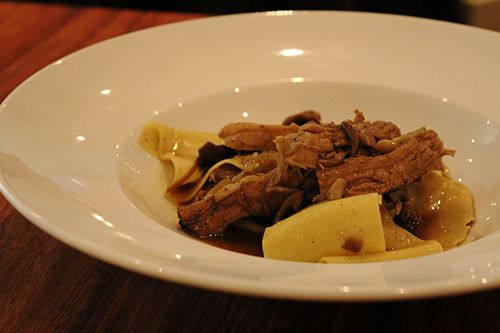 For myself, I had to try out the Home Made Pappardelle ($18):
slow roasted pork shoulder, wild mushrooms
. When it appeared at the table, I have to admit I was slightly disappointed since it looked like such a small, boring dish. However, the first bite into the pork made me take those feelings back. Each bite of pork was incredibly tender and juicy. There was a large portion of protein in the dish compared to the small amount of pappardelle (which was al dente and tasty, by the way), and the dish had been seasoned well. I was informed that Berkshire pork is slow roasted for 12 hours, pulled, and used in this dish. It was delicious and I would highly recommend it!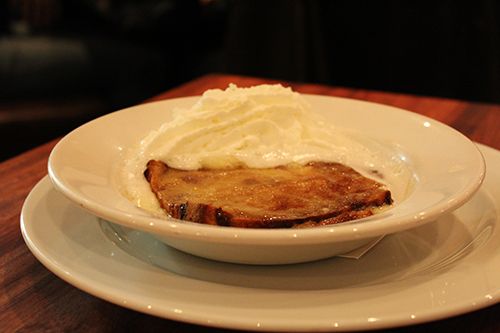 To round off the meal we ordered the classic Jack's Grill Bread Pudding ($9):
caramelized rum sauce, whipped cream
. The bread pudding itself was brought to our table steaming hot - the first bite actually almost burnt my tongue and made the whipped cream melt incredibly fast. The pudding was moist, but I found the sauce on top to make the dish a little too sweet for my liking. My boyfriend on the other hand really enjoyed it.
As we dined we noticed that the restaurant was getting increasingly busy. Large groups were coming in and willing to wait for a table to open up, while others chose to forego formal dining and sat up at the bar. I couldn't believe how many people were coming into the restaurant! But because of this, service was compromised the evening of our dinner since there were not enough wait staff to accommodate diners. While our server was knowledgeable and pleasant, there were periods of time where we could not locate our server and we ended up dining for about 2.5 hours.
The Glass Monkey offered us a great evening of delicious food - not that I'm surprised, considering Chef Darcy Radies (of the Blue Pear) and Chef Bryan Meintzer (Jack's Grill, Blue Pear, The Marc) are behind the menu. With a great selection of dishes and a warm, inviting atmosphere, I can definitely see myself here many times in the near future. I had such a huge dilemma choosing my dinner options that my boyfriend already said we would be back soon as dinner was "excellent" (his own words, I promise!). I love that the restaurant environment is a mix of formal and casual so that it caters to every diner, and the prices are affordable. Stop by for drinks after work, make it a night out with your girlfriends, or stop by to celebrate a special occasion - whatever makes you happy. Just make sure to make a reservation before you stop by - it'll be tough to get a table if you don't!