A Very Baconhound Birthday
February 07, 2013
A couple weeks back, Robyn sent me a top secret invite for a surprise birthday party down in Calgary for her husband Phil, another food blogger here in Edmonton. Phil had mentioned he wanted to celebrate his big 40th birthday over a meal at Charcut (a dear favourite of mine!), so I quickly arranged to clear my schedule and get myself down to Calgary for the big night.

CHARCUT Roast House - 101 899 Centre Street - Calgary AB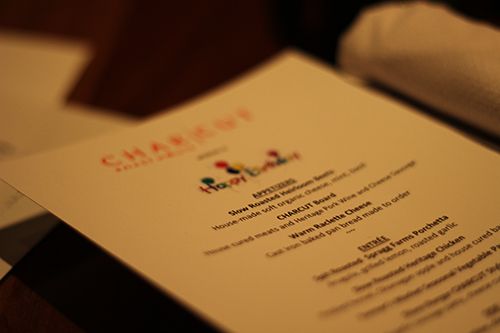 The morning had come to head down to Calgary, and to my knowledge, Phil still didn't have a clue what was going on. I didn't think it would be
that
hard to hide from two people in a big city like Calgary, but WOW I was wrong. Things are a little different when a group of people share similar tastes and want to hit up all the same places in the same city! I was travelling with
Diane
,
Teresa
and
Carmen
, and we had planned to grab brunch after entering the city, going to a couple local bakeries to pick up goodies for home, and hit up the Calgary Farmers Market before checking into the hotel. We were twitter stalking the couple, finding that we were following their tails to each location. It was difficult not to tweet about where I was, and seeing that we were staying in the
same hotel
as Phil and Robyn, Robyn had to be creative and stall every time we were in a nearby location, or when we were checking into the hotel.
When we arrived at the restaurant, we found out that Robyn had rounded up about a dozen of us from Edmonton for the big surprise. We weren't sure whether Phil had figured things out yet, but all was confirmed by his expression when he walked into the restaurant. He was
speechless
. Weeks of sneaking around and being secretive had paid off big time!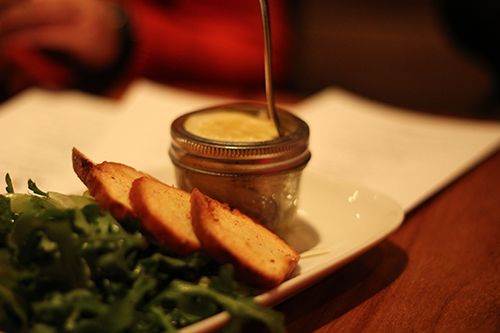 Arugula & Tuna Conserva - shaved celery & lemon preserve - a hit around the table, even for the tuna haters!
For the night, Carmen had worked with Chef Connie DeSousa to plan a 10 dish meal served family style for all of us. Little did I realize it would be the biggest meal of my life! Restaurant hospitality was great, but the company even better. I won't go in depth about each dish that night, but thought I'd share a glimpse into the major gluttony around the table.

Warm raclette cheese - cast iron baked pan bread made to order - the melted cheese on fresh brioche is always, always welcome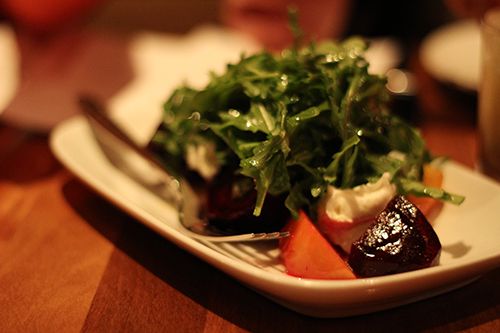 Slow roasted heirloom beets - house made soft organic cheese, mint, basil - the beets are refreshing and great for palate cleansing, while the cheese adds richness to the veg on the plate
CHARCUT BOARD - house cured meats including Heritage Wine and cheese sausage - the sausage is Phil's favourite! But my favourite will always remain to be the pig head mortadella and lonzino. But really, a big plate of meat? You can't really go wrong..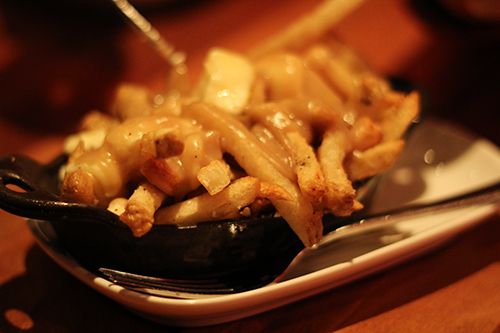 Duck fat fried poutine, cheese curds and truffle gravy - potentially a heart attack on a plate. go big or go home!
Farmers market seasonal vegetable pasta - kudos to the kitchen for the freshly made al dente pasta. Flavours were light and the sauce was nice a creamy
Spit roasted Spragg Farms porchetta - arugula, grilled lemon, roasted garlic - natural flavour, beautiful crackling, but unfortunately chewy as decided unanimously across the table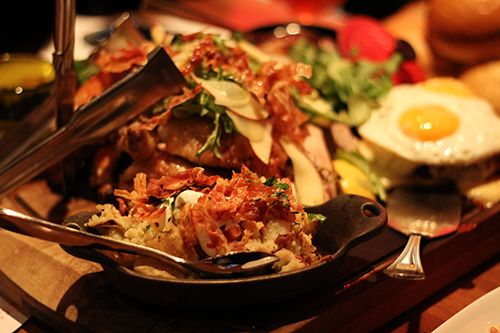 Platter: Slow roasted heritage chicken - Share Burger CHARCUT style - smashed poplar bluff potatoes - I think this dish pushed my limits as I was so full at this point, but the chicken was tender, the share burger a sausage-like patty delicious when paired with a bun, and the potatoes a nice filler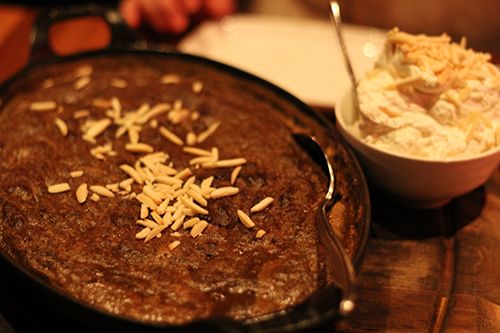 MASSIVE warm date toffee pudding - chantilly cream, caramel sauce, roasted almonds
Individualized warm date toffee pudding - can I just say this is amazing? The warm cake-like texture drizzled in caramel and cream is something else. So. Good.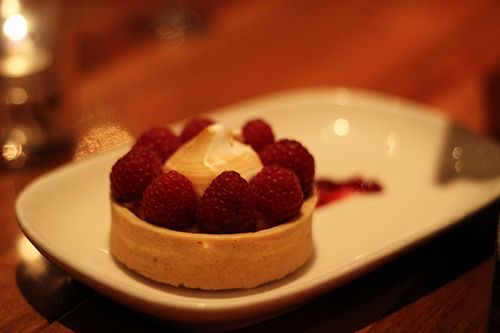 Raspberry lemon meringue cake - light meringue and super tangy filling
All in all, it was a wonderful meal with friends over great food. I can always expect CHARCUT to meet my expectations, and the trip down to Calgary just for dinner was totally worth it! Of course you'll be hearing about my other Calgary shenanigans soon enough, but to tide you over, you can read
Robyn
and
Chris'
account of the dinner in the meantime!