Good Pho You: King Noodle House
February 23, 2013
For the longest time I've been trying to find a new favorite pho place. Ever since Basil Leaf closed down, there hasn't really been anything in Edmonton that has wow-ed me. For a couple months now, I've been trying to get the girls together to try out King Noodle House - a Vietnamese restaurant that's often talked about and recommended. Better yet, it's owned by super tweeter Linda Hoang's family.

King Noodle House Pho Hoang - 10615 97 Street - Edmonton AB


Located on one of the busiest (and main) streets of Chinatown, King Noodle House has been open for quite a number of years now. The restaurant isn't hard to find, and there's plenty of parking spaces available in a lot right next to it. Walking inside, you can tell its an older restaurant - dimly lit, but very clean. Each table is well stocked with chopsticks, napkins, and a variety of sauces for you to dress up your dish with. Even at 1PM on a Saturday afternoon, the restaurant was busy but we were seated quickly by Linda herself!
Most restaurants don't make the combination of noodle soup that I typically like - pho with beef balls and tripe. But upon opening the menu at King Noodle House, I was surprised to see they offered practically every combination of pho you could think of. So there I was, ordering the small #21, eagerly waiting for the steaming bowl of pho to arrive infront of me. A large size costs $8.75 (which looked massive), while a small is $7.75, so it's about the average price for pho here in Edmonton.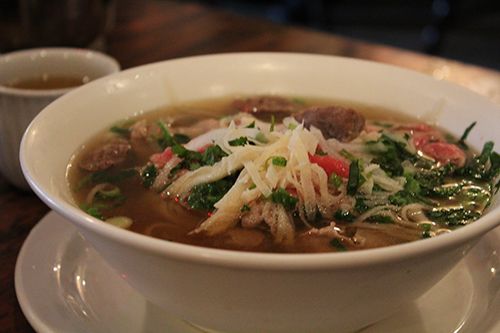 #29 - Pho with beef balls, tripe & raw beef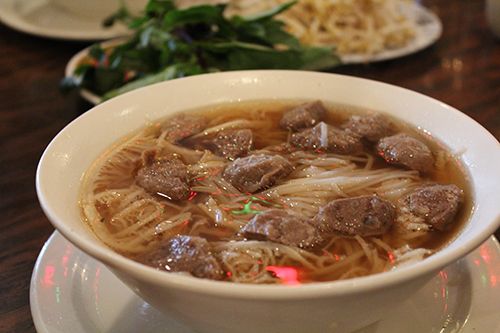 Cilantro and I really don't get along, so I had requested for it to be removed from my bowl. To my surprise, my pho arrived with no greens or onions in it, which was a little disappointing, but understandable that it is quite likely that the greens are premixed. Garnish aside, I took in a nice big spoonful of broth - and it instantly hit me - this broth HAD to be good for me. You know when you eat something and just know that it's made from scratch and is good for your body? Yeah, that. It reminded me of the Chinese vegetable soups that my parents make. I typically like my pho broth to have more depth and herbs to it (mm star anise!), but the broth at King Noodle House has a nice sweetness to it that sets it apart from other pho places in the city.
The noodles in my bowl remained al dente throughout the meal, which was really nice as I hate being served soggy noodles in a bowl. I happily slurped away, and the small size was just right to be satiated and keep me satisfied until dinner time. One nice thing is that I didn't feel thirsty after the meal, even after a couple hours, which tells me the broth didn't rely on much sodium or MSG to bring out its flavours. While I can't say that it takes the place as my favourite pho, I wouldn't hesitate to return for a quick meal again in the future. Pho real.