Patio Party & Fall Sneak Peak: XIX Nineteen
July 25, 2013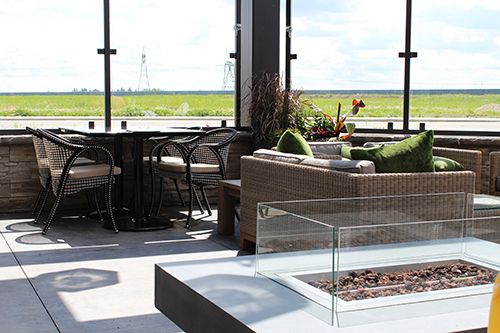 About a month ago, I was invited down to XIX Nineteen to celebrate the opening of their newly built patio, and preview some of their fall menu items. The new patio space is classy and comforting, equipped with a full sound system and a small fireplace that can be lit at night. On a sunny day, it's a cozy space to sit back with some of their cocktails and lounge food to enjoy the breeze, sunshine, and company of friends & family.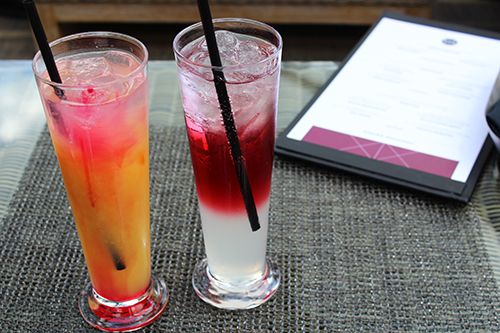 To start off the afternoon, I peeked at the drink menu and instantly knew I wanted to try out the Tropical Twist (right, $9):
raspberry vodka, peach schnapps, lychee liqueur, lime juice, cranberry juice, soda water
. On the menu are also three non-alchoholic drinks, including the Citrus Splash (left, $5):
grapefruit juice, lime juice, orange juice, grenadine, soda water
. Both drinks were delicious and refreshing to drink out in the sun.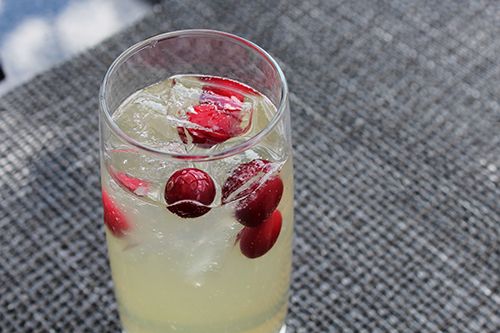 Sangria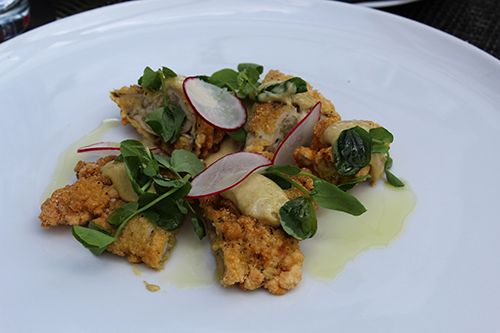 To whet our appetites, Chef Fung presented a dish of fried smoked oysters with green Thai curry aioli & sweet pea microgreens. For myself, I've never been a huge fan of oysters, whether raw or cooked. Surprisingly enough, this dish was amazing - the batter was salty and contained a mix of seeds, giving it an interesting crunch and texture to combine with a light smoky flavour.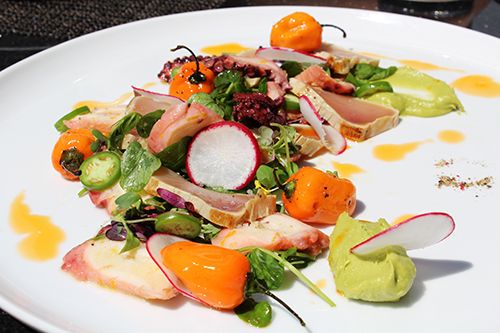 Next up to our table was a dish inspired by a recent trip to Vancouver: citrus glazed octopus and char grilled albacore tuna with serrano peppers, red jalapeno and avocado paste. The tuna was lightly salted and seared, which allowed the fresh, natural flavour of the fish to shine. The octopus on the other hand was chewy, but tender, and infused with a citrus tang. It was a perfect salad dish for me - but watch out for those orange peppers - they hurt when they burn!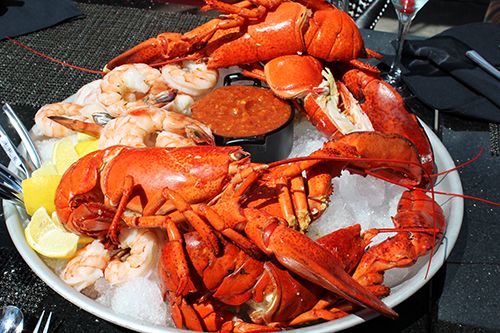 Everyone's eyes widened and jaws dropped to the ground when a giant seafood platter was presented to the table. Fresh giant lobsters and shrimp, boiled and chilled on ice, served with a housemade bloody caesar vodka cocktail sauce. The flavours you expect from a caesar in a cocktail sauce studded with chunks of celery - genius concoction to pair with jumbo shrimp!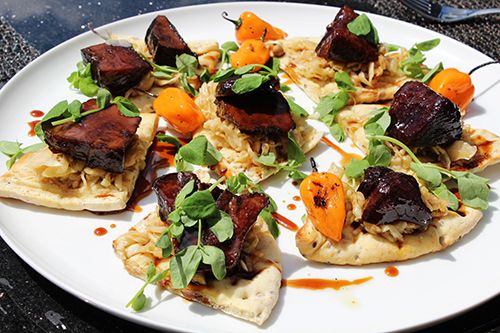 The next course was a colorful soy glazed veal tongue served with sweet and sour slaw on top of a multigrain flatbread. This dish is actually quite similar to their old fung bun, and I was pleasantly surprised with the flavour and texture of the meat. I have had a previous bad experience with tongue, so it was nice to have Nineteen's version where the tongue was incredibly tender. Seriously, I couldn't tell it was tongue, and the sweet soy glaze gave it the Asian fusion touch.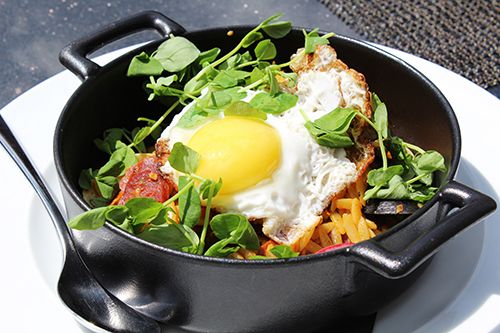 Our last savoury dish for the meal was an orzo pasta paella with Spanish sausage, PEI mussels, and Manila clams, topped with a fried egg and sweet pea greens. The harmonious blend of Mediterranean spices with the seafood and al dente pasta made this one of my favourite dishes. I mean, who can resist a gooey egg yolk covering their food?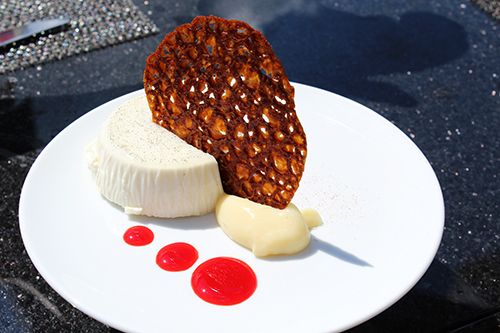 For dessert, panna cotta with creme anglaise, a brandy snap and raspberry coulis. I'm a huge panna cotta fan, but everyone at the table loved the dessert as it was creamy and not too sweet or heavy. The brandy snap was nice to munch on to change up the texture, and the raspberry coulis cut through the sweetness to give the dish some contrasting flavour.
The patio area at Nineteen is a great place to spend time under the sunshine, whether its dining out with friends or stopping by for a drink and snacks after work. From the dishes I was able to try, you're all in for a treat when the fall menu is launched in September! Stop on by the patio and experience it for yourself if you haven't already.