Exploring Southgate with Dishcrawl
July 17, 2013
Last week, I had the opportunity to attend the local Dishcrawl in the Southgate area. Edmonton's Dishcrawl now has a new ambassador named Gemma, so I was excited to see if the experience would differ from my first led by Teresa. To be honest, I live in the south side of the city and often drive around Southgate. I wasn't too excited about eating in the area since there really isn't much. But to my surprise, there were some great local gems we visited that I never considered in the past.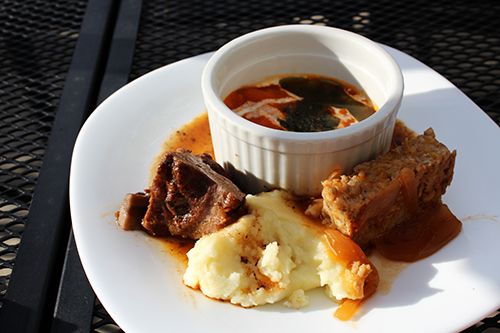 Our first stop for the night was at The Bothy Wine and Whisky Bar (5482 Calgary Trail). The Bothy is quite well known for their extensive range of whiskeys, but I had never heard anything about their food. We were given a sampler of a couple dishes available on their menu: Tomato and Bacon Soup, Sous Vide Beef Cheek, and the Lorne Meatloaf. The soup was creamy, featuring chunks of bacon and finished off with some basil and olive oil. The flavours really complemented one another and I could really see it being comfort food on a cold day. As the restaurant is committed to supporting local producers, the beef cheeks are from Sangudo - the beef is cooked in an immersion circulator at 80 degrees for 24 hours, making it quite tender. Finished off with saskatoons and wild mushrooms, it was a nice taster, but I found it to be tougher and drier than I would have expected. The Lorne Meatloaf on the other hand was a clear winner for me - made with Irving's Farm Cumberland sausage, the loaf was perfectly spiced and moist, but the onion gravy on top just made it all the better. I would love to return to the Bothy again for a sit down meal! Maybe try some Whisky as well? All the alcohol on the menu is available in 2oz. tasting sizes.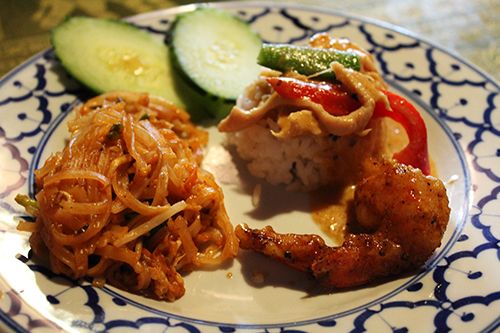 Our next stop was further north, a Thai and Laos restaurant that I love to frequent: Syphay Restaurant (6010 104 Street). Syphay is a family owned restaurant that I actually had one of my first tastes of Thai cuisine at, and I fell in love with it instantly. For the dishcrawl, we were served Pad Thai, Phanang Curry with chicken on coconut rice, and a crispy garlic shrimp. The Pad Thai here is made with a tamarind sauce, which is sweet and quite spicy at the same time. The noodles are tender, and aren't too sticky, which is the way I like my stir fried noodles. The curry on the other hand was sweet, and the heat from the chili's didn't hit until the end of the bite. The shrimp were sweet, with a hard, almost candy like coating - pretty deceiving, as they were quite spicy as well. It's no wonder there were cucumber slices on the plate! Syphay is a gem on the southside of Edmonton, but if you're up in the north or central area of the city, you're lucky! They just opened up their second location near Chinatown.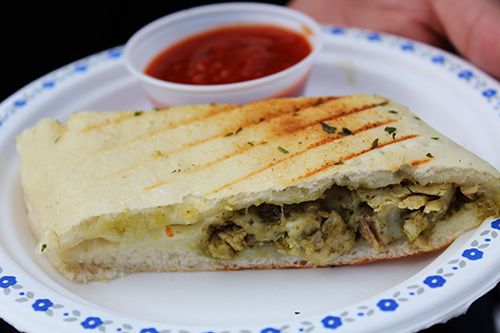 The following stop on the crawl was actually to visit a food truck parked in the Global Edmonton studio parking lot. Battita's Calzone Mobile was parked there waiting for the dishcrawl group to serve up some freshly pressed calzones. To be honest, this stop was really odd to me. First off, Battista's is nowhere near the south side of the city, and secondly, the crawl was meant to feature restaurants in the Southgate area, that could be visited again in the future. Oddness aside, we were each give the opportunity to sample 2 calzones. I went with the Pesto Presto, a pesto chicken calzone served with marinara sauce. The calzone was warm, but I felt there was a bit too much dough and was dry if not eaten with the accompanying sauce. After the calzone I didn't have the desire to try a second, but perhaps a tomato sauce based calzone would have suited my tastes better.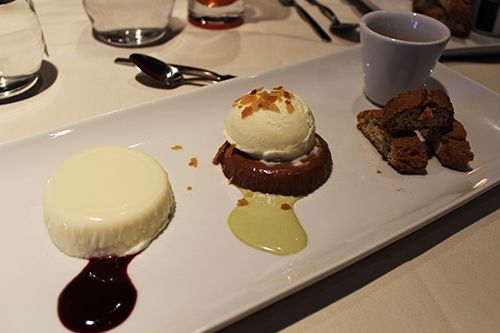 The last stop of the night for dessert was probably my favourite! Massimo's Cucina Italiana (5012 104A St) is a casual Italian restaurant right beside the Italian Centre that I haven't visited before, but based on the dish we were served, I'm definitely heading back there! We were served a sampler of all the desserts on the menu - seriously, we were spoiled. On the left was the Homemade Pannacotta, which was presented quite differently from what I'm used to. Massimo's version is thick and creamy, slightly sweet, resulting in a rich and decadent dessert. In the middle was a caramel and chocolate mousse served with pistachio creme anglaise and vanilla ice cream. Again, the mousse was unexpectedly thick and dense - almost like a lighter fudge! It wasn't too sweet, and the pairing with the vanilla ice cream cut down the potential for the chocolate to be an overpowering taste. On the right was their Cantuccini, or biscuits served with a sweet Vin Santo for dipping. The biscuits resembled biscotti in texture, and were delicious with or without the wine. They weren't too hard to bite into (like your traditional biscotti), and had a light sweetness. For a person who doesn't like desserts to be overly sweet, it's almost like Massimo's made this sampler with me in mind. I'll be back for more!
All in all, I thought the food quality served at this Dishcrawl was pretty good. However, I wouldn't be willing to pay the $50 ticket price for the portion sizes that we ate, as each portion was quite small, and drinks were not included. The $40-$45 range would probably be more suitable for future dishcrawls, as they do happen fairly frequently and can end up costing quite a bit if this type of event interests you and you attend one in each of the featured neighbourhoods. Compared to the
Dishcrawl I had attended previously
, I do wish that there was more of a group component and greater direction when travelling between restaurants. On this particular crawl, participants came and left as they pleased, so there wasn't much cohesive structure or travelling together as a group, giving people less of a chance to socialize and meet others. In addition, an identical Dishcrawl led by Gemma was hosted the evening prior to mine, and all the locations had been revealed through twitter. The element of surprise and having to guess the next location wasn't there, making the dishcrawl less mysterious and fun as it is supposed to be.
For anyone interested in the next crawl in Edmonton, keep your eye out on their
website
! The events for August on the 104 Street Promenade are already sold out, but maybe you can snag a ticket if they release more!
Disclaimer: I was invited to attend this Dishcrawl free of charge. However, this post is 100% my opinion, and as always, my priority is to you, the reader, to present an unbiased, thorough review.