Southern Flavours with Creole Envie
November 21, 2012
Three weeks ago, I was invited to attend the Grand Opening of Creole Envie, hosted by owner Danielle Majeau herself. Creole Envie first made its appearance as a catering service earlier this year, which is how I met Danielle and had the chance to try out her jambalaya. Months later, she proceeded to open her restaurant, only having to shut the doors and look for a new home at the beginning of September. Search after search, she finally came across her dream location in the Highlands area.

Creole Envie - 6509 112 Avenue - Edmonton AB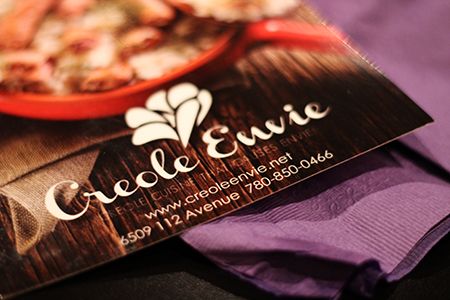 In the space that used to be home to the Highlands Kitchen now sits Creole Envie. While the space is small, the dimmer lighting and decor made it cozy and an inviting place to dine in.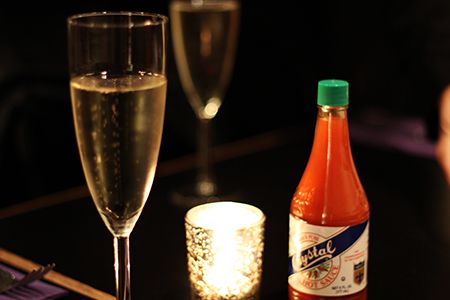 Walking in, everyone received a flute of celebratory champagne before finding a seat! Trust me, it was tough fighting the crowd for a seat on this night, but rest assured, you'll have a little bit more room when you visit the restaurant yourself.
On the menu that night was a self-serve Bourbon buffet. Buffet? I'm so there, and am totally the person trying to get as much food as possible on my plate. I kid (
but not really
). Available to guests that night were: chicken & waffles, Creole deviled eggs, collard greens, alligator étouffée and bourbon chocolate bundt cakes for dessert.
I've never had authentic chicken and waffles before (trust me, I am
dying
inside trying to have them!!), so I was quite excited for it to be available. However, due to the nature of the event, the chicken and waffles brought out in batches were unfortunately cold, soft, and dry by the time I got to them. I'll have to head back on a second occasion to try them out for real!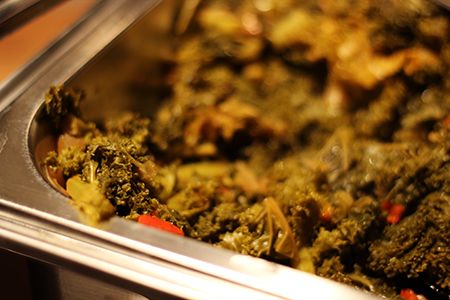 Collard greens really never are my thing, as the sweet and sour combination doesn't quite sit well with me (I also hate sweet and sour pickles!). But the guests that like collard greens enjoyed the dish, so it's worth a try if you've never had it before. The Creole deviled eggs on the other hand were great - topped with some crackling for interest, it was a nice addition to the meal.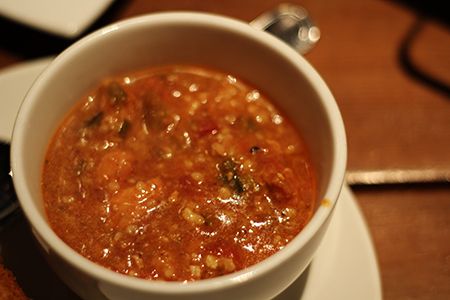 Ever since my encounter with alligator at
Louisiana Purchase
, I've been wondering when my next meal with it would be. The étouffée was hearty and full of flavour - definitely a perfect choice if you need to warm up from the cold weather we get here in Edmonton! This was my favourite dish of the night.
Last but not least was the Bourbon chocolate bundt cake - a definite favourite amongst guests at the party. The cake was moist, dense, and contained some crystallized sugar which was an unexpected surprise for me. Despite the presence of the sugar, the cake itself was not too sweet, which is what I usually look for in desserts. And because I was ready to subject myself to stomach explosion, I had to have a second one.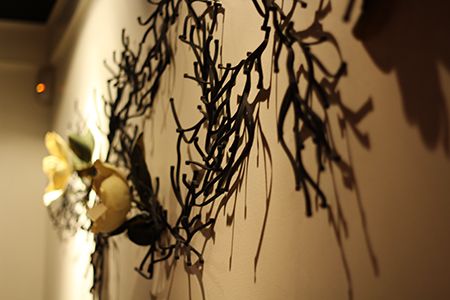 Chef Majeau has done a great job with this new location to build it into the restaurant of her dreams. The decor is beautiful, giving the place has its own warm personality. I know I'll be back in the future to try those fresh chicken & waffles - they're a special on Thursdays!
Disclaimer: as this was a grand opening event, views expressed in this post are solely mine. I was not expected to feature this restaurant on my blog, nor obligated to do so. This post is 100% my opinion, and as always, my priority is to you, the reader, to present an unbiased, thorough review.