Indulgence 2012 Recap
June 13, 2012
Indulgence. What does that word bring to mind for you? For me, I see myself sitting at a table of glorious food ready to dig in and stuff my face silly til I pass out and fall over. Yeah.

Okay, so maybe that's not the picture you had in mind, but it's totally the one you have in your head now.

This past Monday, I had the opportunity to attend Indulgence: A Canadian Epic of Food and Wine held at the Delta Edmonton South. It was my first year at the event, and although I was a mixture of feeling hungry, nervous, and overwhelmed at the same time, I had a great night eating great food and spending time with wonderful people. I'd like to extend a big thankyou to the committee members, winemakers, producers, chefs and volunteers who worked so hard to put this event together. Everything was well organized and ran smoothly - you all deserve a huge enormous round of applause.

All the proceeds for the ticket sales for the event goes in support to the Junior League of Edmonton. Judging by the number of people at the event and the scorching temperature in that room (it felt like I was back in Hong Kong from time to time!), I'd say the event was a success. So let's just keep this plain and simple: I'll show you pictures of the food created by the restaurants and you can pretend you were there eating it too. But be warned, there were 21 stations - more pictures after the jump.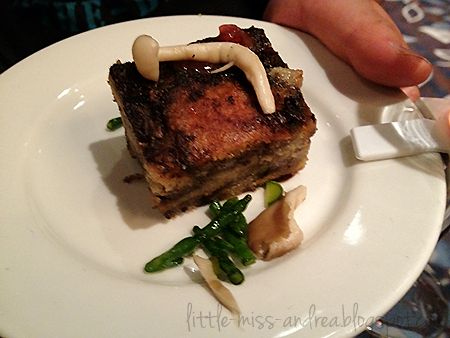 4th and Vine Wine Bar & Bistro: Savoury Mo-Na's mushroom bread pudding with red & white
currant reduction, pickled maitake, beech brown mushrooms and roasted garlic tops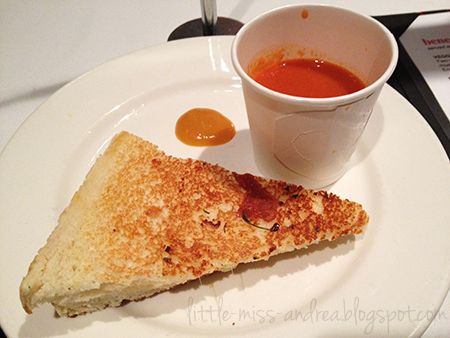 Urban Diner: Sylvan Star Grizzly Gouda grilled cheese served on aged Gouda sourdough with
aromatic tomato soup & Italian-style herbed mac & cheese croutons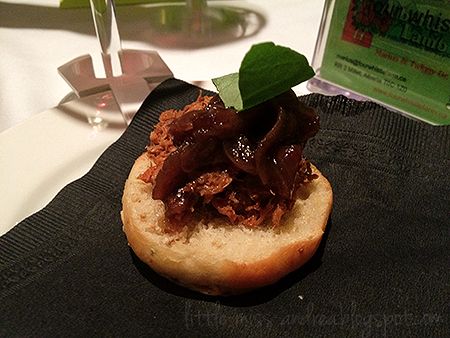 vivo ristorante: Four Whistle Farm smoked lamb leg braised with Gull Valley tomatoes and
served on fig & olive bread with red onion jam & wild watercress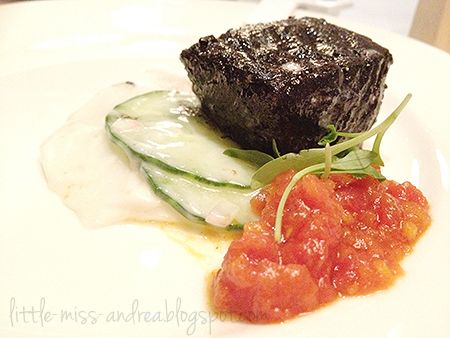 Share: Doef's Greenhouses' cucumber and daikon raita salad with black curry
Queen Charlotte halibut & spiced tomato chutney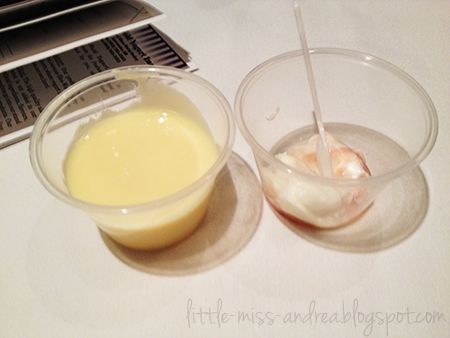 Bles Wold Dairy: Mango Yogurt Drink & Greek Style Yogurt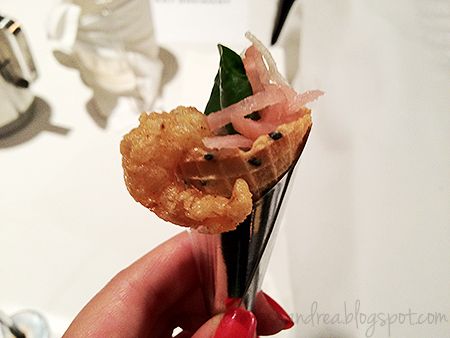 4404 Restaurant: Sundog Farms oriental arugula salad, pickled organic radish, five spiced
bistro shrimp served in a sesame cone



TZiN Wine & Tapas Ltd.: Berry Ridge Saskatoon Berry and shallot relish with braised
angus beef brisket, parsnip purée, pan jus.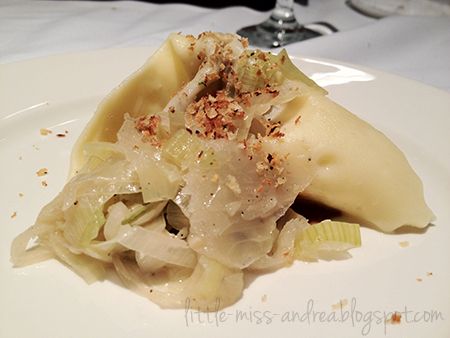 Red Ox Inn: Jumbo tortellini of Belle Valley Farm alpaca with mushroom vinaigrette
and ramp fondue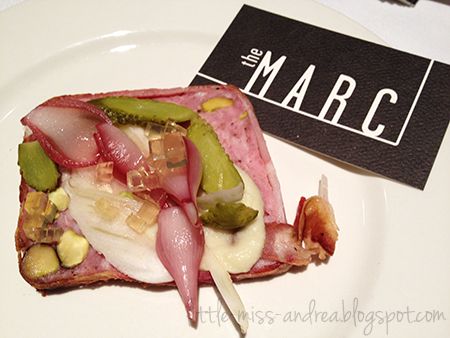 The Marc Restaurant: Terrine of Irvings Farm Fresh pork shoulder with pistachio, apple,
and fennel. Served with pickled pearl onions, shaved fennel, cornichons and Pinnacles Ice-Cider Gelee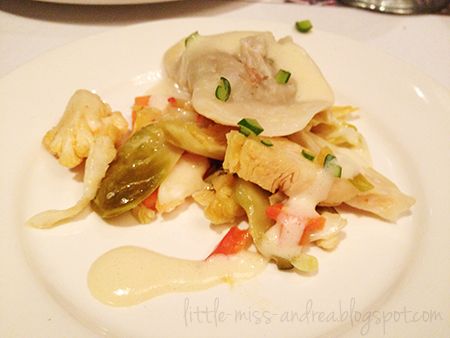 Moriarty's Bistro & Wine Bar: Slow braised Tangle Ridge Ranch lamb ravioli with
Brussels sprout kimchi & ginger sabayon



LUX steakhouse+bar: Popcorn and duck arancini: Cheesiry Pecorino, confit duck,
blackberry, green pea and radish



L2 Grill: Alberta barley and Kobe beef burritos with spicy chipotle and
Wild Rose Brown Ale dressing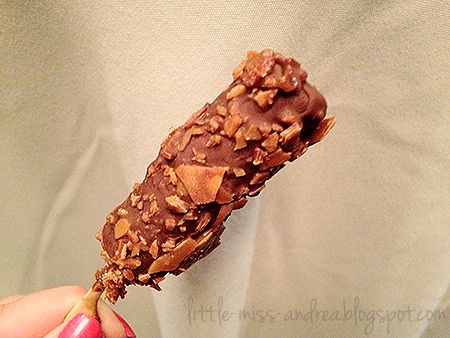 Shaw Conference Center: Coal Lake Honey beehive: honey, lemon, black currant and almond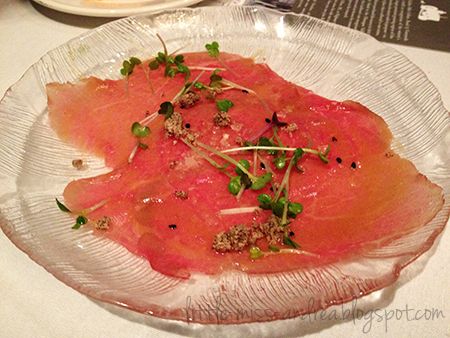 Jack's Grill: Spring Creek beef carpaccio with red miso vinaigrette, coffee crumb
and pea shoot salad



Madison's Grill: Unorthodox rabbit stew: braised legs, roasted fennel,
pomme purée, rabbit gravy creamy carrot purée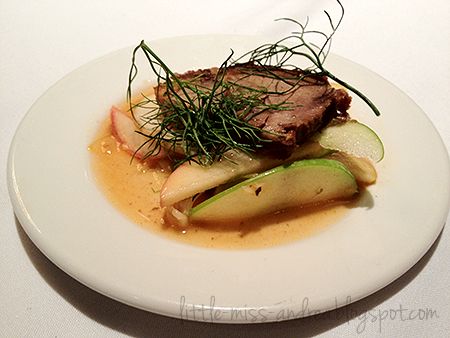 Culina Muttart: Braised milk-fed Sangudo pork with house-made apple kimchi,
bacon chips and arugula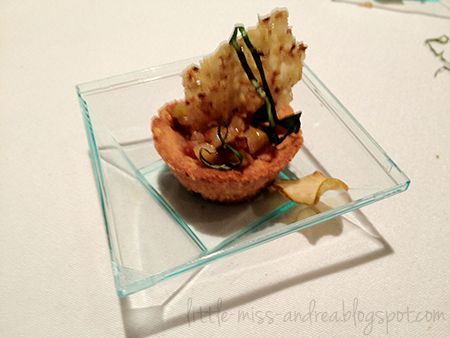 Cafe de Ville: Steve & Dans Conference pear and pancetta hazelnut tartlette with
The Cheesiry pecorino crisp and apple gelee



Prairie Mill Bread Co.: mini PB&J sandwiches. Natural peanut butter,
the Jam Lady's jelly lovingly squished between nine-grain bread



NAIT School of Hospitality and Culinary Arts: How Wild wild boar cheek and drunken
currant compression, prairie fruit cake and herb salad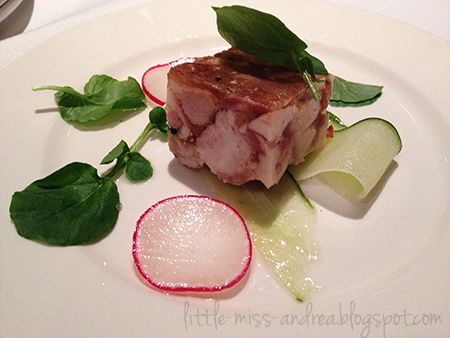 Hundred Bar + Kitchen: Nature's Green Acres pork trotter and jowl terrine with
watercress, radish, cucumber, honey and white balsamic vinegar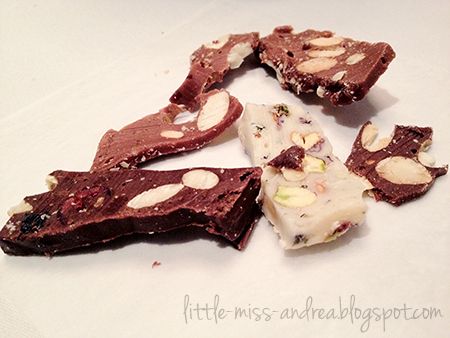 The Newget Kompany: Sweet Petals, Chocolate Krackle & Buttery Bites Caramels nougat

By talking to other attendees, it was obvious that everyone has different tastes. Whether or not I'll be back next year, I can't say for sure, as there were some big hits and misses. But if I do attend, I'm gonna be wearing a nice pair of stretchy pants :)
Did anyone else attend this event? What were your star dishes for the night?