Five Guys Burgers & Fries
June 30, 2012
Back in the day, Sherwood Park felt so far away from where I live in the South side. Hell, it still feels that way. Downtown & the North side of Edmonton are SO foreign to me even to this day. I almost feel like I've only ever been in the South side my whole entire life.

Five Guys Burgers & Fries - 100 Sierra Springs Drive - Airdrie, AB

Then came the day when I was watching Unwrapped on the Food Network maybe two years ago during the summer, and seeing Five Guys Burgers & Fries being featured changed my life! When I heard that a location was going to hit Sherwood Park, it was almost enough for me to venture out there. Almost.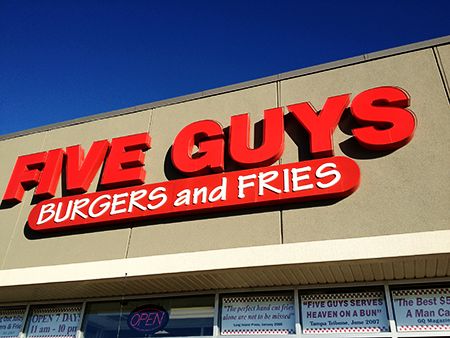 Recently, a new location has opened up in the South side! The five guys made a good move. But instead of fighting the crowds on opening weekend in Edmonton, I visited the Airdrie location beforehand.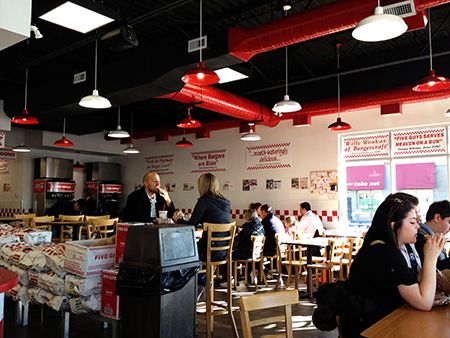 Five guys promises a fresh burger, made to order the way you like it. At all their locations, there are no freezers on hand, but rather coolers.. so that your patties are always fresh and never frozen. Vince and I had arrived shortly after 2:30 in the afternoon, and while the restaurant wasn't packed, it was still substantially busy. After we arrived is when things started to heat up. A line started to form behind us, and we were glad we arrived when we did!
Like other fast food joints, you line up, and choose the burger you want, with the toppings of your choice. They don't have any preset burger choices, and all the toppings you choose are free. Go crazy! Their regular burgers are served with two patties, and for those who don't have a huge appetite, the 'little' versions are served with just one.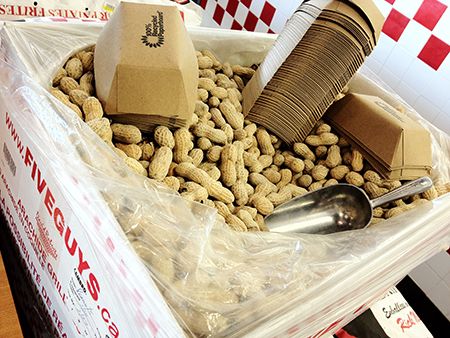 One thing that should be noted, is that they are not contained in a nut-free environment. These five guys are famous for using pure peanut oil for cooking, and the restaurant itself is laden with boxes upon boxes of peanuts for your enjoyment. Eat up & get your fix! It does say on their website, that while they do not wish to purposefully exclude guests from their restaurants, the peanuts have become a part of their identity and they will continue to serve them as long as they are open. Many restaurants site the usage of peanut oils due to it's chemical properties. Peanut oil has a higher smoking point, leading to a crispier, deep fried end product with a unique taste.
Vince and I chose to go for the Cheeseburger, dressed the way we like it, and the cajun style fries along with a drink. With the pop, you are expected to serve yourself and the refills are free. Totally gives you something to do while you wait for your order. Or you could just gorge on peanuts like I did. Your choice.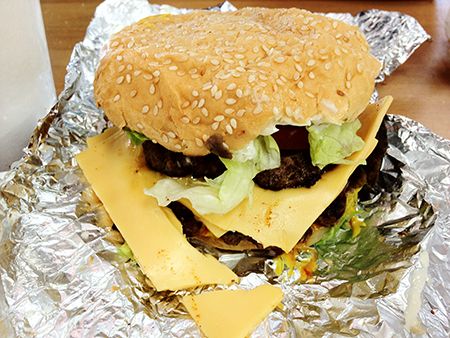 Our order took a little over 4 minutes for us to pick up, and upon first bite into the burger, the patty was tender and juicy, and tasted fantastic. The cajun style fries on the other hand weren't exactly crispy the way I had expected them to be. The short ones were crisp, but the longer ones couldn't hold their shape, and were a little limp as seen in the picture above. I wonder if it's due to the fact that they had to be seasoned? In the future I'd definitely want to try them plain to see how well they are on their own.
All in all, it was a yummy burger and I would return. For a burger, fries, and drink, it came out to around $13, which isn't asking for much when you consider how much you would pay at a sit down restaurant at lunch for the same thing.