Old Navy Rock Star Jeggings vs. J Brand Skinny Jean Legging
January 15, 2012
Without a doubt, one of my best purchases of 2011 was my J Brand skinny jeans off Hautelook. I have a couple pairs of J Brand's, but this one is my favourite of them all. On a whim, I visited Hautelook and the skinny jeans were on sale and with a sz 23 available. I immediately snagged them up and have been wearing them nonstop since.

Why do I like them so much? The inseam length and the fit. I think they were made to be ankle jeans for the taller ladies out there, but the short inseam works very well for me as I just tuck in the bottoms seamlessly (about 2") and they are still comfortable. The jeans hug my legs in all the right places, and I love the shorter rise and snug fit in the hips!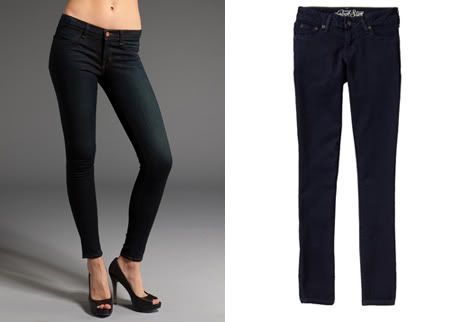 J Brand vs. Old Navy
Recently, one of my favourite bloggers
Wendy
wore the Old Navy Rock Star Jeggings in a post - she looked fantastic in them! I was curious and looked into them right away.
The ON jeggings come in a wide array of colours and with a variety of fit options (!!). They come in regular, tall and petite fit, with the regular running in three different inseams - short, regular & long. When I was ready to order, there wasn't a colour I wanted in 0P, so I ended up ordering the 0R in Ruby with a short inseam. It seemed to me that the major difference between the two was the inseam, where petite features an inseam of 29.5" and short with a 30" inseam. However, upon arrival, my pair with the short inseam had a measured inseam of 27"! Perfect.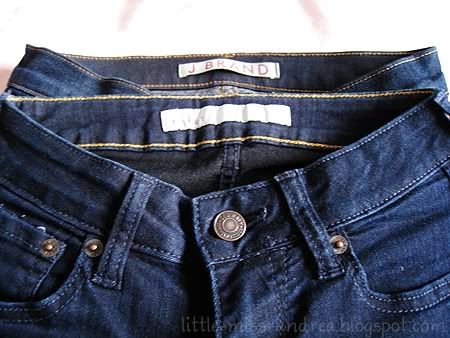 As in the comparison pics below, you will see that the J Brands and the ON Jeggings fit exactly the same. The only difference is the inseam length, by which I prefer the ON Jeggings since I don't have to fold them up at all! For reference, I have very short legs. My measured inseam is 26"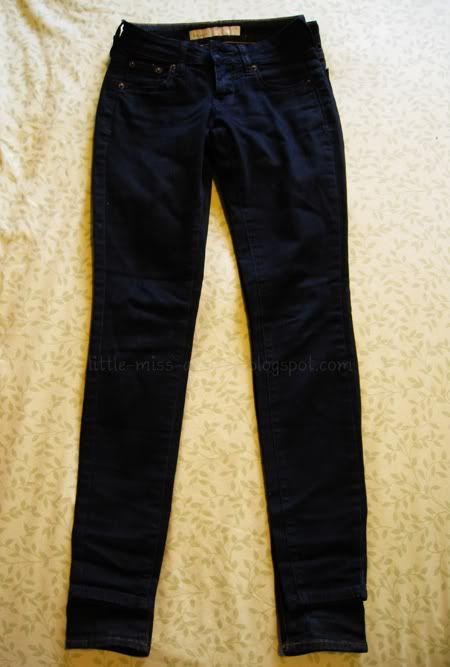 The Old Navy pair is actually a tad stretchier than the J Brands, giving me leeway when I pig out on food! (Almost always, haha) The pricepoint is fantastic, coming in at under $50 per pair with tax included. That being said, Old Navy consistently has sales and deals on their website, so it's likely that the jeggings can be purchased at a much lower price. Compare that to the $212 price tag of the J Brands.
So what are you waiting for? Pick up a pair if your size is available! I highly recommend them.