Korean Village
January 12, 2012
When in the mood for all you can eat Korean BBQ, most people will think to head to Ginseng Restaurant in the south end of the city. The last time I went out for BBQ at Ginseng was about two years ago for a friend's birthday. I distinctly remember it being expensive, in the $30+ range per person - one of the big reasons why I haven't returned since. Being spoiled by the cheap prices in Vancouver and LA has forced me to stay away from Korean BBQ.. and I've been looking for other options.

Korean Village Restaurant - 7729 85 Street NW - Edmonton AB

Little known fact: when I can't fall asleep at night, I do one of two things: a) open up the FML app on my phone and read, to make myself feel better, or b) troll around on Urbanspoon looking for new places to eat at.

A few weeks back I did the latter, and came across the Korean Village Restaurant. I called them the next day to see if they offer AYCE Korean BBQ, and they do! For the price of $25.95/person.



On the drive over, we felt like we were heading in the wrong direction, as if the map was leading us to the middle of nowhere. We were driving around residential streets, and magically found the restaurant in the middle of nowhere. There are about 2-3 other Korean shops next door.. but really, this restaurant is in a random area.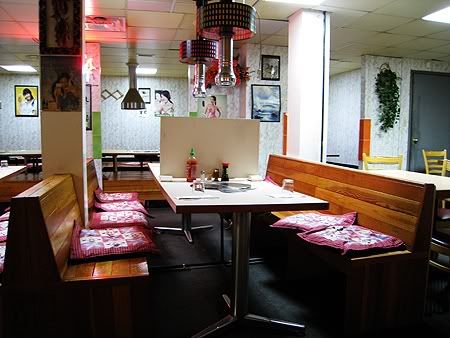 The interior of the restaurant has a very homey feel to it. There's even a set of stairs that leads to a second floor, to a party room where they can host karaoke.
While Korean BBQ is a self served, self cooked meal, the staff at the restaurant were friendly and very inviting. They prepared hot food (spring rolls, tempura) at our request, and were available when needed.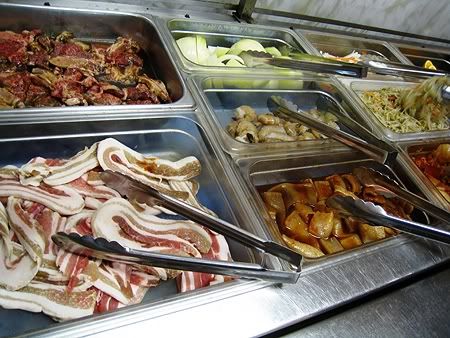 The selection of food at Korean Village is limited when compared to Ginseng, but the selection available at the restaurant is sufficient to fill any BBQ craving. All the meats available (with exception to the shrimp) are seasoned and marinated perfectly. It all tasted so delicious! My only wish would be for them to have more banchan (side dishes), as they only have kimchi and beansprouts available. Some seaweed salad would be awesome!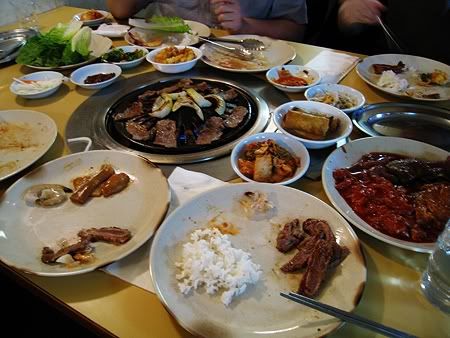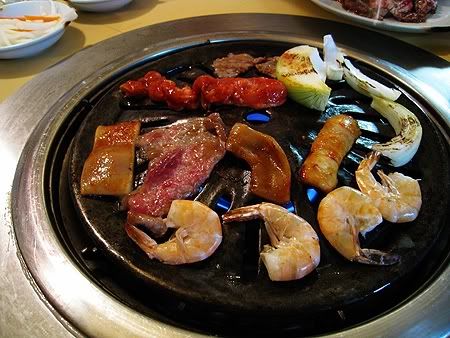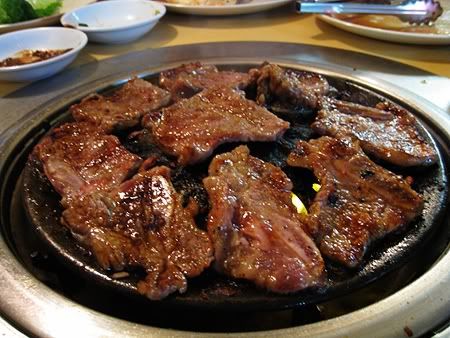 After the meal, I gave a call over to Ginseng inquiring about their Korean BBQ. It seems as though their price has dropped from $30+ to $29/person! Seeing as their selection is greater, I would likely head to Ginseng if I craved Korean BBQ. But if I was in the area, I wouldn't hesitate to come back to Korean Village. If you like lots of variety, head to Ginseng. If you prefer a quiet, cozy meal, head to Korean Village.
One thing I should mention about Korean Village though, is that they have a stamp card program. Ater having BBQ nine times, the tenth is on them! So eat up, and check this place out if you're in the area :)