Where To? City Breaks in South America
April 18, 2014
With another semester of school coming to an end, I've spent the last few weeks debating if I should go on a trip! I've got my heart set on Mexico and am leaving next week, but I think it would be absolutely amazing to visit South America! Brazil has always been on my travel list... hopefully I'll get to cross it off one of these days!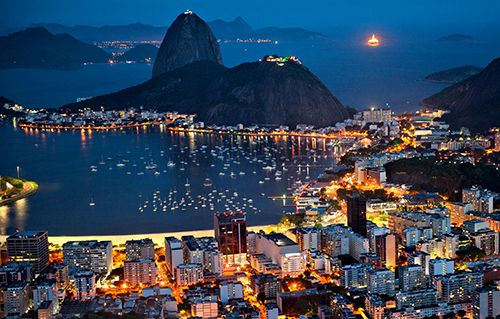 Photo thanks to National Geographic
South America is a diverse and exciting continent, famed for its vibrant cultures, love of music, incredible food and rich history. It's also home to some of the world's biggest and most interesting cities. With increasing air travel to the continent driving down prices, it's now possible to take city breaks and long weekends in some of the continent's biggest urban areas.
With flights widely available from Canada, reasonably-priced tickets and
american express
widely accepted across the continent, financing and paying for your break has never been easier. All you have to do now is choose your destination.
Cuzco
Situated high up in the Andes, the colonial city of Cuzco was built upon an old Inca capital. The main cathedral still sits upon centuries old Incan foundations, with the massive Twelve Cornered stone remaining as a testament to pre-Columbian ingenuity and building techniques. From Cuzco you can also access Machu Pichu, a lost Incan city rediscovered in the early 20th century. It truly is one of the wonders of the world and must-visit destination. You have to try the Alpaca while you're here and for those feeling very brave, you'll find guinea pig on the menu too.
Rio de Janerio
This sprawling Brazilian megalopolis is always associated with the golden sands of the Copacabana, Sugar Loaf Mountain and the statue of Christ the Redeemer towering over the city. Aside from these globally recognisable landmarks, Rio is one of the most vibrant and exciting cities on the planet. Streets resonate to the sound of Samba and bars seem to throng with constant parties and celebration. Don't miss the world famous carnival, the world's biggest street party, and a truly unique event. Brazilians are also famous for their meat, with barbecue being the preferred way of cooking.
Buenos Aires
A stunning mix of Old and New world, the capital of Argentina has a European feel to it but retains its South American charm. It's also home to the Tango and a grandeur that oozes romance.
Santiago
The capital of Chile is a classically beautiful and cultured city that is located less than an hour from the coast, just two hours from the ski slopes and half an hour from the countries famous vineyards. All of which means there is plenty to see and do. Try the traditional dish of ceviche, shrimp cooked in lemon juice – a dish currently taking the world by storm but never better than in Chile.
Book early and get great prices on flights. Be flexible with dates and times and you can get a better deal. While South America generally offers cheaper accommodation and food than Canada, prices are going up so be prepared to pay more for some of the higher-end facilities and attractions.'
*Disclosure: this is a featured post