Maki in the South: Sushi Sugoi
April 09, 2014
Sushi places are popping up all over the city! It's almost like the restaurant gods heard my complaints and sent an influx of them into the Edmonton food scene. One of the latest places to open is Sushi Sugoi, and rumour has it that it is owned by an ex-Mikado employee. Oooh. Ok, no gossip.

Sushi Sugoi - 2874 Calgary Trail - Edmonton AB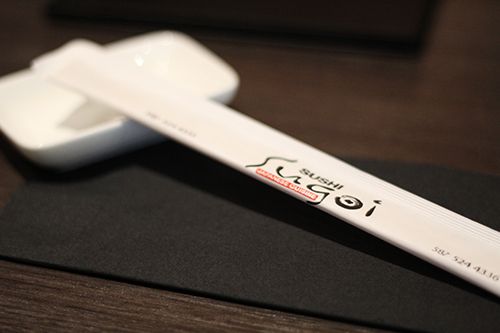 From the outside it is quite evident that this restaurant has taken over a previous Outback Steakhouse location, as evidenced by the white siding and green roofing. But when you step inside there are no traces of evidence that a steakhouse used to occupy the building. Extensive renovations have been made to give it a modern, upscale feel. A double-sided fireplace sits in the middle of the restaurant and a brightly lit commercial Urban Cultivator sits behind the sushi bar.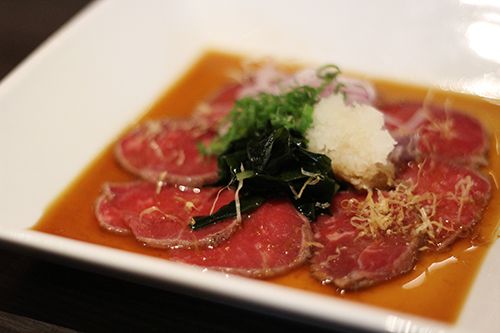 On a Wednesday night I found some time for a long-overdue dinner with friends. It didn't take much convincing to get them to agree to sushi dinner, but we found ourselves having a hard time deciding what to eat. The dinner menu at Sushi Sugoi is quite extensive, but I think that just means that there's something for everyone. We started off our dinner with the Beef Tataki ($10), which is always a must-have for me when I eat Japanese. The version here is garnished with green onion, seaweed, grated radish and red onions. The ponzu wasn't overly salty and gave the tender beef slices nice flavour. My only concern was with the small portion size, as there were 8 thin slices on the plate.
In an attempt to have some vegetables with dinner we ordered the Smoked Duck Salad ($10):
smoked duck breast glazed with orange teriyaki dressing
. A bed of iceberg lettuce set the base and was topped with arugula, onions, radish and alfalfa sprouts. A few thin slices (5) of duck breast made it into the dish alongside fresh orange wedges. While the duck breast had a nice smoky flavour, I was disappointed by the small amount and felt there should have been more since it was the selling point of the salad. The lettuce at the bottom also imparted a strange flavour to the dish, making it almost off-putting. On the upside? At least the orange slices were sweet.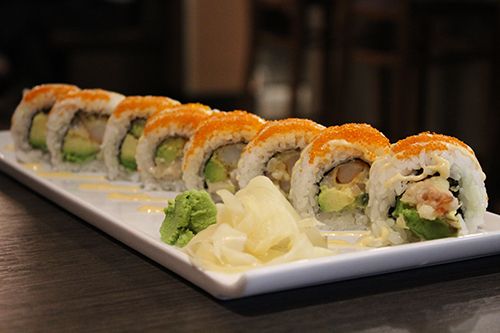 We were all feeling sushi rolls that night and ordered a couple to try out. The Dynamite Roll ($13) is always a classic, and Sushi Sugoi's is a combination of shrimp tempura, avocado, cucumber, chop chop, tobiko, hot sauce, and spicy mayo. There typically isn't scallop in a dynamite roll, and I liked that it comprised a quarter of the ingredients rolled inside of the rice.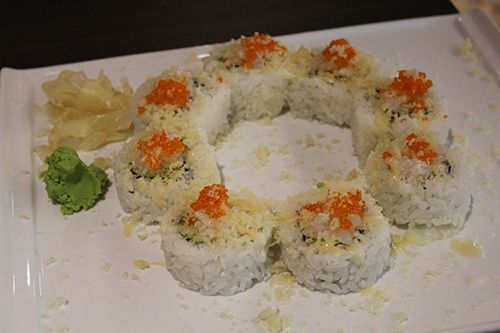 Next up was one of Sugoi's specialty rolls - the White Snow Mountain Roll ($15):
lettuce, crab meat, avocado, crunch, chopped scallop, tobiko, cream cheese sauce
. The plating for the roll was nice but I really wish they would have put it on a different coloured plate to make it pop! This roll for me was pretty disappointing. Based on the description I had anticipated for there to be crab, but it ended up being imitation crab meat! There was little sauce and only a tiny chunk of scallop atop the roll so it really lacked flavour, which is pretty unfortunate given that it's one of their special rolls.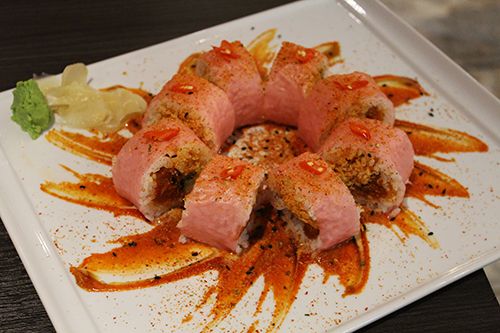 Our last order was the Hardcore Roll ($16), aptly named given the presentation. Spicy tuna, spicy seasoned salmon, cucumber, tobiko, Thai chili, hot sauce, and sichimi were rolled with a soy bean wrapper. There was so much detail in the presentation, and this was my favourite dish of the night for both looks and taste. Each piece packed lots of heat (thanks to the Bird's Eye Chili!), but I found that the cucumber helped to tone it down. The salmon was cooked while the tuna remained raw, and there were lots of different textures in the roll.
With another Japanese restaurant on the map for southern Edmonton, Sushi Sugoi is a nice addition. Most of the items on the menu are standard for Japanese restaurants so there isn't anything that stands out for me aside from some of their specialty fish and maki rolls. If anything, I would return to try out their Sugoi Ocean Platter, which looks beautiful, or the truffle infused sashimi, but the maki wasn't memorable for me. All the ingredients used are fresh and the prices are on par or a tad more expensive than other Japanese establishments around the city. It's nice to have another option for Japanese, but I still prefer some of the other restaurants here in Edmonton.