Seasonal & Fresh: Downtownfood
April 12, 2014
A few months back I had a couple hours to spend in Calgary. What better is there to do than eat?! Well, many of you could argue with me on that one, but my agenda in Calgary is always food, food, food. I was long overdue to catch up with my friend Carmen, and we hit up a restaurant that has been on my list for a while.

Downtownfood - 628 8th Avenue SW - Calgary AB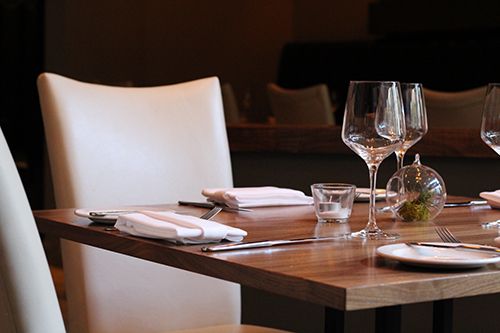 Downtownfood is located in the heart of the city and they've made huge waves in the Calgary food scene with their innovative ideas. With Chef Darren MacLean to lead the team, Downtownfood stands out amongst other restaurants with their rooftop garden and beehives. 40 different varieties of plants grow on the roof and they harvest their own honey for use in the restaurant. Can you say amazing? With a commitment to local foods and making everything in house, it's almost like there's nothing this restaurant can't do.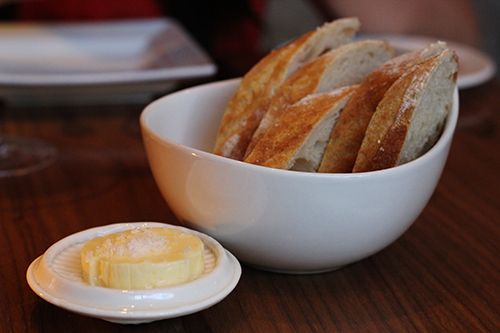 The meal started off with some housemade bread and organic butter with rock salt. The bread was pillowy soft with a chewy crust and the butter was the perfect consistency to spread.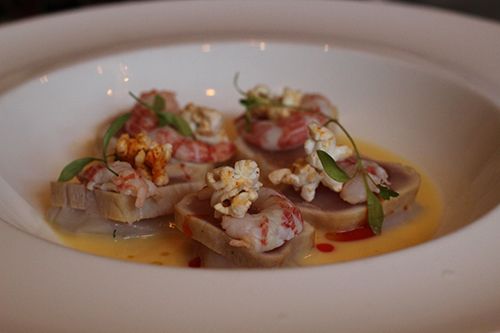 We had decided to order a variety of dishes to share and try out. We started our meal with the Qualicum Bay Scallop "Ceviche" ($16) served with
Albacore tuna, stripe prawn, coconut milk, aji amarillo, pickled celery and tandoori popcorn
. The fish, shrimp, and scallop were very fresh, and I loved that you could taste the flavours of all the ingredients. The spiciness of the dish was toned down with the coconut milk broth, and all around this was a wonderful starter.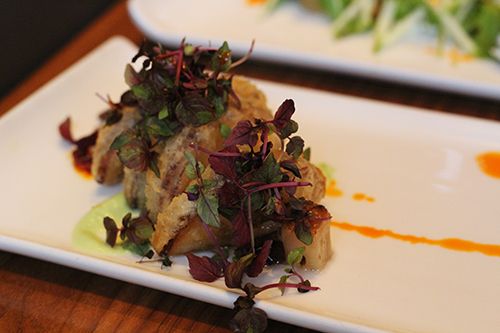 Next was the Crispy Eggplant Wonton Tempura ($13):
sake and mirin glaze, edamame purée, braised Japanese eggplant tapenade
. I've never been a huge fan of eggplant, but I quite enjoyed it in tempura form (heck, if you tempura anything, I'll probably eat it!). The wonton skin was nice and crisp while the eggplant itself maintained a firmer texture.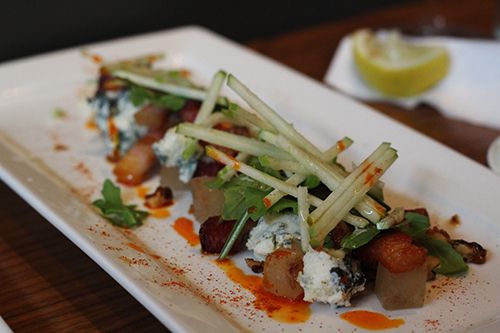 Our next plate was the Compressed Pear and House Cured Bacon Salad ($14) featuring Poplar Groves Tiger blue cheese, candied walnuts, green apples, arugula, honey, and lemon. A deconstructed salad arrived at the table and I really liked how all the ingredients were laid out across the plate in equal proportions. I believe Korean pears were used in this salad, and they were sweet and juicy against the contrasting tartness of the apples. The chunks of bacon were salty and smoky, which was the highlight of the dish for me. I'm not the biggest fan of blue cheese and found the Tiger blue cheese to be quite pungent, but little bits here and there added another dimension to the salad.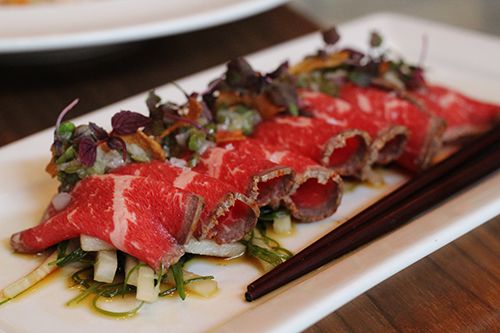 Next up was the dish I was looking forward to most - the Brandt Lake Wagyu Tenderloin Tataki ($15). First off, I LOVE beef tataki. And if you're going to make it with Brandt Lake Wagyu, it's bound to be amazing. The dish featured the beautifully marbled beef slices sitting atop a bed of lacto-fermented pears, daikon, scallions, ponzu, and housemade wasabi zuke salsa. The beef was incredibly tender, as expected, and I loved the use of the crisp, juicy daikon. The ponzu was perfectly made and gave the dish the umami factor. I loved this dish and would definitely have it again!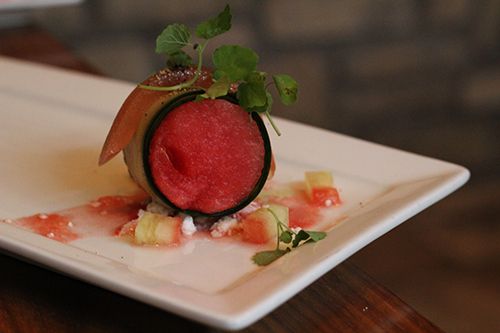 Our last starter dish for the evening (we ate a lot!) was the Watermelon Salad ($12). This salad was beautiful and featured watermelon done three ways: fresh, pickled and jellied, and further paired with cucumber, feta, mint oil, and black pepper. It was such a refreshing dish with the fresh, juicy watermelon acting almost as a palate cleanser. The feta imparted the perfect savoury contrast, while my favourite of the three watermelons was the pickled rind... so good!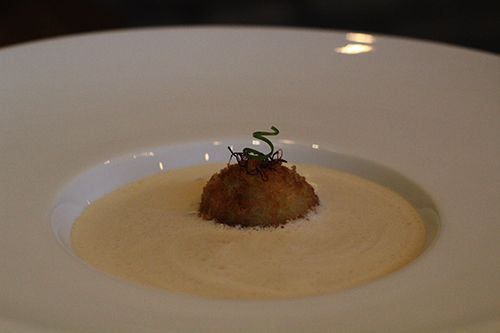 While we waited for our main course, the kitchen sent out a lobster cream broth for us to sample. Served with a lobster, shrimp, and scallop croquette, this broth was packed with flavour and tasted like 5 lobsters were crammed in there. Bits of celery and onion were present in the broth to add a little bit of texture, but the flavour was top notch.
For our entree we chose to order one and share it. We both had our eyes set on the Wild Boar Chop ($26) which was cooked sous vide with Chinese char siu jus and served with parsnip puree, smoked king oyster mushrooms, kale, and a scallion & ginger salsa. The meat was tender and moist, and the Asian sweet and salty flavours worked really well for this boar chop.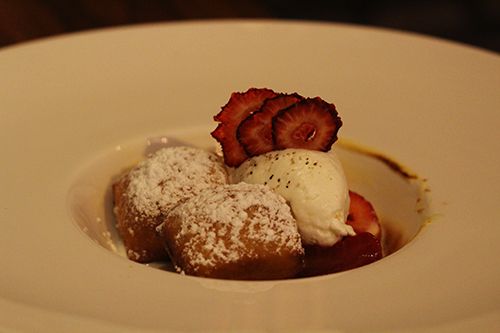 To cap off our night of indulgence we ordered the Strawberries & Cream. Each freshly made beignet was soft and fluffy and paired well with the strawberries and whipped cream. This was the perfect dessert as it wasn't too sweet.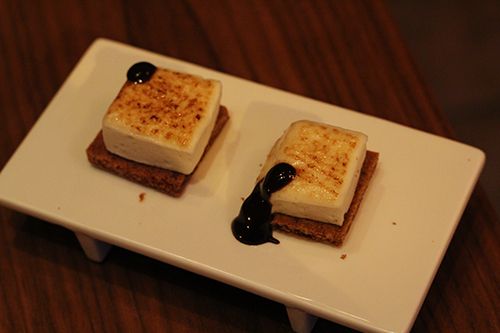 And to our surprise the kitchen sent out an extra sweet treat for us to have: a s'more bite for each of us, with every component made in house. The cracker had a nice bite, while the bruleed marshmallow had hints of honey and vanilla in it. We were totally spoiled that night!
When two people with eyes hungrier than their stomachs get together, the table ends up feeling way too small. But somehow we managed to finish everything that night and rolled ourselves home! Downtownfood is a wonderful restaurant that greatly exceeded my expectations. I was surprised to see such an Asian-inspired menu, but I enjoyed every dish of our meal that evening. Their commitment to working with small, local producers is admirable, and I think it's fantastic that they're able to utilize their roof space to cultivate plants and harvest honey! Their prices are on the expensive side so this isn't going to be your go-to restaurant, but if you're willing to support local and pay for good quality food, then it's worthwhile. I'm actually hoping to find myself in Calgary on a Monday night in the future, as Downtownfood features a weekly industry collaborative with Eats of Asia.
The menu
looks awesome, so check it out if you have a chance!