Recap: Shovel & Fork Popup For The People!
April 04, 2014
Two weeks ago I was able to attend a pop up dinner hosted by Shovel & Fork and Slow Food Edmonton (SFE) at RGE RD. Shovel & Fork is a local organization working towards educating the community about local food and sustainability. Working together with Slow Food Edmonton, the funds raised from hosting the 9 course meal are going towards sending some SFE members to the national conference later this year. It was great to see that the pop up was sold out, and I had no idea what the menu was going to be like. But what was better yet? Chef Robin Wasicuna came in from Yellowknife to cook for this event too! Mr. G and I were rooting for him to win Chopped Canada and I was excited to see him in action in the kitchen.


Before the meal began we started with an amuse bouche that featured one of my favourite cheeses: one bite of The Cheesiry's pecorino paired with House Honey Crafts honey. I love the flavours of this cheese and the pairing was lovely. I could eat it all day (but good thing I don't :))
Most of the meal was pizza themed given that Chad Moss, cofounder of Shovel & Fork and current SFE president, used to host a pizza club in Edmonton. First up was a margarita pizza, a classic and tasty savoury pie.
Next up was a pairing of mitake mushrooms with miso butter and a 62 degree egg. The mushrooms and eggs were delicious together, especially with that beautiful runny yolk binding the ingredients together.
Another pizza course was up next, this time with four different local cheeses, pea shoots and Shovel & Fork apple cider. The pizza had a sharp cheese flavour and was amazingly garlicky, making me feel that I need to have this combination more often!
Switching things up between the pizza courses, the next dish featured ling cod from Great Slave Lake, which Robin Wasicuna caught himself! Super cool. I love the firm texture of ling cod, and without a doubt this fish tasted delicious! The ling cod sat upon a bed of savoury kale and garnished with cilantro, burnt lime, and birds eye chilies.
Our next pizza course featured housemade chorizo, The Cheesiry's pecorino, and arugula grown in Morinville. The combination of salty and peppery ingredients made this my favourite pizza of the evening.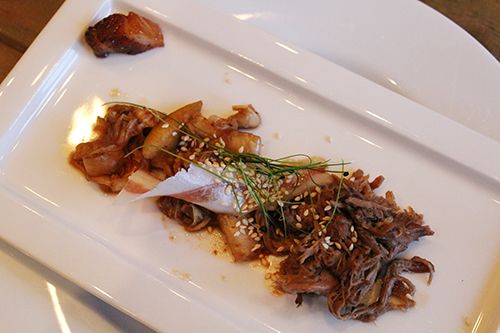 The seventh course was one that I thought didn't match with the theme of the dinner, but it was delicious nonetheless: a bulgogi pork shoulder paired with a Fuji Apple kimchi, fish sauce, crackling and guanciale. The pork shoulder was a little too salty for my liking but it was so moist and tender and I loved the kick of heat from the kimchi.
The second last course of the night was a pizza featuring morel mushrooms. The earthy flavour of the mushrooms really came through, but I would have loved to have more on the pizza for some different texture with each bite.
The last course of the evening was a dessert pizza - we definitely had an overdose of carbs this night! A combination of Saskatoon berries and honey raspberry coulis gave the pizza some sour and sweet bites, which I really enjoyed. It definitely gives the traditional dessert pizza a spin - one can only have so much nutella & banana on pizza dough!
Thank you to Shovel & Fork, Slow Food Edmonton, RGE RD and Robin Wasicuna for coming together to host this delicious pop up dinner! I may stay away from pizza for some time, but my stomach was definitely happy this night. Slow Food Edmonton will be hosting more events in the future, and I highly recommend checking them out for some great chef collaborations and delicious eats!