Takeout Sushi: Kami
August 14, 2013
Once upon a time, my friend Ray would always taunt me on Instagram with pictures of a Japanese style Bibim Bap. Thickly sliced sashimi atop of rice with gochujang paste - who could resist? When I found out it was available at a restaurant in the Ellerslie area of the city, I had to make a visit to check it out.

Kami - 2915 Ellwood Drive SW - Edmonton AB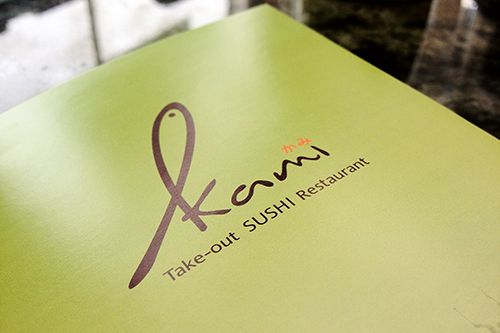 Kami is tucked away in a new strip mall, hidden away behind other buildings so that it is hard to see from the road. The space is quite small, with seating available for about 8 people, so it's moreso meant to be a take-out sushi establishment.
On the particular day of my visit, my family decided to dine in since the place was empty. We were offered the choice to sit wherever we wanted, and promptly received tea, plates and utensils before we ordered. I learned that the man up at the counter and woman serving us were actually the owners of the restaurant, and they happened to be Korean. Sorry folks, not authentic Japanese sushi.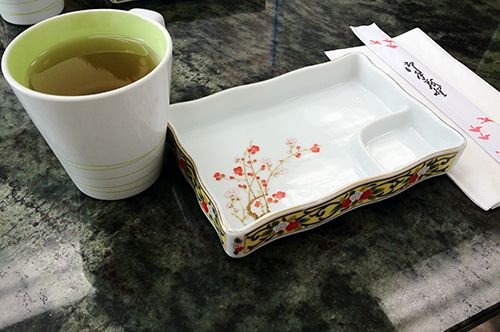 After ordering our food, we saw the owner working away rolling up maki and slicing fish for sashimi. Except we waited, and waited, and waited some more until our first order came to the table 40 minutes after we ordered. The wait was ridiculous. Although it appeared the restaurant was quiet and empty, they had a ton of phone in take out orders that they were rushing to complete before we even got our food. It was pretty misleading, and I really wished they would have told us something with regards to the wait time for our food.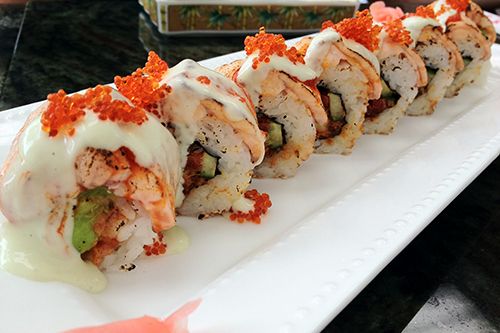 Wait time aside, the first roll to come to our table was the Sea of Fire roll ($15.20), consisting of cucumber, lettuce, and salmon, wrapped in an inside out roll, and topped with a cooked fatty salmon and lightly scorched with a flame. The piece of salmon further topped with a squirt of Sriracha, and doused in wasabi mayo and a sprinkling of tobiko. Talk about complicated. But in all honesty, its so good! The spicy kick from the sauces is toned down by the neutral tastes in the roll, and you get a taste of the BBQ from the charred rice.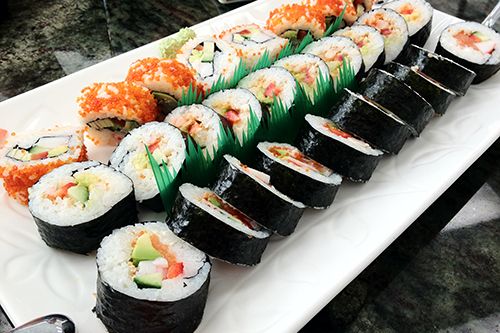 We ordered three additional rolls, which all came to the table in a platter: The Fantastic Roll ($11.50) -
mayo, fresh salmon, fish roe, crab, cucumber, avocado
, Dynamite Roll ($10.40) -
mayo, shrimp, spicy scallop, fish roe, cucumber, avocado
, and Red Kami Roll ($8.50) -
fish roe, mayo, egg omelet, sweet pepper, cucumber, avocado, crab
. Each roll was pretty typical, tasting they way they had been described, and unfortunately none of them really stood out to me. But the rice wasn't mushy, and the rolls held together really well. And of course I have to give Kami some points for presentation - look at how they plate everything!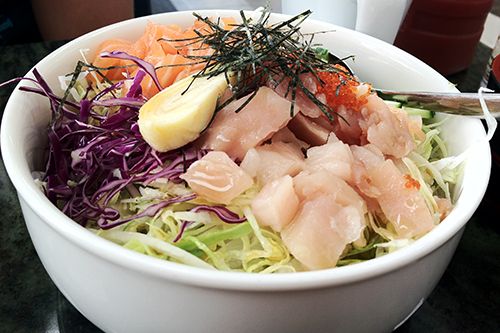 Next to the table was the elusive dish that Ray always teased me with: the BiBimBap Special with Spicy Fresh Sashimi ($9.40). Basically, the dish consisted of a bed of rice, then a layer of thinly sliced red and green cabbage, and finally topped with cucumber, egg, tobiko, and chunks of raw tuna and salmon. Topped with some gochujang sauce and all mixed together, it was pretty good. I wish there was a bit more fish in there though, as the ratio of veggies & rice to fish was a bit overwhelming.
Last but not least, I had to order their Udon Soup Special ($9.40). The bowl of noodle soup came out piping hot, but was unfortunately underwhelming since the broth lacked any depth of flavour. The fish cake, egg, imitation crab and shrimp fell short and didn't add much to the dish, so I would stay away from this one!
If I were in the Ellerslie area and was craving sushi, I would return to Kami, since the sushi is fresh and you get what you pay for. Would I go out of my way just to have the sushi? Probably not. With long wait times dining in, I suggest calling ahead and making a take-out order if you're interested. They have a variety of rolls available and sometimes you just have a craving for raw ingredients stuffed inside a tube of rice. Well, at least I have those cravings from time to time. I do have to mention something that caught my eye though - they have a lunch combo advertised for just over $6. I may go back to check it out just to see how much value you get at lunch time!